{{ timeAgo('2021-09-13 21:42:35 -0500') }}
football
Edit
Tanner McKee and Kyu Blu Kelly pick up Pac-12 Week 2 awards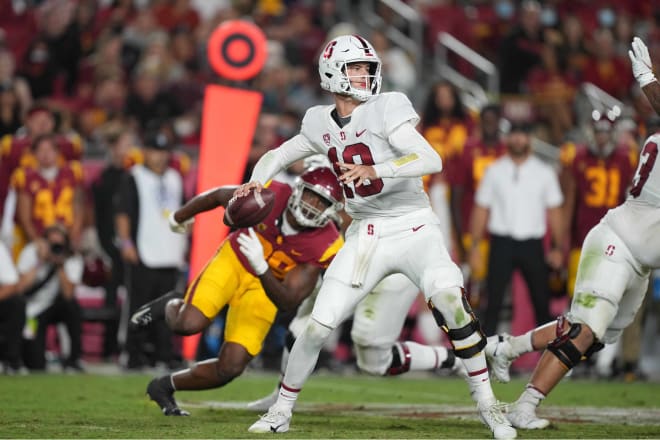 On Monday, the Pac-12 announced their Week 2 awards and two Stanford players were on the list. Quarterback Tanner McKee picked up the Freshman of the Week award (though he is a sophomore) and junior cornerback Kyu Blu Kelly picked up the Defensive Player of the Week award.
In Saturday's 42-28 win at #14 USC, McKee went 16-23 for 234 yards, 2 touchdowns, and 0 interceptions. McKee also rushed for 7 yards and 1 touchdown. It was McKee's first career start, which is why he was a candidate for Freshman of the Week.
As for Kelly, he had an interception returned for a touchdown, 6 solo tackles, 1 assist, and 3 pass break ups. He did a phenomenal job of defending his side of the field and was a game changer for the Cardinal.
Through the first two weeks of the season, both McKee and Kelly have been the most important pieces for this Stanford team. McKee's presence at quarterback has made the offense flow a lot smoother and everyone just seems confident with him under center. As for Kelly, he's playing at an elite level and very well might be the best cornerback in the entire Pac-12. Considering the magnitude of Stanford's win over USC, it's no surprise they picked up these awards.
One other thing of note that I should mention is that Stanford picked up votes in both the Coaches Poll (3 points) and AP Top 25 Poll (10 points) as a result of their win over USC.
As for USC, they fell out of the top 25 in both polls, though they still received votes and more points than Stanford in each poll. However, that wasn't enough for USC to hang on to their head coach Clay Helton. Helton got the bum's rush on Monday with Donte Williams stepping in as interim head coach for the remainder of the season.