Recap: Stanford tramples Trojans at Coliseum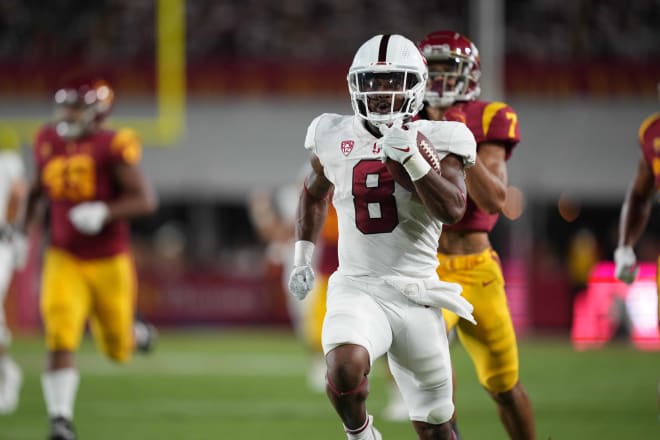 On Saturday, Stanford football trampled over the #14 USC Trojans 42-28 at the Coliseum in Los Angeles. Stanford sophomore quarterback Tanner McKee came up big in his first career start, going 16-23 for 234 yards, 2 touchdowns, and 0 interceptions for a 183.7 passer rating while junior running back Nathaniel Peat rushed for 115 yards and an 87 yard long touchdown on 6 carries. Stanford improves to 1-1 overall and 1-0 in the Pac-12 while USC falls to 1-1 overall and 0-1 in the Pac-12. Stanford also improves to 7-5 against USC in the David Shaw era.
"Excited about what our guys were able to do," Shaw said after the game. "We've been talking about it for two years. Nathaniel Peat has an extra gear and hadn't really had a chance to show it outside of kickoff return and we needed to give him a crease and he got that crease early in the game and started us rolling…I kept telling the guys we have something special in this group.
"And the basketball analogy is we kind of need to get the lid off. We get the lid off and create some momentum, now you get a chance to see Nate making plays, Austin Jones making plays, our two young backs E.J. and Casey both got in there, made some plays. E.J. made some plays as a receiver, also. And then our athleticism and length on the receiver position and tight ends…As for Tanner McKee, excited about Tanner. Need him to win the job and I believe he won that last week.
"Didn't win it through training camp…I'm a firm believer in two of the worst things you can do to a young student athlete is number one not giving them something they've earned, number two is giving them something they haven't earned. And up until this past game, the first game, he hadn't earned the job. It was close, but he hadn't earned it. He earned it and now once you earn it, I think you really take advantage of it and you really appreciate it. And he earned it, he fought for it, came out today and played extremely well."
The game started with USC sophomore kicker and Real Estate Development major Parker Lewis getting ejected for targeting on the kickoff. Lewis delivered a big-time hit on Peat as he was returning the ball and unfortunately had his helmet collide with Peat's helmet, resulting in a targeting ejection.
After that bizarre start to the game, both Stanford and USC exchanged punts. Stanford punted on their first drive and then USC would do the same, pinning Stanford at the 13 yard line with 9:16 to go in the 1st quarter. On the very next play following Casey Filkins' fair catch, Peat broke out for his 87 yard touchdown run to give Stanford a 7-0 lead with 9:04 to go in the 1st quarter. Peat has been known to go off for big runs and this one was the longest of his career. It was the perfect way for Stanford to start the game.
"I thought it was huge," Peat said of his touchdown. "Coming back to the sideline I saw everybody excited and sometimes crowding around me and it just kind of changed the mental. I saw everybody jumping around; screaming. I'm not saying my play was the one factor, but I was able to play a part in the momentum and it turned out good."
Following Peat's touchdown, Stanford and USC would once again trade punts, the Trojans getting the ball on their own 5 yard line with 3:54 to go in the 1st quarter. After a few short to modest gains, USC junior quarterback Kedon Slovis connected with junior wide receiver Drake London for a 39 yard completion to get the ball to the Stanford 32 yard line.
As a result, USC found themselves in a 3rd and 3 situation on the Stanford 12 yard line to start the 2nd quarter. USC senior tailback Keaontay Ingram found the end zone later on in the drive to tie the game up 7-7 with 13:28 to go until halftime. It was the type of response USC was hoping for.
Rather than letting USC's touchdown intimidate them, Stanford remained confident. At 2nd and 6 on their own 29 yard line, Stanford had a 25 yard gain thanks to Tanner McKee finding an open Brycen Tremayne to get them to the USC 46 yard line. On 3rd and 4 on the USC 25 yard line, Stanford was able to draw a 15 yard pass interference flag on the Trojans to get them the ball on the 9 yard line.
With a 1st and goal on the 9, Stanford looked to be in prime position to go up 14-7. However, USC's defense forced Stanford into a 4th and 7 situation in which Stanford kicker Joshua Karty came onto the field and kicked the ball through the uprights to give Stanford a 10-7 lead pending a flag that had been thrown. The flag was thrown for an offsides on USC and rather than taking the points, Stanford decided to instead accept the penalty and go for the cup on 4th down on the USC 3 yard line.
The play call on the 4th down was for Tanner McKee to roll out for a boot leg and hopefully find a receiver open for a touchdown and that's exactly what happened. McKee found wide receiver Elijah Higgins in the end zone as Higgins had an impressive fingertips catch in the end zone that just barely prevented the pigskin from piercing the blades of grass on the field. As a result of Stanford's gutsy decision, it was now a 14-7 lead for the Cardinal with 8:34 to go in the half.
"So we ran the ball on third down, just trying to get a couple more yards," Shaw recalled. "As long as we were four yards or inside, we're going for it on fourth down. So that decision was made. We didn't get enough yards to go for it, so we kicked it, and when we got the penalty, hey we're going back and going for it. The idea was come into today and be aggressive and that's what we're gonna be.
"Defensively we were playing really well. So worst case scenario we leave them backed up and keep them and play field position. But you know, thankfully Tanner was able to get outside the pocket, which was really tough and a guy bearing down on him, pulling on him; and Elijah Higgins, I can't say enough about Elijah. The past game, last time we missed him so many times and today we found him and he made some big plays and that one in particular, I mean a low catch, for a tall guy those are the toughest catches. The ones below your waist, a little below your knees while you're running and someone's grabbing on you. But it's a great catch."
"Yeah, I thought it was a great play call," McKee added. "Obviously we went out because of the offsides and we got another chance to be on the field as an offensive unit. Coach Shaw called the play, I got pretty excited because that's one of my favorite plays to run. I came around on the bootleg and there was a guy kind of there that we were not expecting, so I had to take a longer loop than I had to. It would buy a little bit of time and Elijah did a great job getting separation and then getting obviously enough separation to score a touchdown."
Following the kickoff, USC got the ball on their own 25 yard line thanks to a touchback. The Trojans had 75 yards to work with and the hopes of tying the game up before halftime. The Trojans didn't have any major plays on their drive, but they did enough to get themselves to the Stanford 12 yard line with four downs to work with. To the credit of Stanford's defense, they bended without breaking, forcing USC to kick a field goal on 4th and 5 from the 7 yard line. As a result, it was a 14-10 Stanford lead with 1:56 to go in the half instead of a 14-14 game.
On the ensuing kickoff, Peat would field the ball on the Stanford 4 yard line and produce a 30 yard return to the Stanford 34 yard line with 1:49 to go in the half. Rather than play conservatively and maybe seek a field goal to go up 17-10 at halftime, Stanford played rather aggressively, looking to get big gains. On 2nd and 8 on the 36 yard line Tanner McKee found running back Austin Jones for a 49 yard completion to the USC 15 yard line with 1:13 to go in the half.
McKee then would find wide receiver John Humphreys for a 9 yard completion to the 6 yard line. With 16 seconds to go until halftime, Stanford called for time hoping to find the end zone and go up by double digits. Coming out of the timeout, McKee connected with wide receiver Brycen Tremayne for the touchdown, giving the Cardinal a 21-10 lead that they would carry into halftime.
At the half, Stanford really couldn't have asked for a better start. Nathaniel Peat's 87 yard touchdown got the party started and the momentum just kept building from there. Rather than playing conservatively and playing not to lose, Stanford instead played to win, resulting in a couple of gambles that went their way.
"The message at halftime was this is what we talked about," Shaw said. "This is what we wanted to do. We wanted to go out there and play our best football. I still don't think we played our best football, but we played really well. So when you play well, you can't be surprised by the score. That's the thing with our guys is there's a lot of excitement but once again there's a reason why we're bringing Jonathan McGill, who can't play. But Jonathan was one of those guys saying hey, you know what, let's not get hyped. Game's not over. We had a lot of football to play.
"You know, our guys settled back in and came back out in the second half ready to play another half and really talked about of course like you should say, don't worry about the scoreboard…We're going to refocus at halftime, I'm a firm believer also if you believe you're going to be successful and you work towards it, you can't be surprised when you're successful."
Coming out of halftime, USC received the kick, looking to strike like Stanford did in their first drive of the of the game. USC would start with the ball on the 25 yard line following a touchback and from there they were able to march the ball slowly but surely down the field thanks to some efficient passing from Slovis. The longest play was a 15 yard completion to Tahj Washington that advanced the ball from the Stanford 46 yard line to the 31 yard line.
Unfortunately for USC, they weren't able to produce a touchdown on this drive, having to settle for a field goal on a 4th and 9 situation on the Stanford 16 yard line. With 9:14 to go in the 3rd quarter, it was now a 21-13 Stanford lead.
Stanford's next drive didn't go as planned as Ryan Sanborn came out to punt for the Cardinal with 6:35 to go in the 3rd quarter. Sanborn's punt from the Stanford 40 yard line went 59 yards to the USC 1 yard line where Gary Bryant, Jr. fielded the ball and returned it 21 yards to the 22 yard line.
On a 3rd and 5 from the USC 27 yard line, Slovis threw an interception to Stanford cornerback Kyu Blu Kelly, who returned the ball to the end zone for a touchdown. As a result, it was now a 28-13 Stanford lead with 5:02 to go in the 3rd quarter. At this point, all things were truly going in Stanford's favor.
"We were in a quarters coverage, so you know, so I can't really bite too much on the short stuff, but I alerted my safety, I was like 'hey, two's on the ball, the back went to the other side let's watch for slants here', you know," Kelly explained. "So I'll always be breaking for any slant, I'm breaking for the sluggo. So when I broke, I was breaking top shoulder. You know and fortunately, Drake dropped it and I was just there for make the play. But we saw double slants before the play. That's how we kind of got a good beat on it and made Drake actually pause and not actually follow through the whole slant. So we were able to shorten that slant and just able to make plays when we needed to.
"First of all, all respect to Drake London, you know. He is what they say he is. He's a great receiver, fluid, comes out of his routes well. Smart player and physical. He should be playing this game for a long time. As far as my mentality going in, I knew it was going to be a battle. He's good, I'm good. He was going to win some; I was going to win some.
"As far as my mentality going up to him, I was just confident. I had to go in with confidence knowing that I could press, knowing that I could play off. It was a lot of the mental side of the game that helped me cover Drake London just knowing by his splits, his alignment and stuff like that. Down and distance, plays a lot into it. Just the communication you might pick up. So, that always comes in when you're playing a great receiver like Drake."
On the following USC drive, the Trojans were unable to do much, having to punt the ball to Stanford, who got the ball on their own 44 yard line with 2:40 to go in the quarter. McKee would find Humphreys for a 20 yard gain before Stanford added another 15 yards on the following play thanks to a pass interference penalty on USC safety Greg Johnson. Stanford now had the ball on the USC 19 for a 1st and 10. Another pass interference against USC, this time on cornerback Chris Steele gave Stanford the ball on the USC 4 yard line.
After a wildcat formation gave Stanford the ball on the 1 yard line thanks to a 3 yard rush from alternate quarterback Isaiah Sanders, McKee punched it in the end zone himself on a one yard gain. As a result, Stanford led 35-13 at the end of the 3rd quarter while also getting the ball back thanks to a quick four and out from the Trojans.
At this point, Stanford was in firm control and the only real question was what the final score would be. After 15 more rushing yards from Nathaniel Peat and a couple of nice completions from Tanner McKee to Ben Yurosek and Elijah Higgins, Stanford had the ball 2nd and 10 on the USC 20 yard line. McKee then connected with Tremayne on an 18 yard pickup, getting Stanford the ball on the USC 2 yard line. From here, Stanford got into the end zone with ease thanks to a quarterback keeper from Sanders. It was now 42-13 with 9:16 to go in the game.
To USC's credit, they didn't allow Stanford to score any more points the rest of the way and they were able to make the score look more respectable thanks to an 11 yard touchdown completion to Drake London with 5:54 to go and a rushing touchdown from Darwin Barlow with 0:46 to go. USC would convert the two point conversion thanks to a completion to Gary Bryant, Jr., making it a 42-28 game. However, those touchdowns came too late for USC in the end as 42-28 would be the final score.
While 42-28 looks better than 42-13 or 42-20, it ultimately doesn't matter. Stanford owned USC from the opening kickoff, establishing the run early with Nathaniel Peat's 87 yard touchdown run and getting Tanner McKee in a good groove early in his first career start. On top of good offensive flow, Stanford's defense did their job really well, making USC earn all the points they got. They even scored points of their own thanks to Kyu Blu Kelly's pick-six.
When reflecting on the keys to the game, Stanford really did everything they needed to do: Tanner McKee played a near flawless game with no turnovers, the running game did their job, the defense did theirs, and as a whole, Stanford played a very clean game, avoiding any major penalties.
"I actually sent out a text to the team, just trying to get that dog mentality out of us," McKee said. "Obviously, losing is not acceptable. So, we kind of did everything that we could to prepare for this week that we could come out and have a dominant performance tonight. And obviously we have a ton of things that we can improve on, but I feel like we definitely had a better attitude this week for sure and we had a great week of practice; and so it's nice that it was able to pay off."
USC in contrast had officials picking up yellow laundry all night long. Even their kicker got in on the action with a targeting call to start the game. While some of those calls could be debated, USC played rather loose and undisciplined, resulting in free yards that the Cardinal took advantage of.
After a disappointing Week 1 loss to Kansas State, Stanford certainly responded well with a huge upset over a #14 ranked USC team that they were 17 point underdogs to. Stanford didn't listen to the outside voices or people of my ilk (including myself) who thought they'd lose. They instead came in with a sound game plan, believed in themselves, and executed their game plan to near perfection. As a result, they walked out with a huge win and the current first place spot in the entire Pac-12.
Up next for Stanford will be a road game on Saturday, September 18th at Vanderbilt. That game will kick off at 5:00 PM PST on ESPNU.