Kyu Blu Kelly has been a game changer for Stanford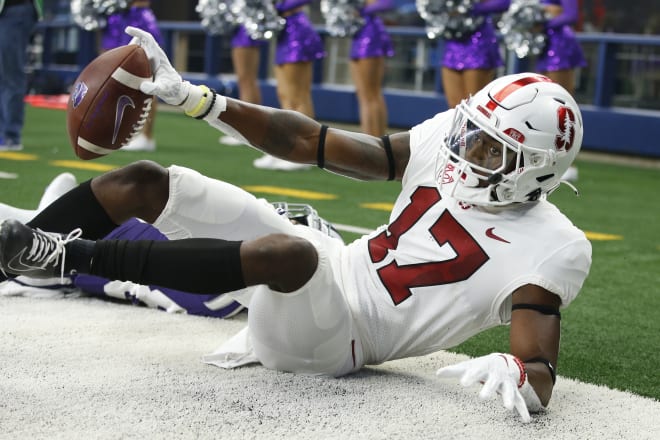 Last week, I addressed the need for Stanford to hand the starting quarterback duties to Tanner McKee. As we saw on Saturday at USC, having McKee start was a game changer for the offense. Everything just clicked and flowed so much better. It was like seeing the final piece to a beautiful puzzle get put into place.
On the defensive side, junior cornerback Kyu Blu Kelly is making that same type of impact. While Stanford's defense got off to a slow start in the first half of the Kansas State game, Kelly has been ON from the opening down. He has had one interception in each game so far this year. The Kansas State interception in the endzone was arguably play of the week nationwide while the USC interception was returned for a touchdown and would have been play of the game were it not for Nathaniel Peat's incredible 87 yard touchdown.
As a whole, Kelly is taking care of business on his side of the field. He's making it very tough for opposing offenses to get anything by him. He's breaking up a lot of passes (3 against USC) and winning almost all of his one-on-one battles.
And it's not just the interceptions and pass breakups. When given the chance, he's making tackles. Against USC, Kelly had 6 solo tackles and 1 assist. The only reason he had two total tackles against Kansas State was because the Wildcats were smart enough to avoid throwing the ball to his side of the field. That's why he made PFF's Week 1 team of the week.
"Yeah, as far as my game goes, of course I want to be more physical," Kelly said of what areas of his game he's most focusing on. "Point of attack, coming in on runs. Because a lot last year we saw, they saw last year, my freshman year I was a good cover corner. Last year I got in more runs, pulling guards, down blocks, and stuff like that. Becoming more physical side of my game and also concepts. Route concepts, recognizing those type of things to help my speed play even faster on the field."
With Salim Turner-Muhammad and Jonathan McGill likely out for the season, Stanford's secondary really needs Kelly to be a game changer and so far he is doing just that. He's shutting down his side of the field, making tackles, getting interceptions, and just being a playmaker. With him playing at this level, Stanford's defense as a whole elevates and everyone feeds off of that.
In addition to having superb physical gifts at 6'1", 185 pounds, the real key to Kelly's success is his mentality. He loves the challenge of being a cornerback and having to react to whatever the wide receiver is doing. There's a lot of freedom that comes with being a corner because you're out on an island, but with that freedom comes a lot of responsibility.
"I mean, the difficulty, you know?" Kelly said of what he most enjoys about his position. "It's one of the hardest positions out there. You're on an island, you got a guy in front of you, you can't let him catch the ball, you don't know what he's doing. I just really look forward to the challenge of corner.
"Receiver to me is easy. You're told what to do, you're told what depth to go, and just catch the ball. Corner is a lot of mental man's game and also with the physical side of it. So, that's what I like about corner. How hard it is."
Not only does Kelly like playing at an elite level, he likes doing so on the biggest of stages. He likes to entertain and the chance to showcase his skills to national audiences in prime time slots. Rather than seeing it as pressure, Kelly sees it as fun.
"To play in ESPN games, FOX games, just stuff like that. Bright lights. It's just fun," Kelly said. "It just brings college football to its funnest points."
Amid all the success that he's having, Kelly is doing his best to stay grounded and humble. While he admits it's nice to receive recognition for his hard work, he doesn't want it to distract him from the task at hand.
"As far as the accolades and stuff go, I try not to pay too much attention, ya know?" Kelly said. "Because that can cloud the mind. Kinda get you too high. Coach Shaw always tells me don't get too high. When things are really well, don't let your brain get too high. Stay humble. Stay hard at work. But it's always cool. It's always cool to see those honorable mentions and stuff like that. Just knows that the work that you put in is getting recognized."
As we look ahead to the rest of Stanford's season, Kyu Blu Kelly is so far shaping up to be a game changer for their defense. He's doing everything that an elite cornerback is expected to do and he's enjoying the challenge of performing under the brightest of lights against the best of players. It'll be fun to see what's in store for him the rest of the way and how it impacts the Cardinal going forward.