VanDerveer wants more from her team after loss at Utah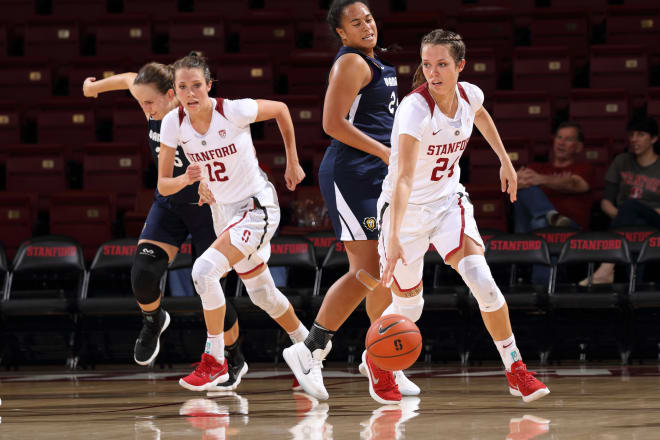 Stanford's loss at Utah Sunday was a wake-up call for the Cardinal, who to the eyes of head coach Tara VanDerveer did not play well during the tough road trip to the mountain schools. The Cardinal won 11 straight before crashing 75-68 against the Utes.
"The worst thing would have been if we won the game playing the way we're playing," VanDerveer said. "We didn't work hard enough defensively. I don't think basketball is rocket science. We were not on the O-boards, and we were taking bad shots, turning the ball over. And it's a tied game with two minutes to go."
Stanford is a talented team and because of that the Cardinal can stay close to opponents even when playing well below the standard VanDerveer expects. Stanford (17-2, 7-1 Pac-12) has beaten current national No. 1 Baylor and often the starting five works together in perfect harmony with long stretches of beautiful basketball.
That didn't happen in Salt Lake City. Some of it was the result of the Cardinal playing poorly and fatigue after what VanDerveer described as a "brutal game" at Colorado. But credit also goes to Utah, which VanDerveer implied gave Stanford a few lessons.
"Utah has a really good team. They're 18-1. They have a very athletic point guard (Erika Bean) who had a career high against us. She had four threes in the whole season and she hit five in our game. Megan Huff is a legitimate all Pac-12 player. Their freshmen are outstanding … they play really well together. They don't take bad shots. They work very hard defensively. They got O-boards when they needed them."
For all but one quarter in two games Stanford didn't play like Stanford. (The exception was the 32-point third quarter in Boulder.) And it's only going to get tougher. It's Big Game rivalry week -- Stanford is at Cal Thursday and hosts Saturday -- and then the top-10 Oregon schools come to The Farm next week.
Stanford may get a helpful boost because Maya Dodson could play after missing a month due to a foot injury. Even if she's available for one or both Cal games VanDerveer wants more from other players on the court.
That includes freshmen twins Lexie and Lacie Hull, who have played their way to greater expectations from their head coach.
With under four minutes to go in the first quarter, and until about four minutes left in the second quarter, Lexie and Lacie combined for 13 of the team's 17 points. They kept the Cardinal in the game during a miserable stretch of shooting by everyone else.
Lexie scored 10 points, and Lacie chipped in seven, and they only needed a combined 10 shots in the game to do it. Lacie had three assists and Lexie had one.
"We were playing through them," VanDerveer said. "They pass the ball very well and they're extremely unselfish players. They came from a program of winning, winning, winning. They both made big plays. They're still freshmen -- but I don't coach them as freshmen -- and there were some times when there was some slippage of, 'You've got to do this, or we need you to do that'. They've learned a lot. They're playing really well. We need people who really want to be gritty playing defense, rebounding. We need more from them. It's a compliment. They're doing really, really well but we need more."
Stanford is an elite three-point shooting team, but Lacie said the team got a reality check about how to respond in a game when the shots aren't falling. Stanford was 8-of-28 3FG against Utah. The Cardinal average 10 makes a game at a 37.4% clip.
"If what we're used to working isn't working then we need to find an alternate option," Lacie said. "I think we could have gone inside more and finish the easy ones. I think that would have helped."
Lexie said the message from the coaches after the game was simple and direct: "We have a lot of work to do and that we needed to keep working hard in practice. We need to keep working on our shots, focus on our defense, because we gave up a lot of three-pointers that hurt us in the end."

Cal is led by All-America candidate Kristine Anigwe. The inside force is averaging 22.4 points a game and 14.9 rebounds.
Stanford's own All-America caliber player, Alanna Smith, will have to slow down Anigwe while avoiding foul trouble. Smith fouled out at Utah. Although the last foul was questionable at best, VanDerveer said Smith put herself in position to get a fifth foul by not being smarter earlier in the game.
For VanDerveer the calculation is simple: Smith has to understand her value to the team and not try to make plays on defense that might take her off the court. Even though Smith is having a special season, VanDerveer wants her star Aussie to raise her game even more, because if she does this team can lift up a trophy, or two.