Uber-athletic tackle Austin Uke's fast rise led him to Stanford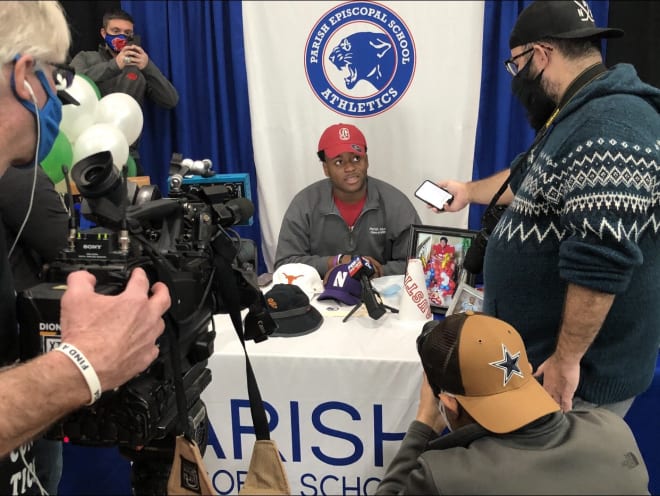 Stanford beat a loaded field of contenders who wanted to sign offensive tackle Austin Uke. He chose the Cardinal Wednesday over other finalists Northwestern, USC and Texas.
Oklahoma and a number of other top programs also offered the former Holy Cross commit after Hudl videos from the first half of his senior season got around. He de-committed from Holy Cross to reassess where he should go to school.
His physical ability is impressive and he was a leader of a state championship team. Parish Episcopal School head coach shared comments with OrangeBloods' Jason Suchomel that were shared with Cardinal Sports Report. Stanford head coach David Shaw also spoke glowingly today about Uke.
David Shaw
"There is one big addition, literally one big addition, Austin Uke from Dallas, Texas. He's an outstanding offensive lineman; he's an offensive tackle with length, athleticism, and a physical nature that gets you excited as a football coach.
Much like when I saw Andrus (Peat), much like when I saw Walker Little, this is a guy who could play anywhere along the offensive line that he wants to. We see him as a tackle and look forward to getting him playing time much like we did with Myles Hinton this last year.
"COVID did play a part in it (Uke flying below the college football radar until his senior season). This is a perfect example someone who just seeing him in the spring would have started this and rush of offers last spring as opposed to (not until) his senior film came out.

"He has made a lot of improvement since the year before. He played a lot more, he played with more confidence, energy and passion that was so evident to see. All you had to see was two clips to see what kind of player he is.
"I don't know why the rankings never really changed with him but there is he is as low ranked as all the services have him right now. He's an outstanding football player
"I think the big thing was not having a spring season where people could go to the high school and see height, weight, speed and be able to go through the drills. He jumps off the film and is such a perfect example of what we're looking for with our big guys.
"I think we've done an outstanding — Coach (Kevin) Carberry, our whole staff — of finding the right guys who fit what we do."
Parish Episcopal School Head Coach Daniel Novakov
"When you put on his tape you immediately see the athleticism he has is off the charts. He moves differently than most linemen. I think if you're looking at him and you put him at tight end, I think people will be saying 'There's an FBS tight end.' That's how athletic he. I think that's the thing that jumps off the charts at you. That and then just the flexibility he has to play pretty much any position along the offensive line. He's so versatile, also. He's rare in the way that he's athletic and flexible like that."
"His character is second to none. As mean and nasty as he is on the field, he's that nice off the field. It's kind of a weird juxtaposition of personality. He's an incredible kid. He's a magnetic personality. He's the nicest kid in the world off the field and he's got a really, really good personality. He can carry on conversations with adults better than most high school kids I've been around, so he's just a unique individual. Academically he's very strong as well. Bing able to be recruited to Stanford and Texas and Northwestern, those kinds of schools, tells you what his academic record is like. You've kind of got the whole package with a kid like him."
Novakov said Uke is 265 pounds.
"I think for sure he can put weight on. That athleticism, I think is innate. I don't think that goes away just because you add 20 pounds, as long as you put on the right 20 pounds obviously. I think for sure he can add muscle and weight and keep his athleticism."
Rivals Scouting Report
Rivals regional analyst Sam Spiegelman provided a scouting report on Uke after his eye-opening senior season.
"Uke was a late-bloomer who carved out a starting role for TAPPS state champion Dallas (Texas) Parish and shined as Rivals250 quarterback Preston Stone's blindside protector. Uke is 6-foot-4 and 265 pounds, a smaller-framed offensive tackle, but boasts an impressive 81.5-inch wingspan.
Uke is a phenomenal pass protector. His length gives him a substantial edge. As does his anticipation. Uke is very smooth as he kicks back with excellent lateral agility. He brings a ton of athleticism to the offensive tackle position.
It's worth noting Uke is a high-energy blocker whose quick off the line with quick feet and certainly has a knack for pulling or making blocks out in space. Uke has flashed the potential to extend blocks to the second level and in certain games, dominates in spurts."