Stanford working to capitalize on experience in Italy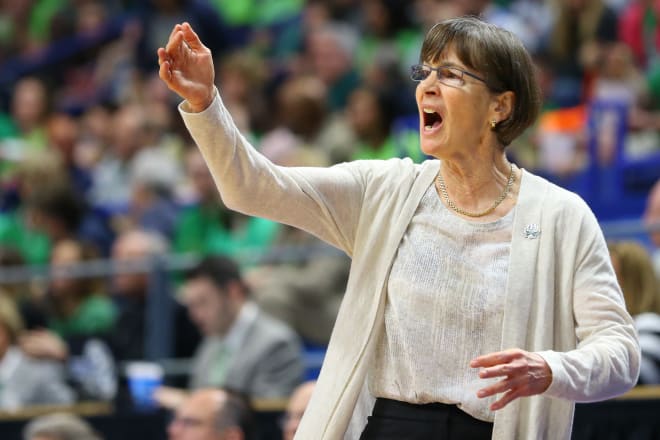 Stanford had its first practice Monday since returning from an invaluable trip to Italy that included five games in 10 days and countless memories off the court.
Four of Stanford's five opponents were top-level professional teams. Stanford was 0-4 in those games but the Cardinal lost by two in one game and took former Cardinal standout Karlie Samuelson's new team to overtime.
And to add to the challenge, the Cardinal are learning a new offense. Head coach Tara VanDerveer told Cardinal Sports Report on several occasions this offseason that there would be "tweaks" to the system.
That may have undersold it a bit.
"This is a whole new team and we're doing a whole new thing," VanDerveer said. "I call it a cake in the oven. It's going to take some time. When you don't have older kids teaching the younger kids what to do it's kind of slow going. They're smart, they're catching on very quickly and everyone is doing very well."
"What we're doing really fits our personnel," she said.
Stanford is without last season's leading scorer and rebounder (Erica McCall), one of the best three point shooters in school history (Samuelson) and Briana Roberson, who was an All-Pac-12 defender on the perimeter.
"So, we lost a lot and I think this was a great trip to take in the summer to see we have a lot still," said sophomore DiJonai Carrington. "Our incoming freshmen are so talented. We're going to really need them and it's cool to see us all be able to mesh. It was really, really cool to see us come together as a family."
The schedule in Italy didn't give Stanford's coaches any chance to work with the team on the court between games. So, the games themselves were the only opportunities to tinker. A different lineup was started each game.
Mistakes happened, but the progress was exciting.
"It was really cool to see that this is going to work," Carrington said. "There were a few miscues just because we haven't played together that much, yet, but you can see that everyone is being unselfish and trying to make pass.
"We may have had a lot of turnovers but it was the right pass. We have to polish it. I love the new offense and I think it's going to be great for this team. We have different strengths and weaknesses from last season. I think this is really going to play into those strengths."
The games in Italy were also the first extended on-court time with all the freshmen on the team. Alyssa Jerome missed summer school and most of the pre-Italy practices on The Farm because she played on the Canadian senior team and then the U19.
Her ability to hit the ground running turned quite a few heads in the gym.
"It was obvious," VanDerveer said of Jerome being a quick study. "She played two positions with two days of practice. She catches on very quickly and she's versatile."
Associate head coach Kate Paye said about Jerome: "What she has been able to do in the short amount of time she has been with us is mind boggling. We're running something new and within two days she picked up everything and is playing two positions. She has a great intuitive feel for the game."
Paye said the four freshmen are "doing awesome. They really, really are."
Point guard Kiana Williams: "She's a very smart, heady point guard. She has a good skill set and feel for the game. We're very impressed with how quickly she has picked up on things."
Wing Estella Moschkau: "She's shooting the ball very well."
Forward Maya Dodson: "She is a phenomenal athlete who runs the floor well and rebounds."
"I think this freshmen class is going to be special," Paye concluded.
Stanford opens the season with games in Columbus, Ohio against the hometwon Buckeyes and UConn. It provides a sense of urgency to the practices, VanDerveer said.
The hall-of-fame coach has the mindset of a master teacher who understands the process will pay off.
She nodded toward players staying in the gym after practice was over: "They don't know what they're doing just yet. They're in the gym working and that's a really important thing. We have a lot of work to do. But we like it and we're excited."