Stanford takes momentum from second half of season into NCAA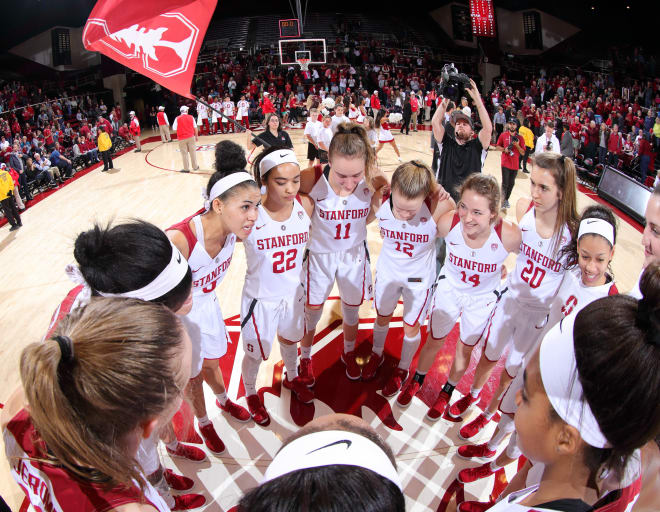 Stanford is the No. 4 seed in the Lexington regional and will host Gonzaga Saturday in the first round of the NCAA Tournament, which is a statement that seemed unlikely Dec. 21 when Stanford fell to 6-6 after the end of a brutal non-conference schedule.
And yet here the Cardinal are in a familiar regional -- the third straight year in Lexington -- and once again with an opportunity to launch a tournament run from Maples Pavilion. Stanford reached the Pac-12 Tournament final and finished the regular season in second place.
After the selection show head coach Tara VanDerveer and senior Kaylee Johnson reflected briefly on the team's development and looked ahead to March Madness.
"We didn't start the season the way we wanted, but it's just something that you have to remember that it's a long season and there ups and downs," Johnson said. "One game isn't going to define the rest of the season. That's one thing we really tried to remember and we did handle it one game at a time. It's always a goal to make the tournament and always a goal to bid (to host)."
Stanford lost to UConn (No. 1 overall seed), Baylor (No. 2), Tennessee (No. 3) and No. 3 seed Ohio State twice. But Stanford also beat tournament teams Belmont, Oregon, UCLA, Oregon State, Arizona State (twice) and Cal.
"It made us stronger, more resilient, more determined (and) people had to get tougher," VanDerveer said of the schedule. "If we are to move on and you play Baylor, as an example, well we've played them. We've played Tennessee. We know matchups. I feel like that gives us an advantage. We were in the same tournament (in Las Vegas), we didn't play, but we saw Louisville. I think there is a confidence with our team that we know we've played great teams, now we know we need to play better."
Of course, a significant factor in Stanford's rise was the return of Brittany McPhee, who along with Johnson make up the senior co-captain pair. McPhee missed most of Stanford's non-conference schedule with an injury. The tandem of Johnson and McPhee on the court often guaranteed that the Cardinal had two of the hardest workers and tenacious competitors in the game.
"The freshmen are great, but honestly tournament time it's the seniors," VanDerveer said. "Down the stretch Kayl has really been the one (who is) consistent coming out and practicing hard and really doing a lot of the dirty work, but also now scoring more for us. Obviously rebounding and playing great defense, but she has been a great leader and I'm really excited to be hosting here for her and Britt (McPhee)."
And Stanford also benefits from one freshman in particular no longer playing like one. Kiana Williams elevated her game in a time of need for the Cardinal and she was named to the all-tournament team for her efforts.
"I thought Kiana did extremely well in the Pac-12 Tournament. I think she shot about 70 percent. We'll take that," VanDerveer deadpanned.
Johnson has played in 12 NCAA Tournament games, but translating that experience into advice for the freshmen isn't easy.
"You can tell them just like I was told, but you'll never really know until you experience (it). Just try to explain that tournament time is a different atmosphere. We did get a taste of that when we went to the Pac-12 Tournament. Obviously you're working all season to get the seed that you do and try to host a game, but when it comes to it you have to take it one game at a time. You can't look too far ahead -- it doesn't matter who you're playing, what the seeding is or where you are. It's going to matter when you step on the court who is ready to battle. Who is going to be willing to get it done."