Stanford making a big push for tight ends in 2022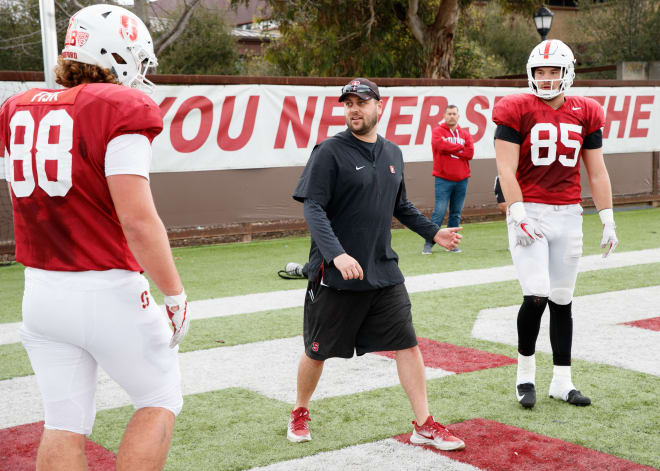 Stanford offered Tumwater (Wash.) four star 2022 tight end Ryan Otton Tuesday — the fourth offer to such a highly rated tight end in the class. It was an interesting development from a staff that whenever possible tries to thread the needle with the fewest number of offers possible to get its targeted number in a class.
Stanford has already offered Donovan Green, Sam Roush and Jack Pedersen and is still a contender for all of them — strongly suggesting that Stanford will take at least two in the class and probably three.
Stanford is unlikely to sign a true tight end in the 2021 class. Shield Taylor is an H-back/fullback who the coaches think could get some playing time at tight end.
Benjamin Yurosek and Lukas Ungar are freshmen newly arrived to campus and Bradley Archer is beginning his second year. It's not a well stocked room of young, scholarship talent. (Scooter Harrington and Tucker Fisk are expected to play roles next season.)
Ungar missed almost the entirety of his last two high school seasons due to injuries. However, he was a very well thought-of recruit with elite offers before his run of bad luck.
Yurosek is one of the more talented and productive two-way players in his class who was recruited to play as an edge defender by several schools.
While Stanford is on the short list of "Tight End U" programs in the country, there isn't a clear next star on the roster or in the pipeline. That development has coincided with the rise of the wide receiver group to a level of depth of talent that may be unprecedented on The Farm.
In the near future, it seems obvious that the passing game will go through the wide receivers — several of whom have the physical skill sets of receiving tight ends anyway — and running backs.
The 2022 class offers a chance to bring back some of the balance that head coach David Shaw, offensive coordinator Tavita Pritchard, tight end coach Morgan Turner and run game coordinator/offensive line coach Kevin Carberry probably prefer. There is an impressive group of academically qualified and skilled tight ends in the class who they have been evaluating and recruiting for several months.
There is precedence for this type of aggressive strategy by Stanford to get three or more tight ends in a class.
Under Jim Harbaugh, the Cardinal signed four tight ends in 2009: Zach Ertz, Levine Toilolo, Ryan Hewitt and Jordan Najvar. Najvar transferred to Baylor but the other three were of course key players at Stanford.
Ertz established himself as arguably the most complete tight end to ever play at Stanford. Toilolo was practically an extra offensive tackle whenever he was on the field and a unique option in the passing game at 6-8. Hewitt was the ultimate utility player and all three of them worked together to be at the core of the offense from 2010-2012.
In 2013, Shaw signed Austin Hooper, Greg Taboada and Eric Cotton. After redshirting his freshman season, Hooper became one of the best tight ends in the country over the next two seasons.
Cotton and Taboada struggled to carve out a role on offense and Cotton eventually was moved to defensive end. (Taboada was also a candidate to switch to defense, where several colleges recruited him to play, and arguably could have been more impactful on that side of the ball.)
Where does Stanford stand with the four offered tight ends in 2022? Cardinal Sports Report provides a quick look at each:
Green has done a virtual visit with offensive coordinator Pritchard and has been in contact with Turner for several months. He was "blown away by the academic side dealing with majors".
He talks with Stanford about once a week, and although Stanford is not described as one of the schools recruiting him the hardest, the Cardinal have a good shot at being in his list of top schools he plans to announce on his birthday, Oct. 28.
Green doesn't plan to make a decision until his senior year. His father, Dominique, told Cardinal Sports Report that Donovan "loves helping people with work and learning new things to do craft wise. He is a shoe designer."
Proximity has helped Roush become very familiar with the Cardinal. The San Jose native has attended multiple games and he has also done a virtual visit. Like you'd expect, he has liked what he's seen in those games when he watched the tight ends making plays.
His father played football at Duke and the Blue Devils are a very strong contender for the high-academic student. (He reports a 4.6 GPA.) Cal also is a school to keep an eye on — Justin Wilcox and his staff are trying to through a net around Bay Area talent to keep it close to home.
Roush has also been offered by USC, North Carolina, Utah and others.
Ryan's older brother, Cade, is a tight end at Washington and the Huskies want Ryan to finish the pair. His uncle, Brad, was a quarterback at USC.
Boise State, Cal and several other schools have offered and he will probably start getting more attention soon. (A Stanford offer tends to be a national signal for other schools to take a look. Notre Dame also is an offer that acts as a flare.)
He planned to visit Stanford this spring before the pandemic closed down campuses.
Ryan has also been offered as a defensive player by a couple schools and he reportedly doesn't have a preference about his future position. He reports a 3.84 GPA in his Twitter bio.