Stanford coaches Haase and Wulbrun talk new faces, returners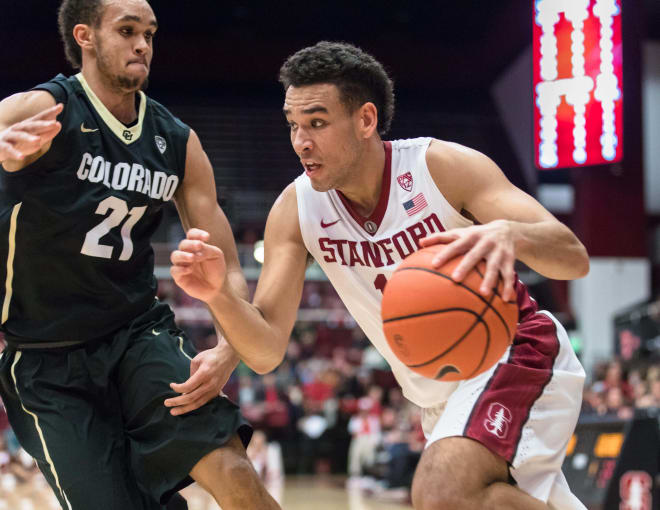 This time last year the Stanford coaching staff was trying to hit the ground running as best they could while still learning about their new program. Even Tom Cruise would stumble a time or two trying that stunt.
A year later the crazy travel schedule is the same -- that's the nature of recruiting in July -- but there is a key difference this time. The Cardinal coaches have been able to work in person this summer with the talented members of the first recruiting class they worked to put together. Oscar Da Silva (Munich, Germany) has been on campus about two weeks after playing in Cairo at the U19 FIBA tournament and he joined Isaac White (Adelaide, Australia), Daejon Davis (Seattle) and Kezie Okpala (Los Angeles).
During a brief visit back home on The Farm, head coach Jerod Haase and assistant coach Jeff Wulbrun spoke with Cardinal Sports Report Tuesday about the spring and summer workouts with the team and the freshmen class.
Haase broke down some of what the staff has learned about each of the freshmen since they have been on campus, and in Da Silva's case when Wulbrun was able to watch him play in Cairo.
White has transitioned well to being so far from his home in Australia, Haase said, with the acknowledgement that it will get tougher once the school year starts with full weeks of practices and classes. On the court White is becoming more comfortable with his role on the team.
"He needs to shoot the basketball anytime he gets clean looks," Haase said in a clear endorsement of the young man's basketball marksmanship. "It's also an adjustment to play with seven footers. Once you drive in there understand that over-penetration doesn't lead to good things. Having said that, he has been playing his tail off and has a great deal of confidence."
Davis has already shown the considerable skills he possesses as a combo guard who is truly capable of playing either the one or two.
"He has a great feel for passing the basketball," Haase said. "He's making open shots, but he's very, very unselfish. Defensively he can do some things on the basketball that are elite."
For a player who is 6-foot-8, Okpala's agility is remarkable to behold: "His feet are really, really good. Once he learns to truly compete every possession and get used to the speed of the game, defensively he can really slide his feet. I think very comfortably he could guard one through five -- without hesitation saying that he can do that."
Haase and the coaches have spent "maybe two hours" on the court with Da Silva in a Stanford practice jersey.
Wulbrun watched Da Silva play in the FIBA tournament. He averaged 10.3 points, four rebounds and two assists per game in the seven-game schedule.
Due to injuries on the German team Da Silva had to play a lot at the five, Wulbrun said. Watching Da Silva handle that challenge gave the Stanford assistant a "tremendous appreciation for how well he moves on the floor both offensively and defensively.
"He moves like a cat," Wulbrun said. "He switched out on point guards on ball screens. He was guarding one through five and that's a special ability."
While the old basketball adage is that your offensive position is what you can guard on defense, Wulbrun sees Da Silva as the personification of the new model, which is position-less basketball. He phrased it as an intriguing "to be determined" of where Da Silva fits in Stanford's system.
One thing is certain: "We'll be able to say about Oscar that he makes his teammates better."
And his teammates have been hard at work this spring and summer. While a talented recruiting class is a sure way to get fans excited, the day-to-day job of returning players to improve on the version of themselves that last played in a game is just as important.
The team has focused on offensive fundamentals, Haase said. From catching the ball properly -- "ripping it low" -- to repetition after repetition of the correct way to attack the rim.
"Build into the team concept of we want to attack the rim more this year," he said. "Put the ball on the ground and create for others. Attack the paint and learn how to move off dribble penetration."
Haase and Wulbrun agreed separately that if they were to name a standout of the off-season it has been senior guard Dorian Pickens.
"Dorian has been a real star this spring and especially this summer," Haase said. "His body looks better. He looks leaner and he's quicker out there. He's shooting lights out. His confidence is sky high. He's one who his effectiveness on the court has been really, really good."
"Dorian's body has really changed," Wulbrun said. "His work ethic and commitment to the game has been tremendous. You've seen Dorian do things he didn't do last year. He's beating people off the bounce, he's pulling up comfortably off the dribble for mid-range shots and he's shooting the three with so much confidence."
Wulbrun and Haase said that Michael Humphrey and Pickens are approaching their senior years with the urgency that coaches want to see from players facing their final season. And there is an energy among the entire team that is pushing them to break the three year NCAA tournament drought.
"As coaches we've talked about it a little bit and going into next season we'll talk about it a lot," Haase said. "That's something we'll address and have a plan to get there. We'll hold guys accountable if they fall short of what is expected."