Stanford adds a pair in 2016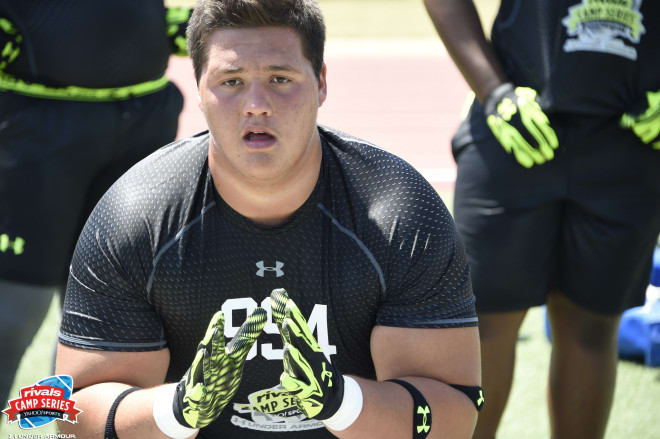 Stanford's close to the 2016 recruiting cycle picked up major steam on Thursday, as the Cardinal gained verbal commitments from two key prospects.
Three-star Hawaii offensive lineman Nate Herbig and three-star Texas defensive back Obi Eboh announced their decisions on Twitter minutes apart.
Both Eboh and Herbig took something unusual paths to Stanford.
Stanford started recruiting Eboh last spring. He took his first trip to The Farm in April for the Cardinal's second Junior Day of the 2016 recruiting cycle, a weekend that was in some ways the launch point for the success of this class.
He enjoyed his time on The Farm along with future teammates like Bo Peek, Simi Fehoko, Curtis Robinson, Treyjohn Butler and Clark Yarbrough.
"It was a really beautiful campus, like I expected," Eboh said at the time. "I've heard a lot of things about it. It was basically everything I expected. I got to talk to some academic advisers and (do the) kind of things that I would do when I got to Stanford. So, overall, it was what I expected and it was just beautiful. California, you can't really expect anything less than that. So it was good."
"(A Stanford offer) would be incredible just because of how prestigious they are academically and their football team is obviously one of the top in the Pac-12, arguably in the country," Eboh said. "So it's the best of both worlds. Again, location, weather, the facilities. It would just be a great offer. It's the best of both worlds."
Stanford continued to build a relationship with Eboh over the coming months, and he made a return trip to The Farm in mid-June to participate in the Cardinal's camp. Eboh impressed, but Stanford didn't immediately offer. And when the Southlake Carroll High School standout committed to Texas in early September, the Cardinal's chances seemed like they took a significant hit.
But the Cardinal nonetheless continued their pursuit and evaluation of Eboh throughout the fall. And he kept an eye on Stanford from afar. Eboh maintained a strong academic course load, and he applied and eventually earned admission into Stanford University. Additionally, the Cardinal came through with an offer.
As a result, even though he continued to maintain his commitment to Texas, Eboh decided to take an official visit to The Farm in mid-January for the program's big recruiting weekend.
He presumably liked what he saw. Eboh decommitted from Texas a few days after returning home, and announced his college choice earlier today.
Eboh joins Malik Antoine and Treyjohn Butler as 2016 defensive backs committed to the Cardinal. Stanford will look to add one more player to its secondary class in 2016.
For a while, Nate Herbig's Stanford recruitment appeared to be more conventional. The Cardinal recruited the Hawaii standout last spring, and convinced him to attend their camp in June. Herbig proceeded to blow everyone in attendance away with a dominant performance, and received an offer essentially on the spot.
Herbig didn't need long to make his mind once receiving the scholarship. He committed to the Cardinal less than a week after getting offered.
All looked like it was going more or less according to plan for Herbig and Stanford until the three-star lineman, who at that point had not received an admissions decision, somewhat abruptly decommitted from the Cardinal on Christmas Day.
Stanford and Herbig stayed in touch, however, and the Cardinal was able to get Herbig back on campus for the program's Big Visit weekend. That was the site of perhaps the most critical moment of Herbig's recruitment. On Saturday, the three-star prospect learned that he had been admitted to Stanford, ending a period of uncertainty for Herbig and his family.
From that point forward, Stanford was the clear frontrunner in his recruitment.
Herbig did follow through on plans to visit Cal, checking out Berkeley last weekend, and the Bears impressed. But ultimately, Stanford proved too enticing for Herbig to turn down.
It's expected that Herbig will play guard once he arrives on The Farm. He possesses the type of strength and physicality that could make him an imposing force for the Cardinal. Depending on fellow 2016 Cardinal offensive line target Dylan Powell, who likely also projects as an interior lineman, Herbig will either be the only or one of two interior linemen in this class.
Stanford moved up to No. 17 in the Rivals team recruiting rankings with Eboh and Herbig. Stay tuned to Cardinal Sports Report for continuing coverage of all things Stanford football as the Cardinal tries to put the finishing touches on what should be a very strong 2016 recruiting class.