{{ timeAgo('2021-01-07 23:34:41 -0600') }}
basketball
Edit
Stanford 91, UW 75: Reaction and Press Conference Videos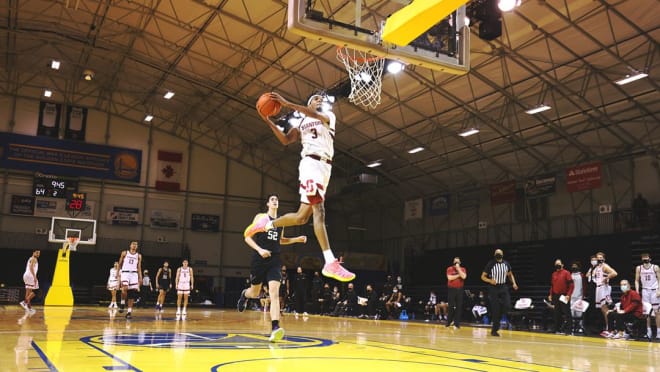 Suffocating defense and a triple-double by Ziaire Williams helped the Cardinal overcome 22 turnovers in a 91-75 win over Washington in Kaiser Permanente Gym in Santa Cruz — the team's new home.
Williams' triple-double (12 points, 12 rebounds and 10 assists) was the program's first since Brook Lopez had 12 blocks to go with 10 rebounds and 18 points against USC in 2007. The freshmen also did this to the Huskies:
Williams' effort on defense got him more praise from his head coach after the game than anything else. Haase had a lot to be happy about from Williams — all the freshmen, actually — while obviously acknowledging that unavoidable, which is that turnovers remain a major problem.
It turns out that a team can turn the ball over 22 times and win if they also have 20 assists, cause 17 turnovers of their own, control the boards and the final piece is that it helps to play a terrible team. Yes, the Huskies are now 1-8 but Stanford is down its starting backcourt and the only injury update from the program is that Daejon Davis is "day-to-day" and Bryce Wills is "week-to-week".
In their place Haase leaned on the freshmen and overall it was a very good night for Williams, Michael O'Connell, Brandon Angel and Max Murrell. They combined for 35 points, 15 assists and 15 rebounds. Williams did contribute seven turnovers to the unwelcome total, but there were a lot of positives from his court vision and passing ability. O'Connell has yet to commit a turnover and has 13 assists in the past two games. His confidence has grown in leaps since the first half at Oregon State.
Jaiden Delaire is a really skilled player and Haase has high expectations for him. The 6-9 do-it-all forward had 21 points and nine rebounds but also five turnovers. He and Williams (combined responsible for more than have of the turnovers) sometimes suffer from the same affliction of being a bit cavalier with possessions.
Spencer Jones looked like the guy I called "Deadeye" last season. It was the first time that version of Jones has played a full game this season and he scored 18 points to go along with his always solid defense.