St. John Bosco star Chris Steele reacts to Stanford offer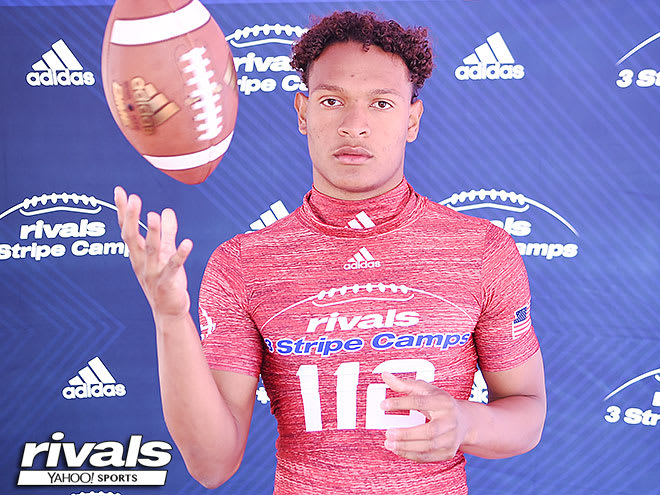 When St. John Bosco sophomore cornerback Chris Steele made the trip to Stanford for the Saturday junior day he thought it was likely he'd get an offer. But he still wasn't fully prepared for how it would feel when head coach David Shaw delivered the news in person.
"When it did happen and it came from Coach Shaw it made it 10 times more special than it already was (going to be)," he said. "Throughout the whole day they showed me a lot of love and then it (the offer) came from one of the best coaches in college football. Stanford was probably the biggest one for me athletically and academically."
A verbal commit to UCLA, Steele praised the great relationship he has developed with Bruins head coach Jim Mora and defensive backs coach Demetrice Martin. That is the standard other programs have to match.
Stanford's approach to host small groups of visitors -- only 12 high school recruits were on campus Saturday -- was a benefit here because Steele felt there was a lot of progress in terms of getting to know the coaches. He had lunch with Shaw and -- along with fellow 2019 cornerback Nyquee Hawkins from New Jersey -- he watched film with defensive backs coach Duane Akina.
"That was a big part of the day for me to learn new things from one of the best defensive backs coaches in college football," he said.
Akina started recruiting Steele toward the end of his freshman year.
"I've built a great relationship with him as well," Steele said. "He's actually a really close friend of my uncle, so I've gotten to talk to him a lot of times. And he has been really honest with me. Hopefully Coach Shaw and I can build a good relationship as well. We really got off on the right foot."
Steele also took full advantage of the player panel made available to recruits without any coaches in the room.
"I want to make sure I make the right decision," he said. "They answered all my questions really well. One of the players from Charlotte, I was asking him about Coach Shaw because he (Shaw) seems like a really nice guy. I know a lot of other coaches I've talked to it seems like they're just putting on a front.
"But they let me know that's how really is -- a great dude, awesome personality and he also gives a lot of tough love. That's what I'm looking for in a coach. I was asking, 'How is he off the field?' A lot of coaches want to learn about you, but you don't get to learn about them. When you make a decision you're letting the coaches into your life."
It seems that Steele is putting a great deal of emphasis on the quality of the people who run the program he will join. And the list of head coaches and position coaches for him to filter through gets longer with each week.
Steele recently added offers from LSU and Alabama. He admitted there are times when it feels like the decision of where to go to school is getting tougher rather than easier. But he knows he has more than two years before he steps onto a college campus as a freshman.
Academics are an emphasis for Steele. He noted that in his research of top universities that Stanford is No. 1 on some lists and "that really has a lot to do with my final decision, which I'll make my senior year."

His work in the classroom reflects his focus. He has a 3.7 GPA, but he confidently predicted it would be a 3.9 by the end of the semester. He plans to take three AP courses next year: calculus, U.S. history and English.
Four years from declaring a major he said generally he is fond of math and science courses.
Steele plans to be at LSU sometime in June and at Alabama for almost a week in July. He wants to return to Stanford this summer, but he's not sure exactly when.