Signee Q and A: Obi Eboh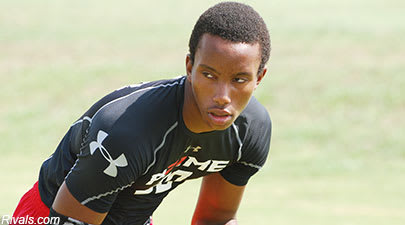 One of the most heavily recruited defensive backs in the state of Texas, Cardinal signee Obi Eboh received offers from the likes of Ohio State, Oklahoma, Texas and Stanford over the course of his recruitment. The three-star standout committed to the Longhorns in September before flipping to Stanford a week before Signing Day.
Cardinal Sports Report recent caught up with Eboh to discuss his experiences navigating the recruiting process - the highs, the lows and some humorous moments along the way.
What's the funniest recruiting pitch or recruiing line from a coach that you remember getting?
Eboh: A school said that their girl to guy ratio was predominantly to the girls. So, they're like, 'We have this percentage of girls on campus, so if you come here you'll be in good hands with that aspect of your life.'
That was one of the better ones I heard. And then other ones, I guess, were just you'll come in and play immediately. Or we'll take you out of high school right now. Something like that, something absurd that's not at all true.
The girl guy ratio one was probably the funniest thing.
What was the most memorable recruiting pitch? It might be the same one, but if it's at all different?
Eboh: Probably that one, too. Getting to hear what Coach Shaw had to say about Stanford, it speaks for itself. But when you get to hear him really talk about what their program is all about, and not just academically, too. What the football program does.
Actually, I would say it was probably from Coach Akina. He was talking about how everybody talks about, 'Oh, Obi decommitted from Texas just because he's going there for the education.'
But Stanford has a chance to play in Rose Bowls and College Football Playoff bowls and ultimately win a national championship. And that was something that caught me, because Coach Akina and Coach Shaw said Stanford has goals that people can't aspire to get. They're ranked top five academically but also ranked in the AP poll, they finished No. 3.
Some schools can't even aspire to reach that because they were No. 3 in the AP poll and I think ranked No. 4 in the world as a university. Some can literally not achieve that, because they can't, not top five in the world academically. But (Stanford) can also be a top-five football team. That was just one thing that caught me.
What was your favorite part of the recruiting process?
Eboh: I guess just being courted, I guess you could say. Whenever there were dates like September 1st of my junior year, you got a ton of followers (on Twitter), a ton of DM's, just a bunch of love from all of those coaches. And then when I was committed to Texas, it was funny because I could tweet like one word, and all of the Texas fans would retweet it.
That was probably one of the best parts - I gained so many followers from the Texas fans. They were very supportive, so I think that was one of the coolest things. I tweeted "#believe," or something that would not even mean anything to anybody. That was probably one of the coolest things. I have a lot of respect for their fans - they have one of the best fanbases, if not the best one in college football, so that was really cool.
What was the worst part of the recruiting process?
Eboh: Recruiting is always a good problem to have. People will say, 'Oh, you're being recruited by all of these colleges, you don't really have it bad.'
But sometimes the process can get pretty stressful. It's kind of hard for other people to understand, but among recruits, I think they kind of understand each other when they say that it can get pretty stressful - a bunch of late nights talking to coaches, getting a bunch of calls every night. Sometimes you can't even finish your homework, you have so much to do.
In-home visits - I had, gosh, I can't even remember how many I had one week where it was like one coach came in. When he left another one was coming in. Then another came in. Or during one of the recruiting periods they would come to my school. I drove up to go to my first block class and then I had to be excused to go into the coach's office and talk to one coach. I would leave, go back to class and get another call saying aother person was there, so I left. It was just back and forth.
One day, like, I didn't even go to class because there were so many coaches that came. So making my way around that schedule was kind of hard.
And then one of the other hardest parts was telling Coach Strong that I wasn't going to be able to attend their school. That was obviously very tough on me. Obviously being from Texas, there are a lot of people, even just in Southlake, that are Texas alumni, so that was pretty tough as well.
If you could do it all over again, what would your advice be to sophomore year Obi? What would you tell yoursel two years ago that you know now?
Eboh: My advice: Just stay patient, I guess, because you never know what's going to happen. Honestly, I would say don't shatter any windows, don't burn any bridges with people just because you never know what's going to happen. I got into Stanford and I'm very blessed that happend, but I think five or six of my friends were not admitted. So I would just say don't burn any bridges with people, and like I said, just stay patient with the process.
And also, have fun with it. You only get it one time. Sometimes it can be hard, but it's actually kind of fun - getting recruited by a bunch of schools. Try to have fun with it - it's not really a drag. Play it out and see what you can do.
Did you ever experience any negative recruiting specifically toward Stanford?
Eboh: You wouldn't think so, because it's Stanford. You can't really downplay them.
But, I guess, some coaches' negative pitches to me about Stanford were their fanbase isn't as good as other schools. You're not going to always sell out and play in front of 100,000 some people, which is true, sometimes. You're not always going to play in front of a bunch of people. Their fans aren't loyal, blah blah blah blah. It's not really a football school per se, some people said that. I kind of disagree. It was just kind of about the fan base - you're not going to have as much support.
I guess their pitch about me being from Texas was, OK, you had your legacy down here, but now you're just leaving it to go to California. That's kind of what their pitch was to me about it. But ultimately I had to do what's best for myself. That's all you have to do - you can't really worry about what other people are saying.
What was the craziest thing you saw or experienced on a visit over the course of your process?
Eboh: I'll say that actually on my official to Stanford, we were all hanging out, some of the signees, some of the football players and other regular students. I get a tap on the shoulder and this girl was like, 'Hey, are you Obi Eboh?' I was like, 'Well, yeah.'
It was kind of dark and I couldn't really see who it was. But then she explained herself - she was saying, 'I was your neighbor back in Southlake when I was still in high school.' I was blown away because I knew who it was when she said that, but it was just weird that we were in the same place at the same time, from Southlake.