Signee Q and A: Andrew Pryts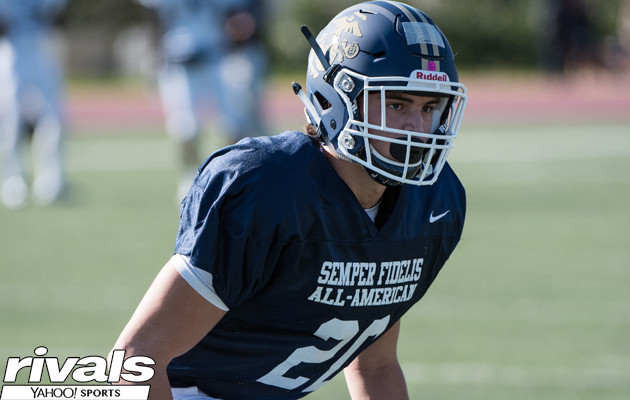 Stanford added one of its key final pieces to the 2016 recruiting class on Signing Day when former Penn State pledge Andrew Pryts officially flipped to the Cardinal.
With a little over a month until Pryts and his fellow classmates enroll at Stanford, Cardinal Sports Report caught up with the talented safety to discuss post-Signing Day life and some of the twists and turns in his recruitment.
Cardinal Sports Report: How have the last few months been for you? You were recruited for so many months - how has life been post-Signing Day?
Andrew Pryts: It's been great. As soon as Signing Day was over it was a huge stress relief... Since signing I'm more confident now with my decision than I was at the time. I couldn't be happier with the decision I've made. Life has been great - I've been training hard. They sent us the packet for lifting and conditioning so I've been trying to stick to those and really get prepared, finish out the school year strong and be ready in June when I leave.
CSR: What sort of things are you doing with those workouts and how are those maybe different from what you've done throughout high school and throughout most of your life?
Pryts: It's been tough. The conditioning is a lot more rigorous than it was in high school, what we had to follow in high school. The lifting is not like the traditional college lifting that you see from all these schools around the SEC and Big 10. And that's one of the things that I loved about Stanford, is Coach Turley and his lifting style and the stuff that he does to prevent injuries and to really strengthen the core and stuff like that. It's been an adjustment but it's definitely gotten me stronger and faster and quicker already.
CSR: I know you've kind of touched on it, but aside from the generally prescribed workouts from Coach Turley, are there one or two areas of emphasis that you're really focusing on as you get ready for college - the physical aspect, mental aspect, really anything?
Pryts: Definitely mental. They have sent stuff on HUDL and I've already been (studying) the past couple of months. They guys in my class, we have a group message so we've been going back and forth with each other, shooting each other questions and getting on the phone with coaches and really studying the playbook. So that's one thing. Another is, for me, personally, more technique stuff. I've been working with a local guy over here who played for the Indianapolis Colts probably 10 or so years ago. So really just fine tuning my technique and getting down to the fundamentals and the man coverage stuff, the zone stuff and a lot of footwork, too.
CSR: As far as Coach Akina's plan for you at Stanford, you're obviously a defensive back, but they do a lot of different things, even with their safeties. They've had safeties play nickel, play here, play there. Have you talked to him (about that) - what all is he expecting from you when you get out there?
Pryts: He likes the physicality that I bring and that I've shown in high school and will bring that to college as well. Like you said, it's awesome that at Stanford the safety position is so versatile. Coach Akina is probably the best mind in the game. So I have full trust in him. We haven't spoken too much about the technicalities of it and where exactly I'll be. But they've just been telling me to train hard and prepare as best I can and during summer and during camp, after we get through that, we'll sit down and map out what I need to get better at and where he sees me fitting in.
CSR: Going back a little ways to your recruitment, you took an unofficial visit to Stanford over summer and then committed to Penn State relatively shortly thereafter. What changed for you, going from that visit, committing to another school and then ultimately switching to Stanford?
Pryts: My dad went to Penn State. It's an in-state school I grew up loving and I grew up always dreaming of playing for Penn State. Growing up and starting to get recruited, that was always in the back of my head - hey, this is where I feel most comfortable. And I think that's really where I went wrong in the recruiting process - feeling the place I'm most comfortable is the place where I need to go. I think that's where I was wrong throughout that process.
I think it hit me sometime during those last couple of weeks and last month of recruiting before Signing Day that Stanford is a place that's going to set me up for the rest of my life. I might not be as comfortable there, being almost 3,000 miles away, but it's somewhere I'm going to go and it's going to set me up for the rest of my life.
And besides the distance part and the comfort part, I loved my (June unofficial) visit to Stanford. The coaches were great, the academics, obviously. It's beautiful out there, in the San Francisco Bay Area. All were positives. After my June trip there was nothing really that I didn't like from Stanford, it was just kind of the comfort factor and the distance that bothered me up until when I made my decision - I was like, it's not something that's going to make my decision.
CSR: You mentioned the comfort level, not only with your dad and you being a legacy, but you're living in the state of Pennsylvania. With the way Twitter is now days, your life is on blast to thousands. Can you take me through what that process was like as you're mulling everything over and then it becomes publicized. How much stress was there - what were the dynamics of those last few weeks (before Signing Day) for you?
Pryts: I'm sure you talk to every recruit and they probably say the same thing: At first, it's awesome. These coaches and these schools roll out the red carpet for you. It really is awesome - it's flattering, it makes you feel bigger than you are. And for some kids that is a problem and you need to be grounded. But it was a great process. And toward the end it did get really stressful, especially committing somewhat early and then having second thoughts and thinking my decision over again. Once it was over, though, it was such a relief. I couldn't be more blessed and more excited to be in the position that I was through the process having all the options that I had to attend all these great schools. The one thing my parents told me all along was you're not going to make a wrong decision. It's what you make of it in the end. That was the thought process I had but when it was over I was just really glad it was over.
CSR: Obviously part of the Stanford process was admissions, going through that whole application. What was that whole experience like, and you do remember what the feeling was like when you were admitted? And roughly when that happened?
Pryts: I actually applied to Stanford early, before I even committed to Penn State. After my (June) visit I filled it out. I think I ended up sending it in sometime in August or September, I think right before my commitment to Penn State. I decided to apply really just for the heck of it, just to see if I got in. I know in recruiting these days coaches come and go and you always want to have security. So I applied, I got accepted. I always kind of had it there as a backup plan. I didn't really think about it much through the season because I was so busy with my team. And then after the season ended I started to re-think things going into my decision.
CSR: Finally, when did you know Stanford was going to be the place for you? And you mentioned comfort level (with Penn State) vs. making that decision, but what were the ultimate factors that pushed Stanford over the edge?
Pryts: The ultimate factors, I would say education is first. I think any football player and any student there can agree with that. They went there for the education. Other than that, Coach Shaw is probably the best head coach that I met throughout the whole process - easily the best head coach I met throughout the whole process. And Coach Akina, my position coach, was my favorite coach throughout the process. The only problem for me was the distance and the comfort level, and that was something that I think I even matured a little bit from the time that I made the Penn State commitment to the time that I switched. I took a step back and realized the distance will be tough but it will be something I get used to.
When I knew, it wasn't until probably a few days before Signing Day. I took my visit to Stanford and then a week later I took my visit to Penn State and then I decided probably three days before Signing Day is when I switched.