Shaw sessions Part Two: Card Class 16 and 17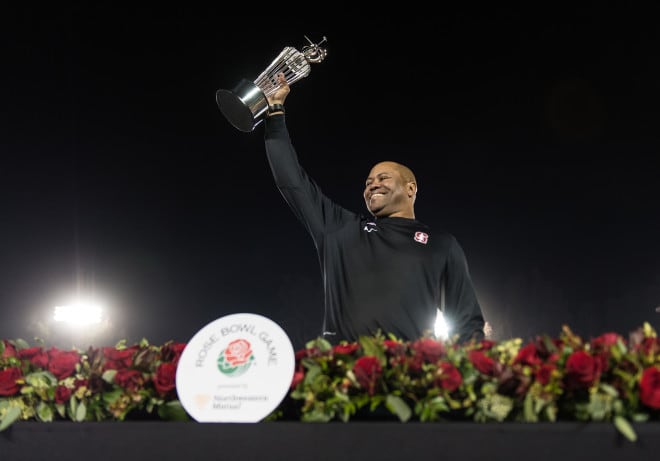 Cardinal Sports Report had a chance to sit down with Stanford head coach David Shaw last month to discuss the 2016 recruiting class, the outlook for 2017 and Shaw's philosophy on the ever-evolving recruiting process.
Below is the second portion of our interview with Shaw, which focuses on recruiting topics specific to the 2016 and 2017 classes.
The first part, which was published late last month, discusses Shaw's recruiting philosophy and the bigger picture.
Shaw on: Underrated 2016 signees
Neither Shaw nor Stanford's coaching staff as a whole puts a ton of stock in recruiting rankings, and they certainly don't use them to guide evaluations. But Shaw is generally aware of the recruiting profiles of members of Stanford's incoming class.
And several strike him as underrated.
"Obi Eboh was always interesting to me," Shaw said. "And once again, I glance at the ratings - they don't mean anything to me. But every camp that he went to he was like the MVP. Every place he went all of the receivers said he was the best guy. And it was the strangest thing that a lot of guys were at a lot of those same camps with him. Because I don't know how these things work. I don't know if anybody truly knows how they work. But for a guy like that who has phenomenal film, that has length and speed and athleticism and goes to the camps and shows it every camp he goes to and to still not be vaulted up the ratings, whereas other guys might go to one camp and do well and go up. I don't understand that stuff.
"And once again, it doesn't hold any water at all for me. It's not even interesting anymore because like I said, our phrase of trusting our eyes still matters."
A pair of Northeast signees also caught Shaw's attention.
"Donald Stewart is long, athletic, has good hands and is a physical receiver.
"Andrew Pryts, I thought his film was outstanding... Those are just a few (of the underrated incoming players)."
"But for me, I think a lot of the guys that we looked at, we were always shocked, because when we get the film, we get the transcript - OK, this is what we're looking for. We watch them, they get in to camp: 'Oh my gosh, this guy is great.' And then you see somebody else that we rejected get ranked higher than those guys. It's all eye of the beholder, I guess."
Shaw on: Dorian Maddox
Stanford extended its final scholarship offer of the 2016 recruiting cycle a few days before Signing Day, to Maryland running back Dorian Maddox, who committed to the Cardinal on the spot.
But while Maddox's recruiting profile and offer list were not necessarily as impressive as some of the other prospects in Stanford's incoming class, the Cardinal had actually been recruiting him for months before offering.
Ultimately, after a couple of running back prospects dropped off the recruiting board late in the cycle, Stanford decided to add Maddox to the class.
Shaw emphasized that the timing of the offer to Maddox was not so much an indictment on the Gilman High School product's ability as a reflection of the way Stanford operates in the recruiting process.
"The difference between us and everybody, as you alluded to earlier, we don't spread offers like a Johnny Appleseed," Shaw said. "We needed at least two running backs in this class. We just had to have two. But we weren't going to offer 10 to get two. I don't think that's the right thing to do. Dorian was always on our radar. We offered a few then a couple fell by the wayside and we offered a couple more. But once again, we were always looking at Dorian, knowing full well that Dorian was applying on his own and he wanted to go to Stanford. We knew that was a possibility. But I didn't want to offer him until we had a spot. And I didn't think we were going to have a spot. And then a couple of things happened late and his application went through and he got admitted. Thankfully he was still willing to come and we turned around and offered him."
"It's not like we didn't think that he was good enough - that wasn't it at all. It was just that we don't want to over-offer and put guys in that position."
Maddox reminds Shaw of some of the powerful runners who have thrived in Stanford's offense in previous seasons.
"The bottom line for me, when you look at him on film, you see a tough runner, you see a physical runner," Shaw said. "You see a high effort guy. You see a low center of gravity. Not unlike the Stepfan Taylor/Remound Wright body type, built low to the ground and powerful. We always put a premium on guys like that. So his film always excited us and thankfully it worked out at the end."
Shaw on: 2016 offensive line class
The largest position group in the Cardinal's 2016 recruiting class - and perhaps the most talented - is the offensive line. It includes five scholarship players - Clark Yarbrough, Devery Hamilton, Henry Hattis, Nate Herbig and Dylan Powell - and a heralded walk-on in Matthew Gutwald, who turned down a half dozen Pac-12 scholarship offers to join Stanford.
The class checks a lot of boxes for what Shaw and Cardinal offensive coordinator Mike Bloomgren desire in their trench prospects.
"What I like about them, honestly, is with the whole class you have length," Shaw said. "You have athleticism. And you have some position flexibility.
"Clark and Devery, right off the bat, are automatic tackles. But when you look at Henry Hattis, he could play tackle. He might be able to kick back inside - you never know.
"All of them, who knows how early in their careers could be an extra tight end, the ogre position for us, the wing.
"Because what we love about all of them is they can bend. I've learned about offensive line play from Bill Callahan and learned a lot from my time with Mike Bloomgren. What helps guys do their jobs well is that combination of length and people that can bend. It's a great combination, and that's what when we look at the Kyle Murphy's of the world - 6-foot-6-plus, but who can get down in a stance and his butt sometimes is lower than the guard's butt."
The other three incoming prospects project as interior linemen - but they, too, possess versatility and at least some measure of positional flexibility.
"Nate and Dylan are inside guys that are physical, people mover guys," Shaw said. 'And could one of them learn how to snap and be a center? Dylan is probably more likely, but you never know, which gives them that flexibility of playing either guard or the center position inside.
"Gutwald's another one of those also that is probably an inside guy, but he has some length that could kick outside in an emergency. That's to me what I get excited about. You look at Nate Herbig and you see a guard, which is great, because he came to camp and he moved everybody, which we're really excited about.
"But with the other guys, it's great to look at those guys and say, 'OK, you know what? I'm not exactly sure where he could be pigeonholed.'
"And some people get nervous about that, I think, but Coach Bloom and I get excited about that. We love to have versatile guys - to do what David Yankey did, to be able to go back and forth between guard and tackle, and Johnny Caspers did, going back and forth from center to guard. I think it's huge. It helps us out a ton."
Shaw on: 2017 recruiting
On the heels of a large class in 2016 (and sizable groups the last few years, really), Stanford expects its 2017 recruiting class to be on the smaller side. There is no firm number at this point, but somewhere in the vicinity of 13-17 might be expected, Shaw said.
The Cardinal will look to address needs in the wide receiver corps and the secondary, among other spots.
"We need numbers at the defensive back position - safeties and corners, always," Shaw said. "Being in this conference and as much as people throw the ball, and we've showed the last couple of years, we can play young guys, but we're also going to play multiple guys. And we keep these guys fresh with all the up-tempo teams.
"We have to attack the receiver position as well. Michael Rector coming back saved us a ton but we're still going to be light at the receiver position this year losing Michael and losing Francis (Owusu) as well and being low on numbers right now. So receiver is a big priority for us."