Shaw: Criticism of Luck is absolute joke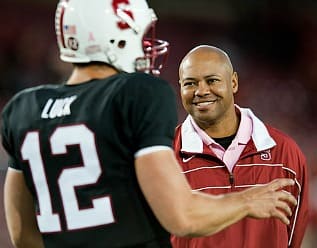 Tired of hearing the ever growing criticisms of his starting quarterback, coach David Shaw used his weekly Pac-12 teleconference to take those critics to task.
"I think it's a joke (criticism of Luck). I think it's an absolute joke," Shaw said. "There is nobody in college football that is doing what Andrew Luck is doing. Don't forget, I spent nine years in the NFL. I evaluated every single quarterback that came out in the NFL during that time and have seen all of the good ones since then. There is nobody that I've heard of that does as much at the line of scrimmage in college football. There are not that many guys in the NFL that are doing as much as Andrew is at the line of scrimmage. The guy is running the game at the line of scrimmage. He's controlling the protections. He's controlling the running game. We're calling three, four plays in the huddle, which most guys can't even think about handling and he does that."
Shaw was also very candid about the talent Luck has at the wide reciever position, something Cardinal fans are well aware of but seemingly is lost on Luck critics.
"I keep hearing all of this stuff about all of these other quarterbacks and how great they are doing," he continued. "We don't have two first-round draft picks playing receiver for us. We don't. We have a very good, solid team."
Shaw wasn't done there.
"I was talking to somebody the other day. It's like Charles Woodson. Charles Woodson didn't win the Heisman Trophy off of stats. Charles Woodson won the Heisman Trophy because he was doing something that nobody else in the nation was doing and nobody else has done since then, which is play two positions at a high level. To me, that's what Andrew is. Andrew is doing something that I have not seen anybody do in college football."
Very strong stuff when the normally measured and reserved Shaw.