Ryan Hilinski got the offer he's wanted since sixth grade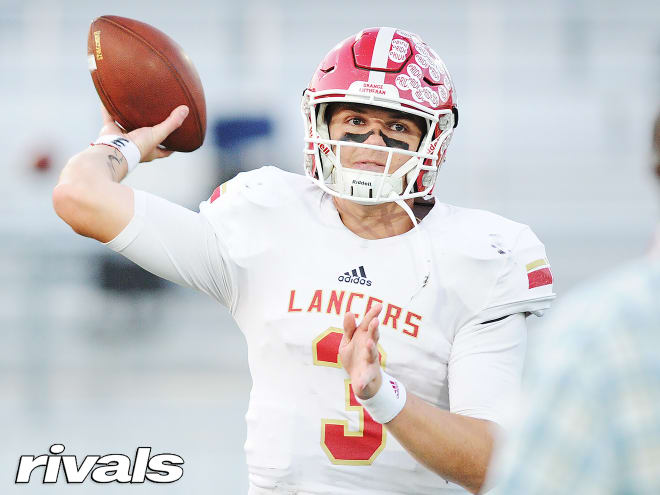 Orange Lutheran quarterback Ryan Hilinski got an offer Thursday that he's wanted for years. Stanford offered the 2019 quarterback who has been committed to South Carolina since April 4 and steadily climbed the Rivals rankings to become a top-100 recruit.
"This is the offer I've been working for since 6th grade," Hilinski messaged Cardinal Sports Report. "It's crazy it's finally come as late as it could come and I'm so honored!"
Stanford's decision to offer a quarterback in this class comes at the end of a long debate about whether to take one after losing out on JT Daniels more than a year ago. The former five star Mater Dei recruit is now a freshman starter at USC. His decision to move up his college enrollment by a year effectively ended Stanford's chances to sign the then No. 1 2019 prospect.
Hilinski camped at Stanford a little more than a month after the Cardinal offered Daniels May 10 of 2017. Hilinski didn't let an offer to another star Southern California quarterback deter him from pursuing a chance to play at what has been described as his dream school.
He put in a solid performance at the camp and he followed it up with a spectacular 12-game junior season: He completed 69.8 percent of his passes for 3,749 yards (12.8 YPC) with 33 touchdowns and only six interceptions against some of the best competition in the country.
While Stanford was uncertain about whether to pursue another 2019 quarterback, Hilinski decided to commit to South Carolina. He built a strong relationship with the program and put in a lot of work to help build a class that Rivals rates as the 17th best in the country.
Hilinski is on track to enroll early at South Carolina and Stanford does not allow early enrollees. That means if Hilinski wants to seriously consider signing with Stanford he needs to wait until February. Hilinski is open to the idea of pushing back his timeline. That makes the next two months before the early signing period in December critical for the Cardinal's chances.
Hilinski's decision may not be as simple as getting admitted to Stanford and then weigh which place fits him best.
The Hilinski family are understandably wary of playing in Pac-12 stadiums that remind them of Ryan's older brother, Tyler. The former Washington State quarterback died by suicide Jan. 16, stunning the family and the rest of the college football world.
Ryan has handled the emotional aftermath with grace and maturity under the media spotlight. While still managing his own pain, he has embraced the opportunity to use his platform to help others. He is part of his family's efforts through the Hilinski Hope Foundation to promote mental health awareness and education for student athletes.

The family planned to move with Ryan to South Carolina and it has been reported that the hope was the change of scenery might help their recovery process. It's too early to know how that will factor into Ryan's decision about Stanford, and that will almost certainly be decided within the privacy of the family.
What would it mean for Stanford if Hilinski flips?
The short answer is that it would be great news for the Cardinal. If Hilinski were to sign with Stanford with his current Rivals rating it would be a comparable profile to current starter KJ Costello. The former Santa Margarita quarterback was No. 53 overall in the final 2016 ranking.
Hilinski's senior season is not on the same statistical track as last year but Orange Lutheran has been devastated by injuries. He is playing behind a line that is missing four starters and is without star receiver Kyle Ford.
Stanford signed five star quarterback Davis Mills in 2017 and three star Jack West in 2018. Tanner McKee graduated high school last year and is expected on The Farm in 2020 after serving a two-year LDS mission in Brazil.
If Hilinski joins that group it provides several reassurances:
- It means Hilinski doesn't arrive needing to be a savior. He can develop at his own pace, and play when he's ready, and not because he's desperately needed on the field. That's one of the most important benefits of taking a quarterback every year. There's no way to know with certainty how an athlete will develop at the most difficult position in football.
- Mills has struggled to stay healthy the past two years. He played through a knee injury his senior year at Greater Atlanta Christian -- and was stellar in the process -- but re-aggravated the injury in the state championship game. Since he's gotten to Stanford he's suffered several setbacks, including during his college debut against UC Davis. He has not practiced since that game Sept. 15.
- Concern about Mills' health almost certainly played a role in the decision to offer Hilinski. That said, the Cardinal coaches remain optimistic that Mills has a bright future on The Farm. His physical talent is obvious. He looked impressive in a couple open practices during training camp, especially for someone with limited live-action experience in the previous year.
- It also would help protect the team if Costello decides to go to the NFL after this season. There is a recent example of how problematic it can be to not have enough quarterbacks -- Stanford did not have a healthy scholarship quarterback available for spring practices while Costello and Mills rehabbed from surgeries. Then walk-on Jack Richardson carried the burden of taking most of the snaps. If Hilinski joins the Cardinal, then -- barring injury -- Stanford can feel confident about having at least four scholarship quarterbacks next fall: Mills, West, Richardson and Hilinski.