Robinson on fifth star, Stanford recruitment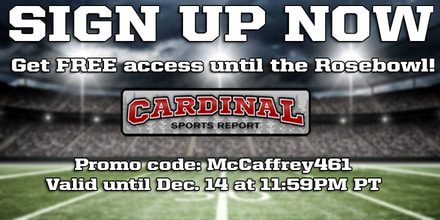 Although they are subject to change prior to Signing Day, Robinson was elevated to five-star status in the second-to-last Rivals.com rankings update of the 2016 recruiting cycle. He now checks in as the nation's No. 23 prospect.
If Robinson maintains his ranking through the end of the year, he'll be the first five-star linebacker to ink with Stanford in Rivals history.
"There are few linebackers in this class who cover ground as well as Robinson, who runs with tremendous speed from sideline-to-sideline and who can also go into coverage without a problem to make plays," wrote Adam Gorney, Rivals' National Recruiting analyst. "Not only is Robinson incredibly fast, he can come up and hit to pop the ball out and the Stanford commit is so smart. Robinson was well coached at Mater Dei and could have a tremendous career with the Cardinal."
Added Rivals.com National Recruiting Director Mike Farrell:
"Robinson isn't as big as some of the others but he is a very effective tackler, covers a ton of ground and is exceptional in coverage. He reads plays easily, takes the right angle and path to the ball and has the knack for making the big play. Instincts and more instincts allow him to be all over the place and get skinny when needed or shed blocks at the point of attack."
Robinson was thrilled to receive word that he had joined the elite five-star company.
"I was really excited about that, actually," Robinson said. "It kind of took me by surprise. I thought I had a pretty productive senior season but when I went on Twitter and people started texting me I was pleasantly surprised by that. It definitely means a lot to be one of a few five-stars in the nation."
According to Max Preps, Robinson finished the year with 18.5 tackles for loss and 10 sacks - against stellar competition in perhaps the nation's top high high school conference, the Trinity League.
"I think I made really big improvements, in two areas - in coverage and in pass rush," Robinson said. "Last year I didn't get the chance to rush and blitz as much as I would have wanted to. But this year, taking over the strongside role a little bit, our coach was able to design more blitzes for me so I was able to get more pressure on quarterbacks and work on my pass rush moves. And then in coverage, we run a big zone defense so I was able to drop into coverage and make plays in space."
Robinson's eventful Monday also included a visit from his future position coach, Cardinal defensive coordinator Lance Anderson.
"It went great," Robinson said. "I saw him at school earlier (Monday). He stopped by a for a couple of minutes just to check in and that was great. It was good to get a chance to sit down and talk with him and my family about everything moving forward and to just build the relationship stronger with him and my family."
"(We were) really just telling him how exited we were for me to get up there and how solid everything was and how we couldn't wait for Signing Day. And just kind of getting final questions about scholarship information and stuff like that out of the way."
"One main guy that I'm after is Jovan Swann," Robinson said. "He's been leaning a lot toward Stanford. I met him on my visit (for Stanford's win over Arizona) and he seemed to like it and we've been in contact ever since . I know he might be looking at Northwestern and a couple of other schools but I'm definitely working hard on getting him over there to kind of complete the deal as part of the class."
Robinson will take his next trip to The Farm in January for the program's big recruiting weekend.
"I've been out there so many times and I've been in good contact with the coaches and personnel that I really had all my questions answered," Robinson said. "The official visit is kind of just a time for me to relax and really enjoy the time with the other commits and build better relationship with them."
Robinson does not currently have any other trips scheduled. He was admitted to Stanford over summer.