{{ timeAgo('2020-01-31 19:18:34 -0600') }}
football
Edit
Recruits react to Big Visit: Culture-building weekend always a hit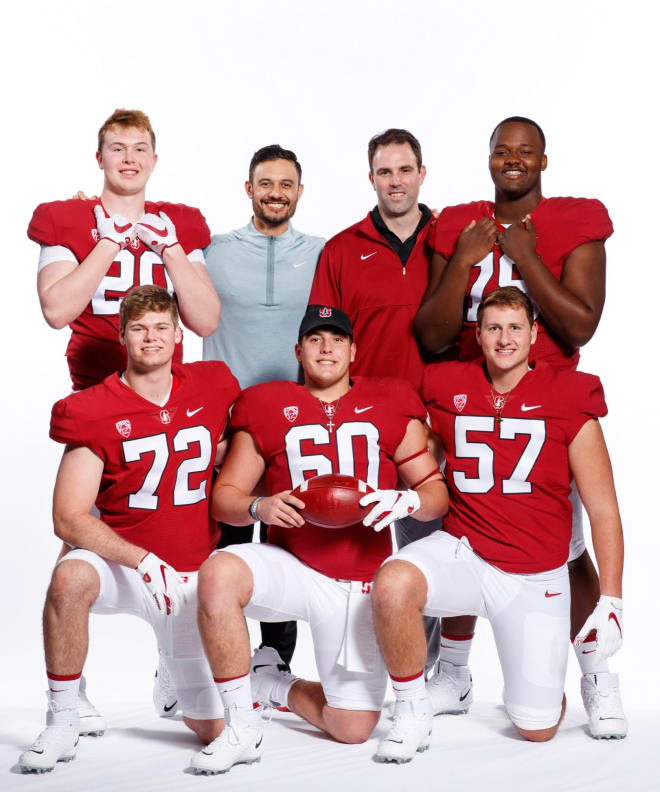 Every January Stanford hosts its senior recruiting class for "Big Visit" -- a gathering of young football players and their families for a five star experience on The Farm.
Every visitor used his "official" for the trip which simply put means Stanford covered the cost. Since the establishment of the December signing period almost every recruit in attendance the past three classes had already signed his letter of intent with Stanford. This year two recruits were uncommitted before the visit: offensive tackle James Pogorelc and safety Scotty Edwards.
Since then, Pogorelc has committed and will sign Wednesday. Stanford is a strong favorite to sign Edwards as well.
Cardinal Sports Report received messages from several of the attendees to describe the success of the weekend spent bonding together.
This quick review by Levi Rogers can pretty much be copy and pasted to cover what every recruit had to say: "The visit was by far the best visit I have taken to a school. It was such a great experience!"
Stanford packs the 48 hours the visitors are on campus with a variety of activities: a student-athlete panel, lunch with professors, an escape room, tour of a virtual reality lab and more.
The most popular activity was the escape room, which challenges a group of people to "escape" a room by a certain time by solving clues.
Connor McLaughlin: "It was nice to be around such brilliant people and problem solve with them in an orderly and respectful fashion. With most people it becomes a riot but with Stanford players it was different."
Casey Filkins: "It was a great way for us to build some teamwork and chemistry with each other while competing alongside our new brothers."
McLaughlin and Drake Metcalf identified wide receiver Bryce Farrell as an expert at solving the escape room. Metcalf described Farrell as maybe the most intelligent person in the class.
"He's in like six different AP classes," Metcalf laughed. "This kid is insane. He's really genius and it's awesome to say I'm playing with literal geniuses."
However, the NCAA might need to investigate Farrell's status as an amateur escape-room athlete.
"I do some of them around my house, but I like puzzles and problem solving in general," he said. "There are some fun ones. My friends and I compete against other (escape room) times.
"And those guys (the 2020 class) feel like family already. It's nice to be in a room with like-minded people that are unique at the same time."
Another highlight of junior days and Big Visits is the lunch with professors, and also there is usually a presentation by a professor. (That was done Michael McFaul this year.) Stanford student-athletes are consistently awed when they hear about the academic all-stars on campus and feel excited to get to class.
"In my opinion, the coolest part of the trip aside from getting to meet my brothers in person … was getting to meet my future professors," Metcalf said. "I'm still planning on majoring in political science with a minor in economics.
"It was really, really great to hear Michael McFaul speak, who was our former U.S. Ambassador to Russia. I got to talk with Colin Kahl, Joe Biden's former national security adviser. Being able to hear about special people like Condoleezza Rice, who actually just got promoted to the head of the Hoover Institution, which is amazing and incredible.
"Hearing about other people who teach there, like General Jim Mattis, who was Trump's Secretary of Defense. My favorite of all: George Schultz, who was in Ronald Reagan's cabinet. It really is great to see that I'm going to be able to learn from such intelligent people."
Given that Stanford is a national recruiter, the Big Visit weekend is often the first opportunity for everyone in the class to meet each other. There are 11 states represented among the 20 recruits -- if Edwards signs it will be 12. All five offensive linemen are from different states.
Running backs Filkins and EJ Smith earned All-American recognition in two very different places: Oregon and Texas, respectively. But they will come together at Stanford to work with Ron Gould.
"Honestly I got to know all of the guys better on this trip, but it was great to finally meet EJ and hang out with him," Filkins said. "I know we're going to not only elevate the running back room on the field, but off of it, too, alongside Austin (Jones) and Nate (Nathaniel Peat).
"We couldn't be more excited. It was great to meet all of the lineman and get a feel for them. They're all awesome guys and I can't wait to run behind them. I can tell Drake is going to be a great leader for our line one day. Overall, I got closer with everyone, truly."
The incoming freshmen also learned more about their future coaches.
Defensive end Lance Keneley discovered that, of all things, he and defensive line coach Diron Reynolds are both "foodies" who love to cook.
"We had some great conversations about different recipes. He said he really likes sweet potato pie. He's an incredible cook because he is vegan and has learned to make great food from all the fresh veggies in Palo Alto. My favorite meal to make is grilled chicken and risotto."
Now everyone has several months left as high school students before they report for work June 20.
The panel of current players addressed the team's struggles last season and left Metcalf and others feeling confident that they can be part of the turnaround.
"Every program has its ups and downs. It's bound to happen. The greatest of the great programs have a bad season here and there. It's just natural. You can tell the mentality of the football coaches, the strength and conditioning coaches (and) the players has amped up even stronger and they're ready to get after it this season."