Recap and Reaction: David Shaw Feb. 3 Signing Day Press Conference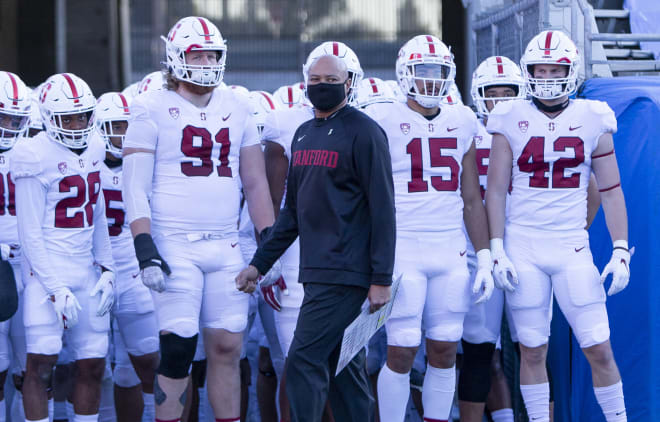 Head coach David Shaw spoke with media members Wednesday afternoon about new signees Austin Uke and walk-on Will Gibson.
He also discussed the impact of NIL legislation and the misinformation/disinformation spread by some programs (basketball and football) about what the university will and will not be able to do to promote the athlete. I asked about virtual junior days (he suggested there will be multiple) and RJ Abeytia asked about addressing what I think everyone here agrees is an unnerving linebacker depth chart situation.
I think easily the most noteworthy part of Shaw's evaluation of Uke is that he predicts that Uke will have a similar freshman role as Myles Hinton. He was very enthusiastic about the Uke's ability and how versatile he can be. Uke will probably begin his career at tackle but Shaw thinks the Dallas native has the skill set to play guard or center as well.
About virtual visits, Shaw is excited that the NCAA changed its Zoom meeting rules to allow coaching staffs to host multiple recruits at once, but Shaw also agreed with the basis of my question that Stanford will need to strike a balance to not invite too many guys on.
I think his answer was a confirmation that the virtual junior days will not have more guys than was typical for in-person events and they may have fewer because of the limitations of the platform. He also touched on the possibility of being able to do more "junior days" because it's a matter of getting everyone on the same Zoom meeting schedule rather than scheduling flights and booking hotels.
Shaw does not think it's a good idea for the dead period to be lifted April 15 because he doesn't like the thought of encouraging a bunch of traveling between cities and states.
If the dead period does end in April, Shaw does not predict that it will open the flood gates, though, because there are going to be people who are reluctant to take the risk. The Stanford staff will determine the logistics of an in-person junior day that takes into account the county and state restrictions at the time.
You can expect masks to be required and maybe other forms of social distancing. With all of that said, it feels to me like a safe bet that virtual visits will also be used after the dead period ends until this COVID situation is resolved.
Shaw's response to the NLI issue is worth listening to and I think he gave one of the better looks behind the curtain of how Stanford's staff will handle it — as educators and not remotely like agents.
According to Shaw, some schools are implying to recruits and their families that they will be able to set up athletes for opportunities to capitalize on whatever brand that they develop. That's not the case. The particulars of the legislation are not finalized yet, but the expectation is that it will open the door for student-athletes to market themselves and it is not about what the football program can do for the athletes.
I'm sure some schools will try to bend that boundary but Shaw cheerily said this is a rare time someone can say it's good Congress is involved because it will be a law people are breaking and not an NCAA rule.
His response to the question about whether linebacker will be a major focus in the 2022 class — because the top-heavy depth chart at the position is in danger of crashing — will not satisfy many recruitniks. He dodged the need to be in a rush to address linebacker and he did not use the same language that he has used in hindsight (including today) to talk about the damage done by offensive line recruiting for the 2018 class.