Q and A: J.J. Arcega-Whiteside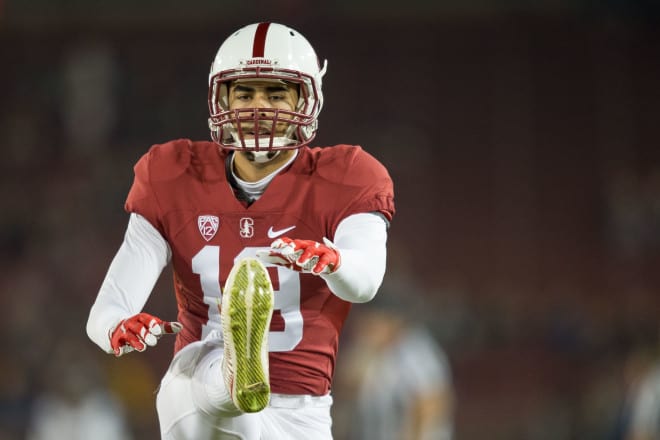 RELATED: 2015 Redshirt Review
With Devon Cajuste moving on to the NFL and redshirt junior Michael Rector possibly joining him, Stanford will rely heavily on some of its younger receivers in 2016. Among the wideouts who could make an impact next season is freshman J.J. Arcega-Whiteside, who spent the 2015 campaign redshirting.
Cardinal Sports Report spoke with Arcega-Whiteside prior to the Rose Bowl about his first year on The Farm and his outlook for next season.
Cardinal Sports Report: 2,500 miles away from home in South Carolina, how has everything been for you so far this year?
Arcega-Whiteside: It's been great. My parents ask me all the time: 'How are you doing out there without us around?' And I tell them every time - any other place that's far away just wouldn't seem as right as it does here. It's a family environment. It's kind of a home away from home.
CSR: As far as this Rose Bowl season, you're on the team, you're in practice in everyday, but you're not actually playing. After playing every down in high school, what's that dynamic like?
Arcega-Whiteside: I mean, it's a different transition. It's something I'm not very familiar with. But at the sane time I know my trole is to go hard in practice every day so the defense can get a great look and I'm (performing) that role the best I can. I go every day without thinking OK, I'm just going to try to get through today. I'm taking every rep as seriously as I can to prepare myself for next year. At the same time, helping (our defense) get a great look to their opponent coming up that week.
CSR: What's the best memory for you from this season?
Arcega-Whiteside: There are so many to choose from. Probably the Notre Dame game. Seeing that ball cross the (crossbar) and everybody rushing the field is just a great memory.
CSR: Next year Devon is gone, Michael might be gone, there is going to be a lot of playing time available at receiver. What for you is the biggest thing you feel you need to impove or focus on from now to be ready to go next year?
Arcega-Whiteside: I'd say everything. You can't overwork something. I want to be as great as I can in every single aspect as a wide receiver. That's why every day I take the time to focus on one thing at a time and then the next day try to focus on another thing and try to just become better overall.
CSR: You and your family (Arcega-Whiteside was also recruited for his abilities on the hardwood) have a a huge basketball background. How much do you miss that?
Arcega-Whiteside: I mean, I miss it. I didn't think I was going to miss it as much. But, you know, seeing family overseas and family back at home playing basketball still, and even going to some of the Stanford basketball games makes me miss the environment. But going to the Rose Bowl, you can't really miss it that much when your team is achieving such high goals.
CSR: Is that at all on the table for you at some point, to do basketball here, whether it be for a few games, more than a few games
Arcega-Whiteside: Probably not. Football is a full-time job. I thought it was hard in high school - it's a lot harder now. I'll probably focus on football a little bit more.
CSR: Finally, in practice every day, who is the hardest defensive back, or multiple defensive backs, for you to go up against?
Arcega-Whiteside: They're all good. There's not one DB on our team that you line up against and say, 'OK, this is going to be easy.' They're all a challenge. Some days one is a lot harder than the others, but that's just the way they compete. They're all such high-caliber defensive backs that you have to be on your game with every single one.