Practice No. 7 Q&A Shaw and Lance Anderson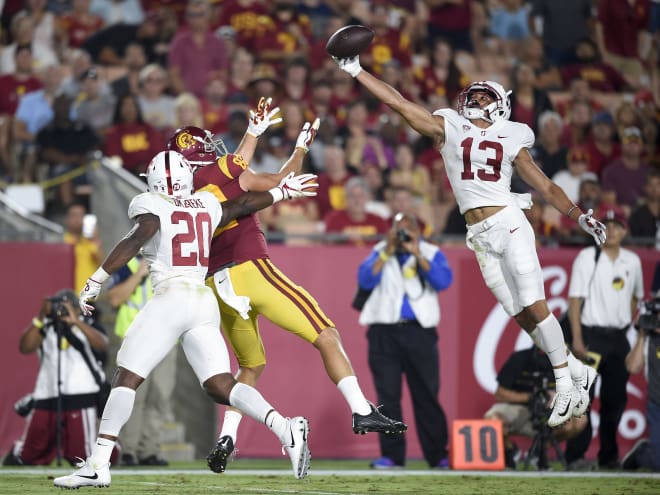 Stanford wrapped up practice No. 7 Thursday night and it was a full contact day for the Cardinal.
Head coach David Shaw discussed the defensive backfield and updated the offensive line competitions. Defensive coordinator Lance Anderson provided a run down of each level of the defense and the strong start of several freshmen.
Fifth year guard Brandon Fanaika is "on his way back" and junior guard Nate Herbig didn't practice but it's not a serious injury, according to Shaw. Several players not dressed for practice included Dalyn Wade-Perry, Curtis Robinson and Osiris St. Brown.
The open scrimmage Sunday at 2:40 will give onlookers an opportunity to get a sense for the injuries the team is dealing with and to get their own take of several competitions.
David Shaw
What is the situation with the cornerbacks right now?"
Alijah Holder is back ... he didn't do the live periods today but did a lot of team stuff today. He played really well. He's planting and breaking. He's flipping his hips and turning and running full speed. It's great.
"Alameen Murphy ... veteran and team captain who knows what to do. He's physical and smart.
"And Paulson Adebo right now is really playing at a high level. I think we have three guys who can play. Treyjohn Butler is on the rise. A couple young guys are coming along, JJ Parson."
Anyone have the inside track at nickel?"
"We're rolling a lot of guys through there. The best thing is we have some safeties who can play -- Malik Antoine, Frank Buncom has played nickel before, Alameen played in the spring and did a really good job. We have some safeties who can play and some corners who can play."
You've mentioned Brandon Fanaika and Devery Hamilton at left guard. Are there any other players at that spot?
"We had a couple guys get banged up, nothing too serious. We gave Foster Sarell a couple reps there. He did a good job. Nick Wilson is in there, too. We're rolling guys through there to see if someone can grab it."
How would you evaluate Drew Dalman's camp so far?
"For a redshirt freshman he has been outstanding. He is trying to hold the fort down while Jesse is gone. I think Brian Chaffin and him have really battled in there.
"Both guys, of course, don't have the experience that Jesse has. But for two inexperienced guys they're doing a good job making the calls. We have some very big defensive tackles that are hard for our under 300 pound centers to handle.
"But it's great for them to work on maintaining leverage against bigger guys -- Mike Williams, Dalyn Wade-Perry. Those guys are giving them a hard time and that's what you expect in training camp, for it to be hard."
Lance Anderson
Right now in training camp who comes to mind as having a good start?"
"Inside linebacker has been good. Bobby Okereke as you would expect has picked up where he left off and is in a really good place. Sean Barton looks really good coming back from the knee injury.
"At outside backer, Joey Alfieri looks back at home. He is doing a solid job there. We have a lot of competition for the other outside spot and we'll see how that plays out. I'm encouraged by the number of guys competing for that spot.
"DB-wise it's good to get Alijah Holder back out there and running around. He's not full speed, yet, but he's getting back to where he needs to be. Paulson Adebo has done very well. We've talked about that in the spring and he's continuing to play at a high level. Alameen Murphy's veteran presence and experience helps there.
"Safeties, it's still a really close race with Malik Antoine, Frank Buncom and Ben Edwards. But they're all playing at a high level, which you like. That will sort itself out.
"The D-line, we have guys in and out with injuries. I do see improvement from those guys since the spring. The guys who jump to mind are like Jovan Swann and Mike Williams. You see improvement from what they did in the spring, which is definitely encouraging. We have to keep bringing guys along there, like Dalyn Wade-Perry. Dylan Jackson keeps getting reps and improving.
"Thomas Booker has done a nice job for a freshman. He has done a lot of reps for us in fall camp. I have been pleased with what he is doing as a freshman. There is a lot to learn but I'm pretty pleased with where he is right now."
Murphy had to play safety at times during the spring because of injuries. Is that added versatility going to help him stay on the field?
"I think the versatility makes him a better player. That experience he had in the spring of playing safety and nickel, we played him a lot of nickel in camp as well. I think that's going to help him find time on the field. It's a competitive room and he's doing well."
Are any young guys standing out with flashes?
"I mentioned Thomas Booker, he really comes to mind. Kendall Williamson is another guy in the secondary who has done a really solid job for us. A lot of the younger guys we're pleased with where they are and we're happy the type of athletes they are. They still have a lot to learn. Thomas and Kendall are the two that jump out having grasped things the quickest and getting the most reps."
Does the new redshirt rule affect how you look at those guys?
"It definitely does. If there is a guy who might even have a smaller role to get a look at him and see if he will eventually be ready or if after those four games he's not. You want to continue to get those guys ready. It's big on special teams because maybe there is a guy who might not be big in our plans defensively but if they contribute on special teams that might get them on the field. That may get them time on the defense as well. It gives you more options."
How is it shaping up behind Okereke and Barton at inside linebacker?
"I love having Mustafa Branch and Jordan Perez behind them. There's a lot of experience there. Mustafa is another who has really flashed in camp. He has always been a big play guy. He has always been a solid guy on special teams, too.
"I like our freshmen there -- Ricky Miezan and Jacob Mangum-Farrar. They're young and still learning and probably won't crack that top group this season. But I like their potential. They're long, athletic guys. Ricky is a really physical kid."