Physically battered, mentally tough, the Cardinal ready for stretch run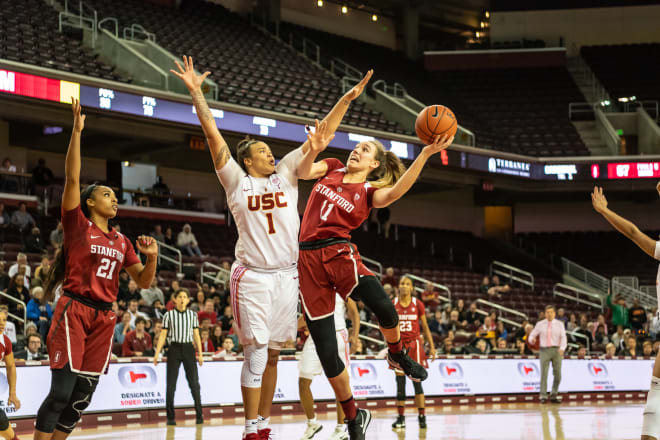 The Cardinal showed their toughness last week to rally from a historic rout suffered at the hands of Oregon to sweep UCLA and USC on the road. Stanford sustained many bruises, and one lost fingernail, against the physical styles of the LA schools.
The wins propelled the Cardinal to No. 7 in the AP Poll, their highest ranking in a month. Stanford is 4-3 in the last seven games and is working its way back to the level of play that led to a 17-1 start to the season. Stanford hosts Arizona Friday night and No. 17 Arizona State Sunday in the final homestand of the regular season.
"I'm really proud of our team (and) how hard people battled (in LA)," said head coach Tara VanDerveer after a practice this week. "It was extremely physical. We got down in both games and came back. Not that you want to get down, but we're down 15 (to USC) and I'm like, 'Woah'.
"They really stayed together really well and I think especially coming off the Oregon game I was really proud of our team. It gives me a lot of optimism ... and I'm excited about the resilience that people showed. They're really calm. They don't panic. They don't get on each other. I was watching the Oregon game, when things don't go your way you learn a lot about people. I learned that we have some really, really good people, and genuinely caring people on our team. They really want to win and they don't go off the deep end when things don't go their way."
Alanna Smith was Exhibit A of the mental toughness required to pull herself out of a rut and then dominate. Smith was visibly frustrated with herself against Oregon to the point that she showed a negative reaction after nearly every miss. Last week she earned conference and national player of the week honors after averaging a double-double: 22.5 points, 12.5 rebounds and 3.5 blocks for fun.
And she played part of the USC game with only nine fingernails. One got ripped off when a USC player tried to ram through Smith on a screen. By Tuesday she couldn't bend that finger.
"Alanna is getting beat up in there," VanDerveer said. "She is responding to the physical play. I don't think it should be that physical. She is getting two or three people on her all the time and she's really battling. I'm admiring her mental toughness."
Smith is the target of a style of defensive play that bothers her head coach. And she has seen it before when opponents know they can't match up against the versatile athleticism of a Stanford big. It probably hasn't been seen to this extent since the Ogwumike sisters got knocked around.
"I think everybody knows that I like a physical game but a freedom-of-movement game so people can see the athleticism that women have," VanDerveer said. "John Wooden said this that if it becomes (too) physical then you might as well watch football. My way of seeing basketball is different than how it is."
To Smith's credit she does her best to roll with how the game is being officiated.
"It's just knowing that's how the game is going to go and not having it affect you," she said. "It's having to accept it. If you let it frustrate you then that affects how you're playing. As a senior and a leader on the team you don't want to be the one who is frustrated and complaining. You want to be a steady, calm presence. Obviously it's a bit annoying. It's pretty physical down in the post but that's the game you have to embrace. I think at some point it would be nice to get some calls but you can't expect them."
Smith's determination to stay calm under pressure certainly paid off when it mattered most against USC.
In general Stanford's ability to take some lumps, learn and grow as a team is important right now. The Cardinal are not the well-oiled machine on offense that ran past teams in most of the first 18 games of the season. Shooting accuracy is just a touch off and players are going through stretches of poor decision making.
"In the USC game sometimes I had to look out there and wonder who was in Kiana's (Williams) uniform," VanDerveer said. "There were some very non-Kiana plays. I was like, 'Are you all right? Who are you with the turnovers?' We count so much on each one of our quote Big Three (Smith, Williams and DiJonai Carrington) having an A-game. We got some big shots from Lexie (Hull)."
VanDerveer's to-do list for the Arizona schools was stated simply: Eliminate fouls, take care of the ball, run better offense and diversify (scoring).
The Hull sisters fouled out versus USC, a remarkable feat for two freshmen as savvy as Lexie and Lacie. Stanford's depth isn't what it was supposed to be this season because forward Nadia Fingall and three-year starting point guard Marta Sniezek are out for the year. VanDerveer is hopeful that center Maya Dodson will be available this week, giving relief to Smith and more lineup options for the head coach.
Taking care of the ball and running better offense may be two goals in one. Stanford had a ridiculous 17 turnovers at USC, making it difficult to run an offense when time and again the Cardinal were giving the ball away.
Smith and Williams combined for 11 of the turnovers because the Trojans were aggressive attacking with their hands.
How well Stanford "diversifies" the offense will largely depend on the play of the Hulls and Dodson. The Cardinal get occasional contributions from Alyssa Jerome and Anna Wilson, but it's the freshmen wings and the leaping center who need to consistently shoulder more responsibility outside of the "Big Three".
The pieces are there to play a high level of basketball. And the players know it because it doesn't require going far back in their memory.
"We've kind of lost our flow that we had before, but that's to be expected," Smith said. "Everyone in the Pac-12 you play against ... everyone knows what you're going to do. Everyone has scouted you before so they take away the things you want to do. That's what we want to do to other people as well. We have to learn to play around that. In the past few games that's what we've been learning to do. I think moving forward it's going to be good for us. We're going to have counters."
Francesca Belibi 
VanDerveer took some time from discussion about her current team to share her thoughts about one of the members of the No. 2 nationally ranked 2019 class. Francesca Belibi, or Fran, has earned Internet fame with her dunks and her most recent required some teamwork.
But even in the face of awe-inspiring athleticism, VanDerveer's first reaction is one you expect from the Hall of Fame coach.
"Well, I'm assuming that someone who can dunk can rebound. So, I hope for every one dunk she gets 10 rebounds or more. It's really exciting to watch that. I think that's going to add a lot. I'd get here for warm-ups just to watch that myself."
Then she smiled and said about the alley-oop dunk: "That was pretty impressive."