Part II of postseason Q&A with David Shaw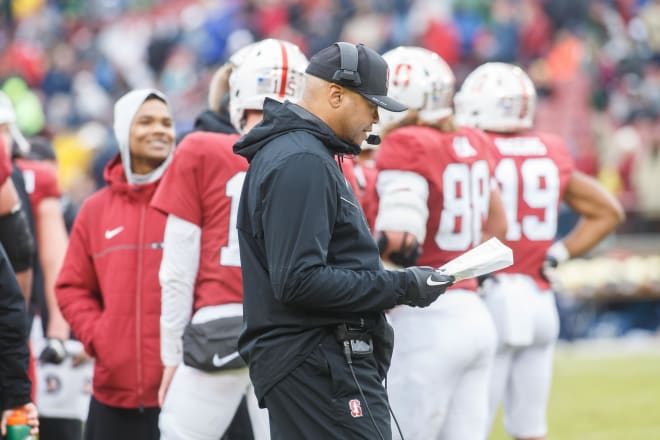 We know how positive the Big Visit has been for relationship building. Is there any concern that holding that official visit back until after commitments and signings that it limits access to Stanford for strong candidates who might not have the means to get out to a campus without an official? Has that come up for you at all?
"You mean besides the times that you guys have brought it up online and parents and other people have brought that to my attention. You mean besides that?
Yeah, just --
"I'm teasing. I'm teasing, because I know this is not a popular thing from either one of you. It's not a popular thing and it's filtered through some of our alumni and some of our other people.
"But, to be blunt, I'm always going to err on the side of listening to our players more than I am to either you or alumni. And for our guys that end up coming to school here, for them to say their favorite thing that happened during the entire recruiting process -- both at our place and other places -- is that official visit, I'm going to listen to that.
"To answer part of your question: Does it make it more difficult if someone is not able to by their finances (be) able to come? Yes, that becomes difficult. We've had some one-offs. We've had some just say, 'Hey, I have to come see Stanford and I can't wait until January'. We've had a few of those. We try to discourage them. We've had a few.
"The difficult part is when they come out … we have that official visit during the season and then we get to that big official visit and now when they come back for that big official visit they're coming unofficially. They can't participate in all the things we do because some of them are farther off campus than you can be for an official visit, or off campus period. So, that becomes difficult.
"I would say this, and I've tried to find the best way to phrase this: Stanford is a destination. Stanford is a goal. Stanford is a place you have to work really hard to get to. The majority of the guys we recruit and who come here understand that.
"For those who need to be enticed, that becomes really difficult for me. For those who can't come, I completely understand and I sympathize. And at the same time I say that, I know that if we do spring official visits -- like you two have proposed (and) like other people have said we should -- can you imagine the number of guys who are going to want to take that trip to Northern California who have no intention of taking AP courses, who have no intention of retaking tests, who have no intention of filling out the application? That is a hamper to our ability to recruit the highest level of student-athlete that we can find.
"I've talked to a bunch of guys who do spring official visits and a lot of them do them -- and they won't tell the recruiting services, they won't tell the students -- the majority of guys I talk to absolutely hate the spring recruiting visits. They do them because the other people are doing them and they're trying to keep up with the Joneses, which we've never, ever, and I will never, make decisions based on what other people do. I will continue to make decisions that I believe are best for us.
"For those position coaches, their quality of life to be out all spring and come back, and have a recruiting visit that takes all your time and energy, and then go back on the road again, and then come back … and do that three or four times during the course of the five week period of recruiting in the spring, those guys are dead when they come back. They're exhausted. So many of the guys that you put so much energy and time into they end up going someplace else.
"And you're like, 'Do we actually help ourselves?' Right from there you turn right back around and now you're doing camps. You're doing your camp and you're traveling for another camp.
"For the narrow, narrow, narrow path that it takes to get to Stanford, I don't think that's a benefit to Stanford football."
"That was a pretty long-winded answer, but trust me I've been thinking about it for about two years."
Honestly coach, we appreciate you coming out and explaining it. The only thing I would ever say is would you consider a completed application, or an admission, the kind of thing that would make you trust as opposed to what you were saying before about guys who want to take a free trip to California?
"Yes, which becomes really difficult because there is nobody who is going to have a completed application at the very end of their junior year. That's going to be maybe one superstar academic human being who would be in that position by the time those spring official visits happen.
"I still fast forward to that big official visit, which once again is not just for the guys, which has been awesome for the guys. Our parents love that official visit. That's where their relationships really start. That's when they spend a lot of time together. I still say that's one of the strengths of what we have is even when everyone is mad at me, they still love each other. They're still there for each other. That is a big galvanizing thing that we do in that official visit.
"I can't stress enough that reducing that and changing that hurts us more than bringing some more guys in in June who quite honestly we can't tell. That's the hardest part. I'd love to be able to know, 'Hey, we're bringing these guys in and we can do a big official visit in June because I know these guys are coming. I know this is where they want to be.'
"But now we're competing against people who are throwing rock concerts, doing all kinds of crazy things in the spring that, in my opinion, cheapen recruiting, period. I won't be a part of that. I'm not going to compete against that.
"I'll say this, too. Once again, I'm trying to choose my words carefully because if I say it the wrong way it does come across bad and I understand that: Not everybody tells you guys the truth.
"What I mean by that, especially being associated with Stanford … there are a lot of parents who want their kid to come to Stanford. And over the last couple years I've heard, 'Aw man, you know they don't have a spring official visit so I didn't get a chance to get out there and see that, so it's not going to be in my top five. I really wish I would have seen it.'
"Meanwhile, they never had any intention on taking AP courses. They got a minimal score on the ACT or SAT and basically said they're not going to take it again. But it sounds really good to say, 'Man, I really would have considered Stanford, but they didn't give us a spring official visit so I didn't get a chance to see it. I cut my list down mid-summer.'
"That's happened multiple times and I don't want to give any specifics because it's not my duty to open somebody's dirty laundry, but I've watched this for years and said, 'Ok, I'm going to take a lot of flack for not bringing a couple guys in in spring and I know for a fact that we wouldn't have done what we need them to do.'
"But it's a nice thing to be able to tell mom and dad that, 'I would have loved to go Stanford. I know you would have loved me to go there, but gosh they don't those official visits and we couldn't afford it.' It's really nice to say to the Rivals and 247 (reporters) and say, 'Gosh, they just don't do it, so I can't make that trip. I'm not going to ask my parents to make that on their own dime, so I'm probably going to go someplace else.'
"It's a great cover for some guys who don't want to do the academic rigor that we need them to do."
You made some changes during the offseason to do some things differently on offense. How satisfied are you that you found the overall scheme, and in particular for the run game, that works for this offense moving forward?
"That's a great question and that really is going to be one of things over the next month that we as a staff are going to look at and talk about, because much like a lot of the things we did this year it was very uneven.
"Cameron Scarlett I think played really well all year. It was the best year of his career. He was physical, finished runs, made some big-time plays and had some big-time games. He was unbelievable against Oregon and Washington -- two really good defenses, two really good teams -- and we didn't get that same production (in other games). Sometimes we're down by 17 points in the fourth quarter and, guess what, the run game plan has to change. That happened more often than I would have liked.
"I don't think we were as consistent as we needed to be. I don't think we were as productive as we have been in the red zone. Whereas we ran the ball pretty decently in some games up until the red zone and then we have to look at scheme, personnel and execution for why we kicked way too many field goals inside the 20-yard line.
"I believe two things in the red zone: No. 1 is being able to run the ball and No. 2 is finding matchups. We didn't connect as often when we did have the matchups, which once again is execution, which I put on the coaches and our guys putting them in position because we didn't execute as well as we did a year. Granted, JJ (Arcega-Whiteside) was a freak, but I think we have really good guys and sometimes we did well and sometimes we didn't in the pass game.
"But then run-wise we weren't as efficient as we needed to be through the balance of the season and in the red zone."
Can you talk about some of the players who finished the season injured who appear to be on track to be available during the spring? Is there anyone you feel good about as you start that process of moving toward spring?
"That's a great question and actually that meeting is going to happen next week for me. I have an idea about some, but I think more often with some of these guys -- for a lot of guys who missed the bulk of the year -- that first session of spring they're going to be kind of finishing that rehab to where hopefully a good chunk of them will be able to get on the field and do some individual drills without really getting hot and heavy with full pads.
"You look at a guy like Walker Little who probably won't do anything live the entire spring, either session, but hopefully will be able to go through the individual drills and also some line drills. You hope that for Devery Hamilton as well that he'll be able to get out there, and Branson Bragg.
"So, we can have those guys and they may not help our numbers to go team, but just to see those guys get in a stance, come out of their stance, go through Coach (Kevin) Carberry's drills, punch some bags and start to move like offensive linemen.
"It would be great to see Jacob Mangum-Farrar and Ricky Miezan at some point in the spring. Maybe not be able to get to team, but be able to go through Coach (Peter) Hansen's inside linebacker drills: stepping over bags, doing some change of direction, some calls, maybe go through ... a 7-on-7 or just a pass-drop drill.
"That's where I think a lot of these guys are going to be, especially that first session of spring and some for the second session of spring. But I'm going to be excited just for those guys to get back out on the field and start moving like football players. That is enough for me to say we got them back out there, we got them healthy and now (from the) end of April all the way through August they can truly train.
"That's my goal is as early as possible with the bulk of these guys to get to the point where we're done rehabbing and we're healthy enough to truly train. That's what happened with a couple guys last year, which is they got healthy enough to be ready for the season but they didn't have that uninterrupted time to train and truly put their body in position to fight through a 12-game season.
"I want to make sure we're finishing up all these rehabs and try to make sure that by the end of April we have the bulk of the team 100 percent ready to push and fight and scrap to put ourselves in the best shape to win a Pac-12 championship.
Coach, you've talked about players who have decisions to make about their futures, but they're not necessarily the only ones in the programs with decisions during this time of year. Do you anticipate the entire staff returning for next season?
"Yeah, as far as I know. Every year, multiple guys on my staff are approached, most often (it's) about head coaching jobs. Sometimes (it's) about coordinator jobs, sometimes about lateral moves, so I anticipate that's going to be the same this year.
"There are a lot of people that because of our record really anticipate that, first of all, some people were poking me to see if I wanted to go someplace. The answer is: No.
Second of all, I can anticipate people saying, 'Hey, the year wasn't as good, so maybe a couple of these guys want to join us over here'. I anticipate those calls happening, which is fine. It's part of the business.
"But I do know that the staff is a really tight staff and we see what we have on this football team. We've recruited these guys and this year was a doggone shame. But when you put together position by position the guys we've assembled -- knock on wood that we're 85 percent healthier than we were this past year -- we look at the guys that we have and we're excited. We're really excited.
"We have a combination of speed, length, size and athleticism that we believe has a chance to be special. Although those calls may happen and I imagine the bulk of our guys, if not all of our guys, could be back next year -- some guys may have some tough decisions to make because, love it or not, regardless of our record there are multiple guys who are highly sought after across the nation. I anticipate those phone calls happening, but as far as I know our guys are finishing their recruiting and getting ready to come back and get ready for spring football."

Sources have informed us that you recently signed a seven year extension, can you confirm or comment on that?
"Nope. Well, it's just our practice that I don't ever comment publicly on rumor or truth about my contract status."