One of California's best, Michael Wilson aiming for Stanford offer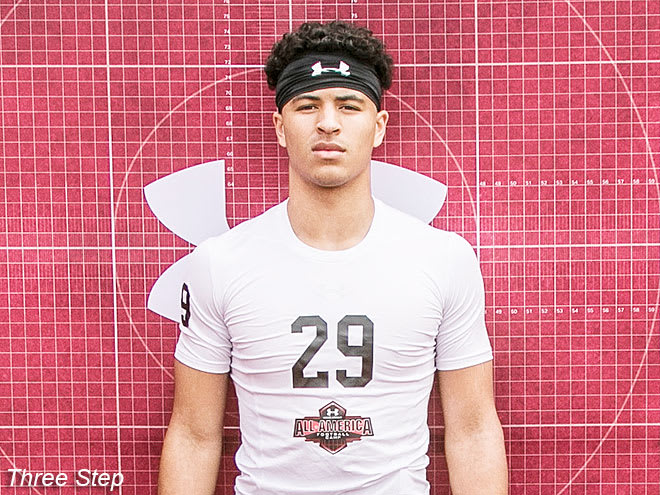 Michael Wilson of Chaminade High in West Hills, Calif., did not leave Stanford's junior day visit with an offer, but he took away a number of positives from his time on campus and interacting with the Stanford coaches.
Wilson and his family were on the road by 3 a.m. Friday to get to Stanford by 10 a.m. for the jam-packed day with several other 2018 recruits. From the moment he arrived the Stanford campus made and impression, and Wilson specifically pointed to the dynamic of a large campus and small undergraduate population, which creates a smaller community with room to stretch out.
"I had a really great experience up there," he said. "The campus was mind blowing."
Wilson reports offers from most of the Pac-12, Notre Dame, Vanderbilt and Yale.
The message from area recruiter and special team's coach Pete Alamar about a possible offer in the future was patience. The Cardinal are working to fill a smaller class with more defensive players a year after focusing on the offense. Stanford only has wide receiver offers out to Jalen Hall, Amon-Ra St. Brown and Alontae Taylor.
"They were telling me they were very interested in me and they love my film," he said. "They watch my film in meetings and all the coaches think the same about me that I'm a really good player."
"That's better to hear than nothing at all. That was very pleasing to me. Hopefully the offer does come. I know receiver wise they don't carry a lot of receivers as it is."
The Cardinal have six scholarship wide receivers listed on their roster. And Wilson researched how many wide receivers Stanford offered for the 2017 class, just to get a better sense of the Cardinal's approach.
Wilson said wide receivers/quarterbacks coach Tavita Pritchard asked about taking the SAT and ACT. He is scheduled to take the ACT in April.
Wilson likes how his relationship is building with Pritchard and now Ron Gould, who has taken on some recruiting responsibilities in Southern California. "I talk to them a lot," he said.
Wilson was only able to be at Stanford on Friday -- underlining his family's commitment to make the trip -- and he filled up the day with as much information gathering as possible. He spent time with tight end Kaden Smith and asked about the recruiting process with Stanford and the number of times he took the ACT (Smith said "three or four").
"It shows that no matter how good you are, you still have to be a student-athlete not an athlete-student to get into school," Wilson said. "There are no exceptions. You have a 2.5 GPA and are a five star, you still can't get in the school.
"One thing I really liked is I got a long perfectly with all the players there," he said. "I had a lot in common. The people there kind of felt like my crowd to hang around. That was very good to know. The people there are people you want to hang out with, just really good people."
And if Stanford offered? "That would sound golden to my ears."