More than posts, Stanford's system is big on versatility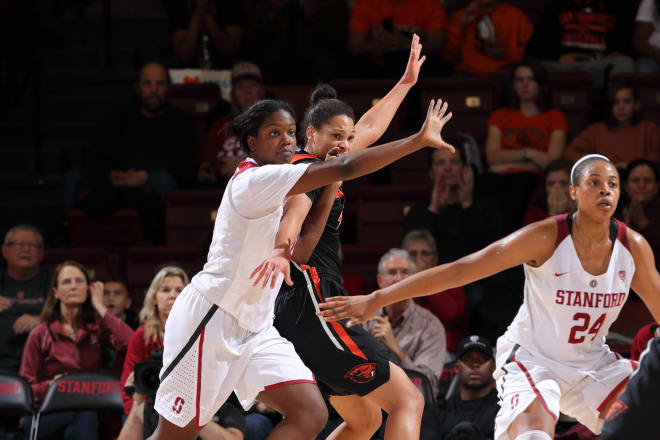 It may be time to stop calling them posts on The Farm. The "bigs" on Stanford's roster are expected to do much more than cement themselves to one spot on the court.
"None of them are sitting on the low block and just waiting," said assistant coach Tempie Brown.
Their development as shooters has been a primary focus of the offseason. So, it's understandable that "versatility" has been a keyword.
"It's basically our team," laughed sophomore forward Nadia Fingall, who is one of the players tasked with improving her outside shot to fit into head coach Tara VanDerveer's vision of approximating the Golden State Warriors' "positionless basketball" philosophy.
"Who doesn't love watching the Warriors?" VanDerveer asked.
Well, most of the teams who play Stephen Curry and company don't enjoy it that much. The Cardinal are hard at work to give their opponents a similar feeling.
Junior Alanna Smith is a likely focal point of the emphasis on players who are comfortable in the paint and beyond the arc.
VanDerveer said only freshman Maya Dodson and senior Kaylee Johnson are "not in love with that three point line. That's fine with me (if they) bang in on the block."
During a Saturday scrimmage, Brown said Johnson and Dodson showed their ability to bring out defenders and then deliver accurate passes, showing that there is more to versatility than shooting.
Fingall described her freshman season as "getting my feet wet".
Primarily an interior player in high school, she has taken significant strides on the development track that McCall and Nneka Ogwumike followed. By the time those former Cardinal graduated they were comfortable shooting threes.
"She would work with her father before she came to us," Brown said of Fingall's work ethic. "She'd get up at 6 a.m. for workouts before school, so her working on her shot is going to benefit us later down the line. She is a player who, as powerful as she is in the post, can shoot threes. She has worked a lot at it."
At 6-foot-5, junior Shannon Coffee is the tallest player on the roster, but not even the Dayton, Ohio native is restricted by the traditional definition of a post player.
"I've been working a lot on my three-point shot," she said. "I think it's coming along nicely. I'm really working on finishing down low and rebounding more.
Coffee didn't get much playing time last season, but she was able to get more minutes on the court in Italy.
"She has done exactly what we needed her to do," Brown said. "She has improved shooting and her low post moves. And she speaks on the floor with some authority. She is very vocal about what we're running, how we're running it and helping her teammates play together. She has done a tremendous job as a leader."
Two of the young bigs who may be hanging on every word of advice is Maya Dodson and Alyssa Jerome, who some may consider a surprise addition to the group given she is "only" listed at 6-foot-2. The cerebral Canadian is learning the four position in addition to the three, much like Smith.
"Alyssa is a very, very good player and is spreading the floor for us," Brown said.
And it's not a surprise at this point that given the chance another coach marvels at Dodson's athleticism.
"She can leap out of the gym," Brown smiled. "During layup drills she doesn't know if she is going to dunk it or go up for a layup. We're like, 'Just hit the layup.' It's kind of the running joke. She plays really hard and can leap over anyone out there. She is going to be a force for us on the boards, for sure."