McKee readies for student-athlete life and reflects on LDS mission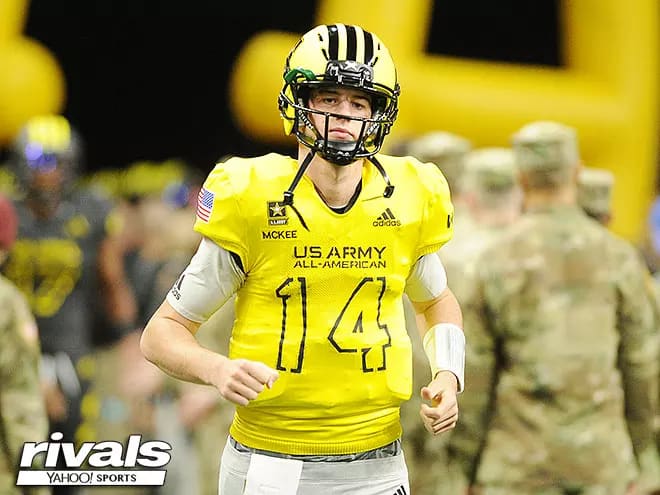 Tanner McKee wasn't supposed to be home from his two-year LDS mission until Wednesday, but the effects of the COVID-19 pandemic have been far-reaching and cut short his time in Paranaguá in southern Brazil.
McKee has been home for five weeks and he has started the methodical process of training to regain the athletic form that made him one of the most accomplished recruits in the 2018 class. The former All-American quarterback is a more mature version of the young man who put up prolific passing numbers at Corona Centennial High.
"The mission was great. You grow so much as a person. I learned how to be on my own. That was my first time away from home. I had to cook for myself and grow up. I learned how to help somebody who is going through a divorce or has a drinking problem or is addicted to drugs."
An LDS mission is meant to be a challenging and deeply transformative experience. Missionaries who are sent abroad are suddenly in an environment where people are speaking a language they have to quickly learn and the culture can be entirely different from the United States.
McKee detailed much of his day-to-day experience in this Desert News feature last September. The 6-6 Southern California native definitely stood out on the streets of Brazil that he walked every day in search of people who he could offer help to, or an introduction to the church that shaped his life.
Those interactions sometimes put him in front of people facing terrible hardships and the teenager did his best to provide support.
"It was pretty crazy. There were a couple times when we went and a person was in an abusive relationship or had trouble with drugs. We helped people realize we're all going to have ups and downs. We tried to always be by their side and let them know that when they put their trust in God and Jesus Christ that he will be able to help them.
"It goes to show how much Heavenly Father is a part of our lives whether we realize it or not and that people can change. People would come in and the first day they were torn up. In a couple months they were a completely different person."
McKee's spiritual development was first and foremost during his mission, but he did try to stay in the best physical shape he could and even attempted to instruct a futbol obsessed country about another beautiful game, American football.
"It's crazy when you go into a new country and they have no idea what American football really is. They heard of it but didn't understand the rules. It got me really excited to come back and train. I missed it. I brought a ball with me and I taught people about the game."
Any dreams that McKee had of coming back home and jumping back into old routines were put on hold by the pandemic. McKee had to stay home for two weeks in quarantine and do his best to hold off cabin fever. He was able to scratch the football itch a bit with the help of family members -- throwing to his brother and sister's husband.
In the past couple weeks his workout partners and conditions have been upgraded. He has access to a friend's gym to use on his own and is benefitting from a lucky concentration of Stanford receivers in Southern California.
McKee has thrown to current Cardinal Michael Wilson and Brycen Tremayne and is scheduled to work out with incoming freshman John Humphreys soon. He hopes to get Colby Bowman and Osiris St. Brown involved as well.
After two years away from the game the opportunity to practice with football players brought a smile to McKee's face when just talking about it.
"It was awesome. They're amazing. We're talking about concepts, little stuff, and timing on routes."
McKee also is re-establishing his relationship with offensive coordinator Tavita Pritchard. When Mike Bloomgren took the head coaching job at Rice, McKee wanted Pritchard to get promoted to the position from quarterback's coach so that they could work together when he got to Stanford.
"We're actually doing Zoom meetings a couple times a week to get back in the rhythm of things. It's been great to talk with him and learn the offense."
Nothing is certain about how Stanford will handle COVID-19 and when students will be able to be on campus, but it appears very likely that McKee and his teammates won't get a typical summer training program with Cullen Carroll and his sports performance staff. McKee and the other Cardinal have to rely on their self-discipline to set goals to be ready for the eventual return of football.
"I want to be able to reach my potential. I'm going to put in the work that I think is necessary to reach my potential. We don't know when we'll be on campus but I'll be prepared and be mentally and physically ready."
McKee The Recruit
McKee is not like any other quarterback that David Shaw has recruited. There's the obvious difference -- his height -- but he also used his skill set in an offense that was much more direct and simple than what he will be asked to run on The Farm. (Or maybe not if Shaw and Pritchard decide to tailor the offense to the skill set of McKee more than the other way around.)
His career passing numbers were: 6,385 yards, 68 touchdowns and 68.8 completion percentage. He also rushed for 1,288 yards and 26 touchdowns on 132 carries.
McKee's decision making process on most plays in high school often boiled down to one or two reads and then to take off with his surprising quickness. He played against some of the best high school competition you can find anywhere led Centennial to a top ranking in the country.
Alabama, Washington, BYU and Texas were other top programs he considered before signing with Stanford.
This is what Shaw had to say about McKee in December: "Here is a young man who has prototypical size, he's got quickness, he has a strong arm and he has that X-factor -- that athleticism," Shaw said at signing day. "For a young man, he throws the ball extremely well on the run. He pushes up in the pocket and he can hurt you with his legs. At the same time he can buy time and make big plays down the field. He has a mind for the game and the personality of a leader. We think he has an extremely high ceiling and he has a chance to be special."