Luck talks draft and 2010 season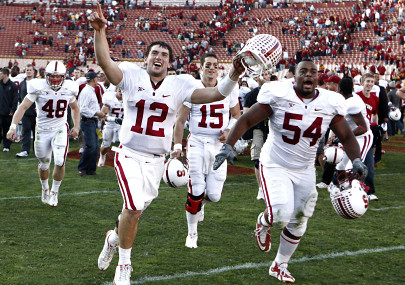 Stanford quarterback Andrew Luck indicated he would stay at Stanford until he graduates when asked on KNBR's "Fitz and Brooks" show about his NFL future.
"I honestly don't think about it that much," Luck said when asked about his NFL plans. "I still consider myself a pretty young guy. I need to get a degree in college before I start thinking about stuff. I will probably stay in school for sure."
Luck's future as been a hot topic this summer for Cardinal fans, as many draft projections list the 6'4, 234 pound redshirt sophomore as high as the #2 ranked college quarterback, behind Jake Locker.
While the next 6-7 months could bring a change of heart for Luck, this has to be considered good news for the Stanford program.
Luck finished the 2009 with 13 touchdowns and set a Stanford freshman passing record with 2,575 yards in leading the Cardinal to their first bowl appearance since 2001.
Luck talked about how he first became interested in Stanford, how growing up with an NFL quarterback benefited him. He also talked about the 2009 season and the number of close losses.
The team has "lots of confidence knowing they were competitive in every game, and the whole attitude towards losing has changed."
According to Luck, "(Toby Gerhart) was an amazing player and we'll have some good running backs step in. Offensively, we have to be on the nuts and bolts of things and not rely on Toby to score." And "limiting mental errors" is crucial.
The quarterback also mentioned this spring there was a "lot of enthusiasm from defense and the new 3-4 scheme."