Injuries force Cardinal to adjust before stretch run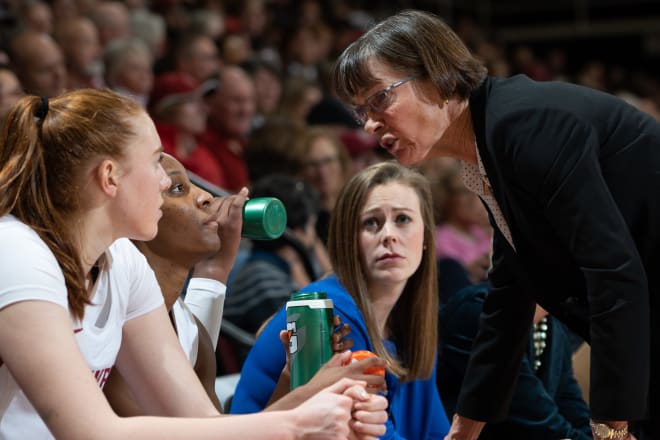 Stanford hosts Colorado Friday night with a much shorter bench than it expected before the season started. The No. 6 Cardinal (16-2, 5-1 Pac-12) lost their third starter of the season to injury when freshman wing/forward Haley Jones fell to the court in Gill Coliseum.
Stanford split its Oregon road trip with 61-58 a win Sunday at No. 8 Oregon State, but the Cardinal also suffered a terrible personnel loss in Corvallis when Jones suffered a knee injury. Head coach Tara VanDerveer is keeping mum on the details and will only say she's hopeful that Jones will be able to play again this year.
She also will not offer any details about what ails Maya Dodson -- the presumed starting center who has missed all season -- and DiJonai Carrington, out since the Victoria Invitational in November due to an apparent aggravation of her knee injury. Stanford had found a way to carry on pretty well without Dodson and Carrington, but Jones was a big part of the reason why that happened.
Now the Cardinal face the likely scenario where all three of them will miss the rest of the season. Freshman forward Fran Belibi missed the Oregon State because of a minor ankle injury but will play Friday night after practicing well this week. Alyssa Jerome also suffered an ankle injury at Oregon State and is "to be determined" for Friday.
How will the Cardinal respond to this adversity? Forward Nadia Fingall and VanDerveer talked about lessons learned from the 32-point loss at No. 6 Oregon and the gritty comeback to beat the Beavers.
Nadia Fingall
When Haley went down it looked like it hit you guys pretty hard in the team huddle. Then the team rallied for the win. What did you see from the team to be able to do that?
"It's always tough when you see a teammate get injured, but I think the team did a really good job of just calming ourselves down and focusing and getting back to the task at hand. We had two people out that game, which was very unfortunate. Just play the game for them and make sure they knew that the extra fight we had at the end of the game was for them."
How did the team handle the time between the two games up there? It's not something you want to have experience with, but you guys did go through something similar last year. Did that help?
"I think so. Even though we did have the loss we immediately talked about what we could have done better and that really helped everybody calm down. We lost, Ok, let's just chill out and figure out what we did wrong and figure out how to correct it. We have another game to play. Everyone did a really good job of putting that in the rearview -- still able to look back at it and fix what we did wrong, but not let it consume us the entire weekend."
What were the big lessons from that week?
"Definitely our composure and our poise was a big part of the Oregon game, at least. You could see as the game went on where the train came off the tracks a little bit. Make sure that we maintain our poise and maintain our composure was probably the biggest lesson we learned throughout the weekend. Honestly, maybe if we hadn't had that experience in Oregon things could have gone differently at Oregon State dealing with the injuries."
In the Oregon State game did you already see things that were improved off of the Oregon game?
"One of the biggest things that we didn't quite accomplish was our rebounding goal in the Oregon game. We let them get way too many O-boards and that was something that really helped them in the third quarter get their run going. Oregon State probably has three of the top 10 rebounders in the Pac-12, so really focusing on boxing out and being aggressive ... that was something we did a lot better. Didn't quite get the goal still but we were really intentional about doing that."
Tara VanDerveer
On the Oregon loss: "We were up in the second half and then (mimes throwing a punch) boom there was a knockout punch. It just happened fast. I was really excited about how we responded against Oregon State. It was a great comeback game."
What were the big teaching points from those games?
"The reason we were successful in the Oregon State game, and we weren't successful in the Oregon game, was No. 1 we rebounded better against Oregon State ... and we also took care of the ball. We had seven turnovers (at oregon State) and we had 18 against Oregon. Our turnovers were really, really shooting ourselves in the foot.
"We're playing a lot of really young players. Ashten (Prechtel) had a really big game for us and made some big shots. Ki (Kiana Williams) is the player with the most experience and Ki had a great game against Oregon State. She didn't come out of the game and was a great floor leader for us.
"I think the second game we were like, 'Ok, the crowd is up there and they're loud, but we're going to keep our composure'. I think keeping their focus and keeping their composure was a really big key."
On Ashten Prechtel's development: "For Ashten it's defensively who she can match up on and also it's more physical. For her it's making that next step to be able to guard people and understand to help, to switch and then grab the ball and be aggressive. She made some great plays. That's the biggest adjustment. Fran it's what I need to be doing offensively. How can I contribute offensively?"