In his coach's words: Pope John XXIII High's Dalyn Wade-Perry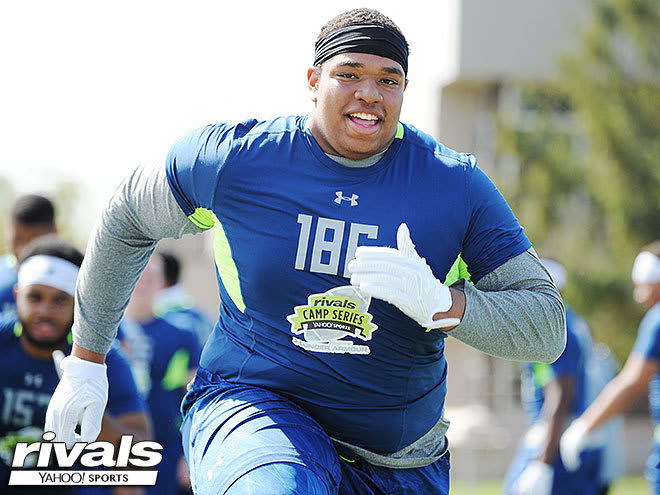 It was about five years ago when Brian Carlson, the head football coach at Pope John XXIII High School in New Jersey, first saw Dalyn Wade-Perry playing football. He'd gotten a tip that the Engelwood youngster might be a good fit, but he also was being recruited by the private school powers in Bergen County.
"I went down there and I saw this big dancing bear running down on kickoff in eighth grade and I thought, 'This kid is unbelievable,'" he remembered.
Carlson invited Wade-Perry and his mother to visit Pope John High in Sparta Township, and in their first conversation he asked the junior high athlete about his dream college destination. The wide-eyed youngster talked about landing in SEC country.
Carlson countered that Wade-Perry didn't need to go to school an hour away from home and live with a host family to get that kind of recruiting attention. But if he was interested in schools such as Stanford, Duke, Virginia and Vanderbilt then he should give them a look. Wade-Perry enrolled and by his sophomore year started turning heads as he flattened opponents.
"Once the process really started with about 30 offers rolling in he focused on Stanford," Carlson said. "He felt Pope John was a smaller version of what he'd get at Stanford -- really good football and academic school with like-minded people. We were all very excited that he got accepted to Stanford."
Wade-Perry's arrival at Stanford will be historical for the school, Carlson said. Carlson was told by Rev. Msgr. Kieran McHugh -- who the coach said has been the school's president for about 40 years -- that Wade-Perry would be their first student to attend Stanford.
There have been graduates who attended the Ivies or military service academies, and football players who committed to prestigious programs, but Stanford is a new frontier for a Pope John High student, let alone athlete.
The work that made that accomplishment possible started in the spring of his sophomore year, when Stanford's coaches first reached out to Wade-Perry. It was an eye-opening experience for Carlson when he heard about how Stanford's admissions process worked and it's effect on football recruiting.
"That was the first conversation that I got to see the difference between the Stanford experience and the other schools," he said.
"It definitely created more anxiety. But the whole school was behind him. We actually went down to (a) guidance (counselor) and we went right through what he needed to take. There are not a lot of seniors taking extra AP classes to make sure he's accepted to Stanford. Dalyn signed up for the whole thing, which is really impressive and Stanford did a great job going through it."
Carlson shared an example of when Wade-Perry's willingness to do the work was tested.
"One time he struggled with a class and he wanted to drop out and take another class," Carlson said. "We said, 'Dude, if you want to go to Stanford that doesn't look good. You need to stick it out and do better.' And he did. That's when we knew he really wanted to go to Stanford."
But Stanford was far from the only program interested and Wade-Perry was the target of nearly constant praise from visiting coaches. Carlson said that of the recent heralded recruits from Pope John High -- tight end Ryan Izzo at Florida State, wide receiver Noah Brown at Ohio State and quarterback Sonny Abramson at Virginia -- Wade-Perry stands out.
"Forget a five-star (rating), Jimbo Fisher on a call to me said flat out, 'I'm going to tell you right now that kid is $36 million walking. That kid will be in the NFL,'" Carlson said. "With Dalyn, guys have come up and said, 'Coach, that guy is a freak.'
Of course, Wade-Perry's size at 6-foot-3, 330-ish pounds, leads to questions about how quickly he can impact a college team.
"When he gets with a nutritionist and he gets with a guy who is working out with him every day, he is going to transform his body," Carlson said. "I would say that by the time his second year at Stanford he will be starting to make a name for himself -- no doubt about it.
"The unique thing about Dalyn is most guys that size are physical plodders. That kid … his foot speed and his hand speed is for a kid that's usually 210 pounds."
For all of Wade-Perry's imposing athletic skills, his character matches the Nerd Nation he will be joining on The Farm.
"When you see him he has glasses on with a big smile," Carlson said. "You would never think he's a football player and when he gets on the field is a ferocious competitor. Off the field he's always smiling, always happy. He's really academically curious. He's not going to school just to get grades."