Hayes is determined to prove he's one of the best in 2022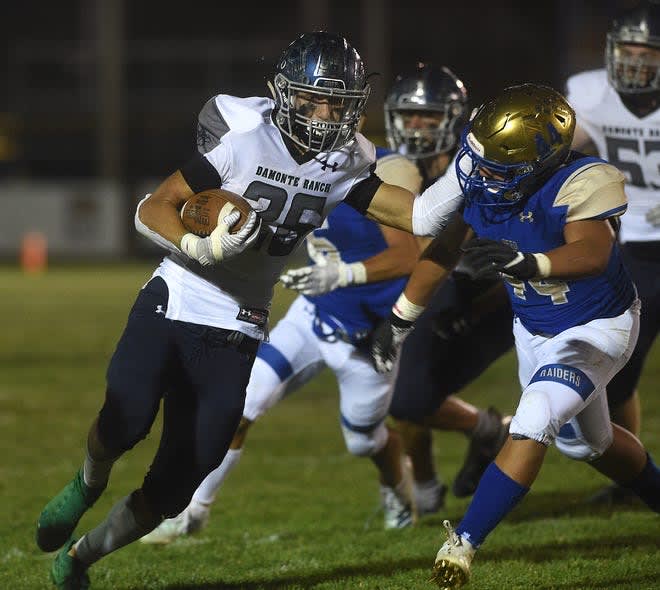 Nevada running back Ashton Hayes earned a Stanford offer July 22. The word "earned" fits Hayes' approach to everything he does as snugly as a new pair of shoes.
Oregon State and Utah have offered since Stanford jumped on board and a host of other schools are now in touch with him. (Hayes told Cardinal Sports Report that the same day he announced the offer from Stanford he was followed on Twitter by staff from Notre Dame, Washington and USC.)
After a couple of video calls with running backs coach Ron Gould, he was offered at the beginning of a virtual visit.
"I was greeted by Coach (David) Shaw and that's when he congratulated me and told me I had an offer. That was a giant shock. I got to go through the whole virtual tour already knowing I had an offer. It was an amazing feeling and it's a great place."
Hayes gained 2,429 yards on 272 carries and scored 30 touchdowns last year at Damonte Ranch High in Reno. He caught 28 passes for 346 yards and two touchdowns.
He transferred to McQueen High this summer and has been working with head coach Jim Snelling's team since June. Which means he is now teammates with Stanford baseball commit and recent football offer recipient Robby Snelling.
"Everything I know about Ashton right now explains why he has been successful in football so far," Jim said. "Yes, he's very gifted but he also puts a lot of time into it on the field to allow his gifts to shine even brighter.
"He's going to be one of those kids who has absolutely no regrets when it comes to football. He's going to do all the little things it's going to take for him to be great."
Hayes can tell you his exact ranking on a state and national level in his recruiting class, recall his stats and certain plays from freshman year, and knows that his current weight is 184.6 pounds. He has restricted himself to a diet of mainly fish, chicken and rice since seventh grade and only treats himself to a chocolate milk after workouts.
He spoke to Cardinal Sports Report while at the gym.
"Those are things that motivate me while I'm here," he explained. "At my old school I was very distant from a lot of players and people because the work ethic I have and the things that I do. I didn't participate in parties.
"I'm very strict on my diet. I can't even eat a piece of pizza for a celebration. These are the types of things that separated me a lot. I feel like at McQueen these are things that make those players love me. I love that because I can share my story, my struggles and my successes with my new teammates."
For Hayes, it's almost unacceptable that there is someone better than him. It's a reality that in a world with thousands of football athletes that someone is, but he views that fact as a reason to keep working to one day pass his competition.
Hayes believes his "grind mentality" comes from the struggles he and his family have experienced. (He tells his story to coaches such as Gould but would prefer not to say anything specific in an interview.)
"I didn't grow up in the best way and I had a lot of struggles, especially early in life," he said. "I do like to share that with coaches because I want to show them what type of person I am. I feel like other recruits who have had personal issues, or family issues, they feel the same way.
"If you can connect with a coach on a deeper level that's more than football it just means so much more. That's really what this is all about for me. I love getting to know the coaches and the relationship I have with coaches will probably make my final decision."
Hayes has had another Zoom call with Gould since the offer and is eager to keep building a relationship with his possible future position coach.
He'll have to set aside more time moving forward to talk with coaches as more offers come in while also prepare for the upcoming season. (Nevada postponed the football season to March because of the COVID-19 pandemic.)
Of course, Hayes can already rattle off facts about the past glory of McQueen football and he wants to help get the team back on top in the state. The Snellings are happy to have the running back who scored six touchdowns against them in Damonte Ranch's 63-31 win last year.
Hayes and Damonte Ranch got the better of McQueen that night, but Robby also made an impression.
"I remember one play because for the rest of the game my ribs were hurting," Hayes said. "I did a bounce out move to hit the edge, I stumbled a bit, and all of a sudden I got drilled in my ribs. It was him. I reached my hand out, he picked me up, I tapped him on the helmet and said, 'Good hit'. Ever since I always knew he was a hard hitter. Usually I don't get hit like that and for him to be able to do that was super awesome."
Hayes and Snelling will help each other win games and navigate a recruiting process that is certain to involve a number of the same teams. Stanford is off to a promising start to have them remain teammates.