Greek star's relentless drive has propelled her to rare heights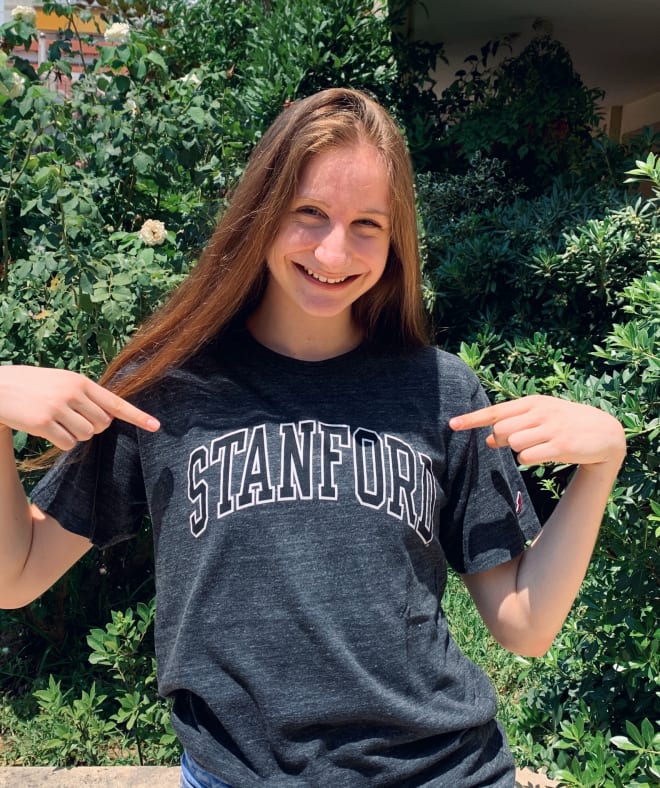 Elena Bosgana has accomplished a first in Stanford women's basketball history. The 2021 wing from Athens, Greece, is the first European to commit to play for Hall of Fame head coach Tara VanDerveer.
She has been admitted to the university and she announced her decision July 6 to play for the Cardinal over offers from Oregon, Cal, Arizona State and others. While she is not ranked by any of the American recruiting services, Bosgana is considered by several knowledgeable sources to be one of the best players of her age group in Europe.
Bosgana wasn't able to visit Stanford in person, but she has dreamed of playing college basketball for years and is confident she found a perfect fit.
"Coach Tara and (associate head coach) Kate Paye talked to me on a very regular basis and I had great conversations with them," Bosgana said in an email. "We did video calls and Zoom meetings, which helped in creating a bond. The coaches are so supportive and helped me with everything. I am so glad that I will be a part of this group of people who care so much for each other.
"I already talk with some of my future teammates at Stanford! They seem to be great and special people and I can't wait to get to know them better in the future!"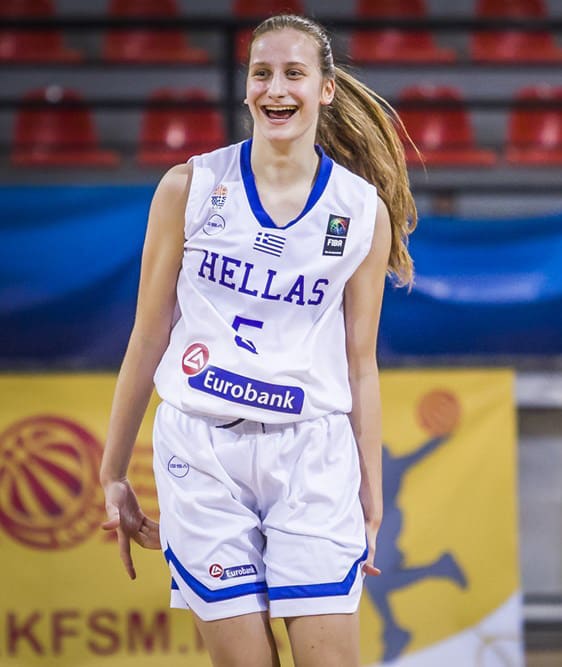 Greece has a proud basketball history, but there have been few young women who have gone to the United States and played at a high level. Bosgana has the potential to do just that.
The daughter of former basketball players George and Liza, the now 6-2 lefty has an impressive versatile skill set.
Bosgana turned 16 in December and in August of last year she averaged 19.3 PPG, 8.3 rebounds and 4.1 assists in seven games during the FIBA U16 Women's European Championship. She also has been called up to the senior national team.
Her school's athletic director is Annie Constantinides, a pioneer in Greek women's basketball. During an 18-year playing career she led Greece to unprecedented success — twice reaching the European Final Four — and was instrumental in raising the profile of the women's game in the 80s and 90s.
"She is a very aggressive player; sees the court very well and runs the court very well," Constantinides said of Bosgana in an email. "She is a true student of the game and she strives every day to become better. She uses both hands and drives very well.
"Despite her young age, she can read the game and take advantage of situations that favor her. When she played with our U16 national team, she was selected to the All Star team during the European Championships."
Stanford has been recruiting at such a high level the past couple years that the fact they offered Bosgana is the equivalent of earning a five star ranking.
The Cardinal had the No. 2 ranked class in 2019 and the 2020 class is No. 6 overall. Both classes featured a top-five overall recruit.
Brooke Demetre is committed in 2021 and is No. 4 overall. With Bosgana now on board, and Stanford in contention for No. 9 overall Kiki Iriafen, it could be another top class in the country.
VanDaveer and Paye don't have to reach for a prospect just to fill a class.
Bosgana has been considered a prospect to watch for a couple years in Greece, but it wasn't until she transferred to the American Community School in Athens before her sophomore year that she was placed firmly on the path to play in the United States.
Anastasios Kaburakis and Constantinides then entered her life and became two influential guides for her journey.
Kaburakis is the founder and manager of Nomos, LLC, which, among other things, advises international athletes and schools about complying with NCAA Division I amateurism rules and how to get into those colleges. Nomos is based in St. Louis and Kaburakis is an associate professor at St. Louis University in the Richard A. Chaifetz School of Business.
Kaburakis also had a professional basketball career in Greece.
"The turning point was her transition to the American Community School in Athens," Kaburakis said in a phone call with Cardinal Sports Report. "That was key for her to understand what it means to be a complete student-athlete to compete academically and athletically. It put her on the trajectory to attract top academic programs in the states."
Kaburakis and Constantinides were impressed by how Bosgana handled herself during her recruiting process.
"When there was interest from the Stanford coaching staff and Elena was informed about this, at first she could not believe it and she was somewhat intimidated," Constantinides said. "But as time went by, she came to me one day and told me that if Stanford would pursue their interest, she was determined to make it and that she would work hard so that she could succeed not only academically but on the court as well. This mindset for me, is an example of her tenacity and determination."
There was another bonus member of the team that emerged around Bosgana to help her understand a foreign process -- none other than Stanford all-time great volleyball and basketball player Kristin Folkl. Her full name is Kristin Folkl-Kaburakis. She is married to Anastasios and has been Executive Coordinator/Consulting Liaison at Nomos for the past five years and the Director of Volleyball Operations since 2016.
"Dr. Tassos Kaburakis helped me in the whole recruiting process," Bosgana said. "It was a new experience for me and throughout this journey I learned many things from him. He also helped me in the procedural things a lot.
"I was so happy that I had the chance to talk to Kristin Folkl. Since she is a Stanford alumni, she gave me a lot of useful advice and told me some of her past experiences!"
With so many people around her who understand what it takes to be a successful athlete, it's noteworthy that they all seem to be on the same page about why Bosgana is successful.
It's not her height. It's not her scoring ability or court vision — both of which jump off the screen of her highlights. It's her drive to be the best.
"She's respectful, yet relentless. She is relentlessly competitive," Kaburakis said.
"It was inspiring. As good an athlete as she is, it's hard to take on a challenging curriculum (at ACS) and do well athletically."
Bosgana said she doesn't have one role model. Instead, she looks up to anyone who gives 100 percent in what they do because she believes passion and hard work are the keys to success.
Kaburakis already knows one young girl who looks up to Bosgana, his 12-year-old daughter. She read Bosgana's application essays and was so won over by what Bosgana wrote that she told Kaburakis that she wanted to be like Bosgana when she was older.
She won't be the last young girl to choose Bosgana as a role model.