Exclusive: Shaw on Stanford Recruiting Part One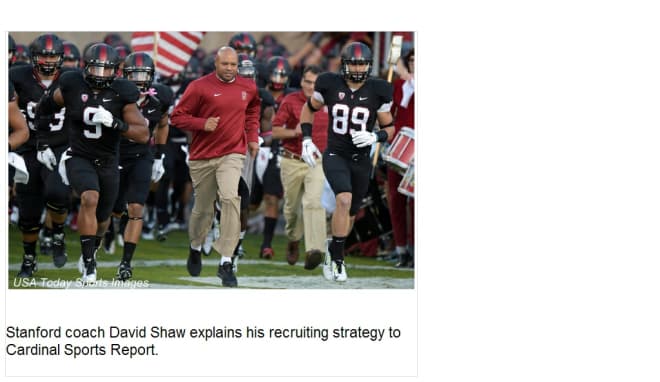 Fresh off signing his third top-20 recruiting class in the last four years, Stanford head coach David Shaw sat down with Cardinal Sports last week to discuss a number topics related to the program's recruiting efforts.
The following two-part series will summarize our conversation. Part one will focus on various components of Shaw and the Cardinal's general recruiting strategy. The second will deal with more specific matters.
Perhaps no single part of Stanford's recruiting process has been as heavily scrutinized as the program's offer strategy. While many schools nationwide are offering more recruits - and offering prospects earlier in the recruiting cycle - Stanford has moved in the opposite direction.
Stanford has extended fewer offers than any of its competitors over the last few recruiting cycles. And unlike some other top programs, the Cardinal has shown no interest in inundating high school sophomores and juniors with offers.
"This is not meant to offend anybody, but I'm sure it will. I want the Stanford offers to be real," Shaw said. "I want them to hold weight. We give an offer to a kid, it's an offer. It's a real offer. There's no time expiration on it. We're not dangling it between you and three other guys (saying), 'Hey, first one to jump gets it.' We just don't operate that way.
"We are slow and methodical. And some recruits and some parents don't understand that. Because there have been guys, there are guys on our team right now, that we didn't offer early, that we offered late, and it was a hurdle for us to get over. And what I typically say is, 'I'm not going to offer you a scholarship until I know that I have that scholarship for you. Now, if somebody offered you three months before and you want to hold that against us? OK, that's fine. But is that going to be a decision-maker for you?'
"Does it matter that you meet your wife a month later than you thought you should have? It doesn't matter. Half this recruiting stuff is crap. It's all crap. It's all flashing lights, it's all emotion. When it comes down to it.. here's what Stanford has to offer. Does it fit what you're looking for? We cut through all the other stuff. Other people can talk, and that's great. And some people out there are great recruiters. They're a great recruiter at one school, become a great recruiter at another school. I have no problem with that.
"But as far as the way that we operate, different than anybody else in the nation, we're going to be slow and methodical. We're going to make sure that the academics are in line with the university, that the football is in line with our football program and that the character is what we're looking for. So sometimes, the combination of the three of those things, we take a while, we take a while to be sure.
"Sometimes we'll see a kid that has the academics and is a really good football player. (But) we're not just going to call the coach and offer. We're going to call the coach and find out about him. First, do you think the kid will come across the country? If the answer is, 'No,' hey, we're not going to offer him. (If the answer is), 'Oh yeah, he might,' OK, what kind of young man is he? What is he looking for? What is he thinking about? We want to engage. So we'll never out-offer anybody."
When Shaw first arrived at Stanford, the Cardinal found itself in a situation that the program's current offer strategy is designed to avoid: They had to pull several scholarship of incoming recruits who did not measure up to the program's athletic standards.
The fallout from rescinding some of those offers sticks with Shaw today.
"When we first got to Stanford, there were guys that were committed here," Shaw said. "We went through all of them and there were a couple of them that, honestly, didn't meet the standard athletically. We had to say, 'You know what - sorry the last staff offered you, we can't.' It was early enough so guys were able to find places. We tried to make sure, we tried do this the right way to make sure that those guys had homes. 'OK, you were committed to us but hey we're going to help you find another place.' That's something we still do today.
"So after the signing class, the first signing class, gosh, probably almost a month later, I got a call from a high school coach of one of the kids whose offer we rescinded. He said, 'Coach, I just want to let you know you guys handled that the right way and and I really appreciate it. But I also want to let you know that you sent that kid into a depression. You sent his family into a depression.' He said, 'Coach, I was damn near in a depression. Because Stanford means so much to this world. You're going to walk around with a Stanford degree, that is huge.'
"So, he said, 'Do me a favor: Every time you offer a kid, realize the impact that you can make on that family.' So we don't throw them around. We don't treat them lightly. It's huge. I've offered kids in this office with their families and the entire family starts to cry. They got on the phone with grandma and grandpa and Uncle Bob and Uncle Joe and they're extremely emotional because it's a separator. That's the way that I was brought up - the separator is education. Education is the real separator in our society and Stanford is a cut above.
"So just because we want to be great in football, I don't want it to be like we're Johnny Appleseed throwing offers around. We offer, it's backed because you have academics, you have high character, you are a good football player, we have a spot for you that we will wait for you to make your decision. That spot is yours, and it's real. I understand nobody else operates that way, and I'm fine with that."
Shaw on: Graduating Early
Along with the accelerated recruiting cycle, the last few years has also seen an increase in the number of prospects who have elected to graduate from high school and enroll in college early. Instead of beginning their college careers in the summer after graduating from high school, a growing number of recruits are opting to cut their senior years short and enroll in January or March.
The majority of the nation's top football programs accept early enrollees, even programs such as Vanderbilt, Northwestern, Duke and Notre Dame that are not traditionally viewed as football factories.
Stanford, however, does not. And while some might view that policy as a competitive disadvantage, it's not one that's likely to change any time soon.
"Two things. No. 1, Stanford has shown no desire to engage in this process," Shaw said. "We have the No. 1 freshmen academic curriculum in the world. It's phenomenal. It starts in the fall, and that's a progression. You can't start it in the spring, you just can't do it. You're starting at the end instead of starting at the beginning. So academically it's basically a non-starter for us.
"Combine that with our summer program, getting everybody in summer school and working out with the football team. We have it documented: It's better. We truly believe it's better. To go from finishing your high school season in maybe November to playing college football against 22, 23-year-old guys, sometimes 24-year-old guys that went on a mission, guys aren't ready. There are a lot of bigger guys, in particular offensive, defensive linemen, running backs. They get hurt. Their body is not ready. So to go from November to March and play tackle football against guys that are bigger and more physical, it's not fair.
"We've shown - it's better to go from November to August preparing your body. Now, we also put it out there: We've played freshmen at every position except for quarterback since we've been here. Defensive backs, linebackers, defensive line, offensive line, running backs, receivers, tight ends, we've played true freshmen at every single position and guys have played well. Ty (Montgomery) had a good freshman year. Christian McCaffrey had a good freshman year, Andrus (Peat) and Kyle Murphy and Josh Garnett, they all played as freshmen. So nobody can tell us, 'Well, I have to come early so I can get ready to play.' No, we can get you ready to play. And if you win a job we're going to put you out there and let you play. So the argument that you have to come in during spring, it's not a fact. Guys have been playing their freshmen year since they took away freshman football and made freshmen available for the varsity.
"So we've been able to combat it. We've been able to play freshmen, we've been able to get guys to change their schedule: The Casey Tucker's and Andrus Peat's and all these guys, they were set to graduate early and once they saw that Stanford was the place for them, great, they had a chance to finish their high school careers in the spring of their senior year. And that's the last thing that I remind guys: The spring of your senior year in high school is something that you can't ever get any other time in your life. This is spring semester of your senior year of high school, last time you get to hang out with your buddies. And (you'll) finish school academically, yeah, but all those fun things that happen, to give that up to go early to college when you don't really have to because you can still come in during the summer and get ready to play, I think that's a trade-off that you lose in the long run."
Shaw on: Quarterback Recruiting
The 2015 quarterback class had no shortage of talent, especially on the West Coast. Five of the nation's top 87 players in the final Rivals.com rankings were quarterbacks from the state of California. In total, 10 Golden State signal callers earned rankings of four stars or higher.
But on the heels of inking two highly regarded quarterback in the 2013 and 2014 classes, Ryan Burns and Keller Chryst, respectively, Stanford did not end up signing a scholarship signal caller in 2015.
"It's hard to say to say we take a quarterback in every class," Shaw said. "I think that's just hard. You stockpile them and typically one guy is going to play and you don't want to have four guys watching. Now, you'd love to have at least three. Ask Ohio State - if they had two they'd be in trouble. They had three and that third was a hell of a player. So you'd love to have at least three at a time. There will be a crossover, a time that we only have three and hopefully at some point we'll have four with a gap year but I do think that you need a gap year.
"And it's something I talked to a bunch of coaches about. I don't want to say who, but I talked to a bunch of coaches throughout and they were all on the same page. If you've got two or three good guys yes, you want to take a gap year. Now, if you have a quarterback on your roster you're not really sure of, hey, then take another one. But if you like the guys you have and you're sitting there with three absolutely, take a gap year. Just so that there is some breathing room for these guys."
Stanford will not be taking a gap year in 2016, however. The Cardinal will ink either one or two signal callers in this class, and the coaching staff has been evaluating candidates for some time.
What is the school's process for evaluating quarterbacks?
"Speaking for me, personally, which is part of the program, also, but for me personally, I know what I like when I see it," Shaw said. "I think we're all kind of like that. Every quarterback offer that we've had really since I've taken over, we've been consensus on.
"I've been accused of being uncompromising at times. I agree with that. I think the guys that we've taken, (I'm) so excited about. I think our process of evaluation, having to see guys live, getting to know them personally, seeing what their skillset is and seeing what their mental makeup is. Those are huge things for us."
Shaw on: The Importance of Camp
One of the defining attributes of Stanford's David Shaw-era recruiting has been the program's emphasis on its summer camp. A significant percentage of the program's signees over the past few years have participated in Stanford's summer camps.
In 2015, for instance, the vast majority of the program's 22 signees camped with the program. That was also the case in 2013 and 2014, as well.
That will likely be a continuing emphasis.
"I think what a lot of the analysts don't understand, and honestly, even some of the football coaches don't understand, is the value in bringing kids to camp," Shaw said. "I mean, take Blake Martinez. He was not highly recruited. He came to camp and within five minutes I said, 'That's the guy. That's the guy.' He was physical, quick, explosive, coachable, knows what to do but then also can adjust if you need him to do something differently. Five minutes.
"So (there is) value in bringing a guy in and seeing him with our own eyes. That's one thing I tell our coaches all the time: Trust your eyes. (We've) been coaching for a long time, most of us have been around football our entire lives. When you see something with your own eyes, you know. It's something you can't always see on film. Some guys have great highlight film and they show up and camp and you look at them and you say, 'This guy can't do it. They can't do it.'
"We've gotten beaten up periodically for not offering this kid and not offering that kid and, 'Oh, we hear there's a four-star lineman that came to your camp and you guys didn't offer him.' Yeah, we didn't. Because there are certain guys that can't do what we would want them to do.