Connor Wedington to the NFL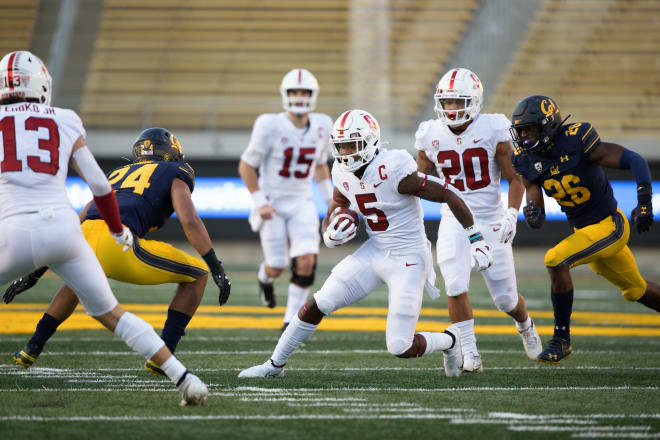 Another member of the 2017 class has decided to put amateurism behind him and put his name in for the NFL Draft. Fourth-year wide receiver Connor Wedington will not use a fifth year of eligibility at Stanford and ends his career after playing a valuable role in 31 games.
Statement from Wedington:
"If you know me, you understand two things about me: I am passionate about growing and positively impacting people. I'm excited to see what the future holds because I truly believe God has a plan for me that is way beyond my scope of vision.
Throughout my entire life, I've always been a dream chaser. I've worked relentlessly towards every goal I set; I've noticed three things that seem to occur in every chapter of life:
1.) There are going to be many highs and lows throughout your journey. So embrace it, find the positive in every experience (because there is one)
2.) Time goes by way too fast. So live in the moment & enjoy life. Also, understand that consistency is the key to success.
3.) New relationships are waiting to be formed everywhere, so connect with people. Life is about relationships. At one moment in your life, your closest friend, coworker, even sibling was once a stranger, so always be open to others.
I'd like to thank God for making this all possible, my family and friends for being so supportive, my coaches and mentors for the things y'all have taught me in ball and life. And lastly, I'd like to thank my teammates, the bond we have created will last forever.
With faith, an amazing support system, and a burning desire for success, anything is attainable. Therefore I am excited to announce my declaration to the 2021 NFL Draft. #CincoOut"
Wedington had 106 receptions for 971 yards and one touchdown. He also returned 25 kicks for 685 yards. He was named honorable mention All-Pac-12 in 2019 as he played in 11 games before injury. He caught 51 passes for 506 yards and a touchdown during his junior season, and also returned 21 kicks for 28.1 yards per return, the best mark in the conference and eighth-best nationally.
Off the field, he was named to the 2019 AFCA Good Works Team for service to the community through his organization Hope Given By. He was also Stanford's 2020 nominee for the Wuerffel Trophy and served the Cardinal as a captain.