Coach's Corner: Andrew Pryts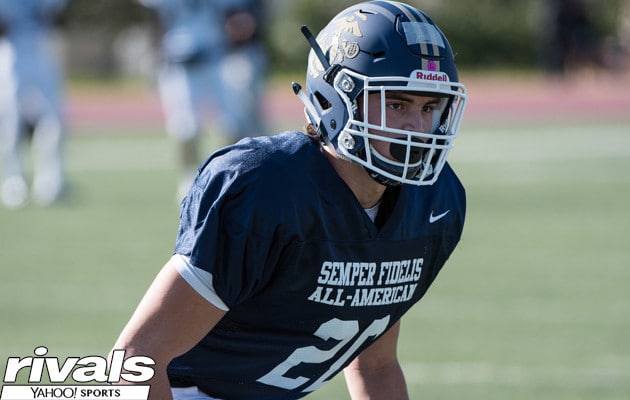 With his public flip to Stanford on NSD, Andrew Pryts became one of the most discussed members of the 2016 class. With his recruitment flying so under the radar for a good portion of it, we caught up with Coach William Brest from Hickory high school for the latest edition of Cardinal Coach's Corner.
Cardinal Sports Report: Andrew made a late decision to decommit from Penn State and commit to Stanford. Can you give Stanford fans some background into what led Andrew to make this choice?
William Brest: I do know that the Stanford coaches were diligent in the recruiting process with Andrew. Coach Hansen did an outstanding job with Andrew and his family. Coach Hansen even attended one of our games. Coach Akina really did a superb job in not only selling Stanford University as a whole, but also how Andrew will fit into their defensive philosophy. Coach Shaw is one of the best in the business. All-in-all, the school visits, the HS game visit, as well as Andrew's official visit really set the tone for his commitment to Stanford.
CSR: Growing up in Pennsylvania, and having his father play at Penn State, was there a lot of pressure for Andrew to stay local, or was the community supportive of his decision to end up at Stanford?
Brest: Obviously, there are many Penn State fans here in Western PA. Although many are somewhat disappointed that he is not attending PSU, all are extremely proud of Andrew and excited for him. His parents and entire family are extremely supportive of Andrew and were right there with him along the way. Especially taking him wherever he wanted to visit so he could make the most, and best-informed, decision. According to Andrew, he made the final decision and his family is very happy for him.
CSR: With Andrew being recruited by so many elite schools, like Ohio State, Notre Dame and Penn State, was there anything unique about the way that the Stanford coaches recruited him?
Brest: All coaches from all schools that visited were very polite and professional! All I asked from the coaches, as well as Andrew, was to be honest with each other, and Stanford was the entire way (as well as Andrew). It wasn't about Stanford, it was about Andrew being a Stanford Cardinal and what the entire Stanford experience (being a student and an athlete) means for his future. Also, the Stanford's coaching staff's diligence and professionalism in the recruiting process with Andrew, with his family, as well as with me as his head coach, really was unique in and of itself with them being 3,000-plus miles away.
CSR: Stanford fans were excited to see the film of Andrew, as it is clear he isn't afraid of contact. What are some of Andrew's biggest strengths on the field that made him such a coveted recruit?
Brest: Besides his extreme physicality, Andrew is such a student of the game. He is a coach on the field. His game awareness and instincts, combined with his physicality, help make him a prized recruit.
CSR: Like any incoming freshman, there are certainly areas that Andrew needs to improve at to play at the BCS level. What are some specific things Andrew needs to improve on before taking the field at Stanford?
Brest: Andrew is constantly working on his craft to continue to get better each day. I am sure, like many incoming freshmen at the BCS level, he will have many of the same things to say that they need to work on: understanding the new speed of the game; man-to-man coverage; however, with his work ethic, Andrew will continue to strive to perfect his craft and report to camp ready to go.