An analysis of the Stanford recruits in the 2021 Top 100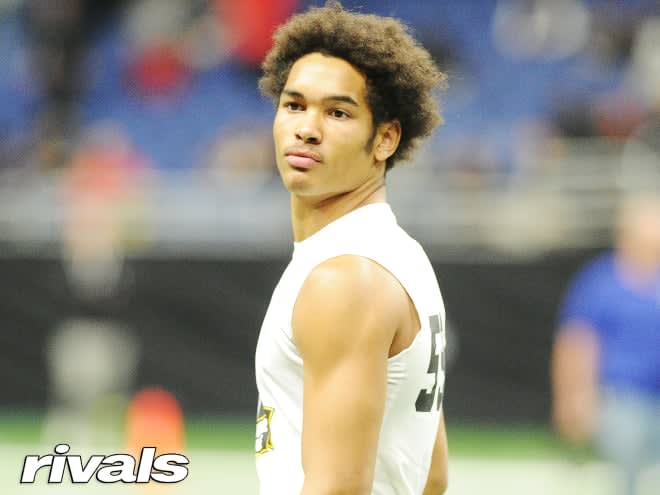 Stanford has offered 11 2021 recruits and several of them are in the new Rivals Top 100 for the class. Cardinal Sports Report offers a breakdown of those recruits.
It's a bountiful crop of talent in the Evergreen State. Tuimoloau is one of the most exciting athletes to come out of the Pacific Northwest in recent years. As an eighth grader a young, wide-eyed Tuimoloau said Stanford was his dream school.
In the more than two years since it's right to say a lot has changed for him and he has his choice of school across the country. Stanford has not signed a defensive lineman of such lofty Rivals ranking since Julian Jenkins in 2001. History does not bode well for Stanford's chances but it will be impossible to know if a pulse exists unless he visits The Farm.
The second of three Washington natives on this list Stanford has offered, Egbuka may be the one with whom Stanford has the best traction. Offensive coordinator Tavita Pritchard, who also is the area recruiter, and wide receiver coach Bobby Kennedy are already regular visitors to Egbuka's high school. Egbuka also visited for a junior day this spring and is building a good relationship with the Stanford coaches.
Like Tuimoloau, signing Egbuka would be one of the greatest recruiting wins in Stanford history. The Cardinal have never brought in a receiver ranked this high by Rivals.
The easy assumption is that Brockermeyer and his twin brother James (also a highly regarded offensive lineman) are headed to Texas, where their father played. They both have offers from UT while Stanford has only offered Tommy so far.
Brockermeyer was excited to get the offer and told Cardinal Sports Report he wants to visit The Farm. He also denied that Texas is the standard by which all other schools will be compared and that he's open to forging his own legacy at a different school. But it's difficult to imagine Stanford wins what already will be a hard-fought recruitment for Tommy if they don't also offer James.
Grimes was caught by surprise by his Stanford offer and thought it was "crazy" that a big school out West was offering him a scholarship. He wants to visit but has not had much contact yet with Stanford's coaches.
This is a familiar early-in-the-cycle offer from Sanford to an elite defensive back who shows signs of being interested. The Cardinal have yet to sign a blue whale defensive back who fits into that category. Chris Steele was a good example in the 2019 class because he visited Stanford twice and likely had the Cardinal as his leader at one point before the five star became determined to enroll early, this eliminating Stanford.
Duane Akina and company at Stanford will try once again.
McKinstry is a fantastic athlete who also holds basketball offers from UAB and Troy. He reportedly is in the early stages of thinking about his recruiting process but is already familiar with a number of the powerhouse programs in the country. He has visited Clemson four times, along with Florida, Florida State and Georgia Tech.
Geography works against Stanford here. The imposing recruiting machines at Auburn and Alabama will do everything possible to keep McKinstry home.
Any time Stanford offers a tight end it's a big deal and Matavao is the top prospect for the Cardinal at the position for 2021.
The program has a strong history of sending tight ends to the NFL. Kaden Smith was a Mackey Award finalist last season and was drafted by the 49ers. Zach Ertz may be on his way to a Hall of Fame career with Philadelphia. Austin Hooper (Atlanta), Ryan Hewitt (Tennessee), Dalton Schultz (Dallas) and Levine Toilolo (49ers) all played at Stanford since 2010.
Matavao has more than 30 offers and expect the Cardinal hope to have the Nevada native on campus as soon as possible.
Jackson received Stanford's first offer to an offensive lineman in this class. He's obviously a special talent and he happens to attend the same high school as current Stanford left-tackle, future first-round pick, Walker Little.
Jackson is scheduled to visit Stanford for the Friday Night Lights junior day July 26. That visit will be a great chance for the Cardinal to make a strong first impression on Jackson to convince him to join the pipeline of Texans to The Farm.
Shipley currently represents Stanford's best chance to sign an elite talent in the 2021 class. He visited June 7 and it was an eye-opening experience for the North Carolinian. He and his parents were wowed by their time on The Farm and Shipley told Cardinal Sports Report that his interest in Stanford "shot through the roof".
"You have to see it in real life. I got a chance to and it is paying off."
Shipley's favorite team in the NFL is the Carolina Panthers and his favorite player is Christian McCaffrey. It's not a surprise Stanford has compared its plan for Shipley to how McCaffrey played for the Cardinal. Like McCaffrey, Shipley is a great athlete and a versatile player.

Suamataia has been on Stanford's radar since his freshman year when he caught the eye of area recruiter Lance Anderson. Suamataia is an elite athlete (just check out his dunking videos on Twitter) and his family emphasizes academic. Suamataia told Cardinal Sports Report he plans to visit this summer.
Foster visited Stanford this spring before he was offered and the 4.0 GPA student was ecstatic to receive the good news in June. Kevin Carberry was impressed watching Foster's spring game video and that was the final piece needed to decide to offer. Foster didn't describe Stanford as one of the schools recruiting him the hardest but said the Cardinal were quickly moving up the list since his visit.
Foster also is an elite thrower (shot and discus) and the Cardinal track and field program would undoubtedly be thrilled to see Foster on campus as well.
Simon is the third Washington native and in one way is the most intriguing because he possesses physical traits that raise the rare possibility of playing receiver or linebacker. It's the opinion of some people who have watched him play that he could be productive linebacker in college. Stanford sees an impact wide receiver and he enjoyed a visit to Stanford this spring.
His mother also recently posted Julien's grades on Twitter because he is a straight-A student. He earned the wide receiver MVP at the recent Washington camp and was offered by the Huskies.