A magical night at Maples: VanDerveer gets win No. 1,000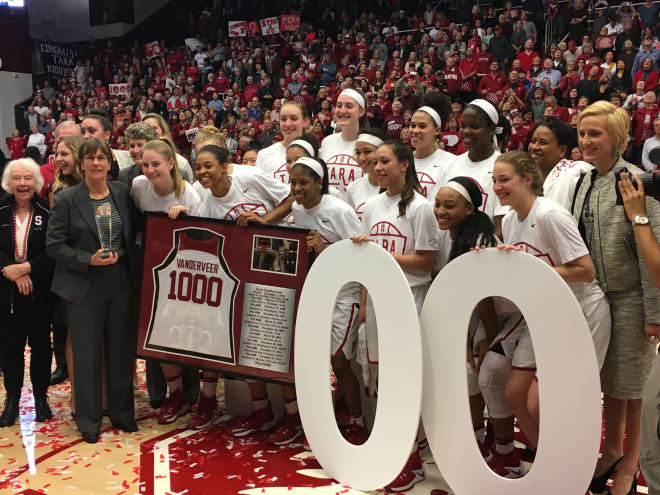 There was no hiding from it before the game, Stanford was one victory over USC away from securing the monumental achievement of 1,000 career wins for head coach Tara VanDerveer. So, the coach renowned for her disciplined approach to basketball didn't try to talk around it before the Cardinal took the court Friday night.
"I told our team before the game, 'I won't lie to you, this is a special game,' " she said. "The 1,000 (wins) will happen this year. Have fun, relax and play hard. I thought our team really did that.
The Cardinal prevailed through sometimes clunky offensive play to pull away for a 58-42 win over the Trojans.
The Cardinal were led by seniors Karlie Samuelson and Erica McCall, who were there for win No. 900 as freshmen and now have their names etched into stone in Stanford history as leaders on the court for No. 1,000. Samuelson finished with 21 points, including three 3s in a row. McCall had 18 points while showing off her inside-out game.
The two also collaborated before and after the game to have a bucket of confetti to "pour" on VanDerveer, who at first thought it was going to be water.
"This is an awesome experience to be able to be here with Tara," Samuelson said. "I know she'll remember it forever and I know I'll remember it forever. I feel really close to Tara. Bonnie (Samuelson, Karlie's older sister) was here two years before I was, so I watched all the games. This is crazy. Crazy I'm a senior. This is awesome."
There was star power off the court as well. Former players could be spotted throughout the arena, including Stanford legend Jennifer Azzi.
Pac-12 commissioner Larry Scott spoke after the game about VanDerveer's legacy, but the truth of that was all around him on the court and in the stands.
He took the mic from Rosalyn Gold-Onwude, who was on the broadcast team and was a conference defensive MVP under VanDerveer.
You could stand in the center of the court and turn in a circle and see a number of familiar faces -- head football coach David Shaw, Condoleezza Rice, athletic director Bernard Muir and many others out to pay their respects. Former Stanford guard Sara James was in her nursing uniform, having come across campus from her work at Stanford Hospitals and Clinics.
Then on the jumbotron was a montage of videos from Nneka and Chiney Ogwumike, Jayne Appel-Marinelli, Jeanette Pholen-Mavunga, and others. It fittingly came to an end with sister Heidi, who is the head coach at UC San Diego.
"It is very surreal for me," VanDerveer said. "It's mind boggling. It's been a really, really exciting journey. I'm working really hard to keep it all together. What makes it really hard is my mom (Heidi) being here. I'm really excited that she was here. I never started to win 1,000 games and I never really thought about it. And then it started creeping up.
"I'm not about me," she said. "I'm about our team, our coaches, our players. What really kind of hit me was how excited our team was. I'm so fortunate to coach at Stanford and have the great staff I have. If it was all about the numbers I probably wouldn't have coached the Olympic team because this would have happened before. For me, this is a team award. This is something I'm really excited to be able to share with this particular team."
"What I felt today from our team is they felt the love that I have for the game and also for them. It's great when they see someone like Jayne (Appel) or Candice Wiggins, or Nneka, or Chiney, or Jennifer Azzi and all these players saying thank you to me. They're like, they know they're part of something special."
Now Stanford faces the task of re-focusing on the season, which shouldn't be difficult with No. 13 UCLA in town.
Which is part of the reason why, as difficult as it may have been to believe at the time, VanDerveer assured the team they would have bigger games to play this season as the Cardinal work to develop to fulfill the Final Four goal they set before the season.
VanDerveer quotes
Q. Tara, you made a reference to your mom in your pre-game talk?
"Well, I told them, I was teasing. I love my mom. We're very close, and she came out last week to go -- my mom's in the back right there -- she came out to go to a concert, and she stayed with a friend, and her friend has to leave tomorrow to go to Atlanta for a family situation. So my mom was like well, I'm going to be staying with you until you get this 1,000, so I told our team, okay, let's get it. She's got things to do, and I have things to do (laughing). So I started to make light of it, not just putting a lot of pressure on our team."
Q. Did you hear from anybody that surprised you today?
"You know, I've heard from a lot of different people. I heard from Shaka Smart. I said, 'How did he get my phone number?' Just wonderful. Before the game, I said, Jerod, we need to coordinate a little bit and they were practicing. All the guys came down the hall, they're high-fiving me. Good luck, Coach. Get the thousand. I mean, they were really -- I just love Stanford and the camaraderie that we have. Not just our team, but the men's team too. To me it was really special that Commissioner Scott was here. That meant a lot to me. Obviously, Jennifer and Ruthie Bolton, my Olympic players. Kristy Rappahahn, Brooke Smith, Jane, they were all in the locker room. So it was really fun."
Q. How long did it take you to accept the Stanford job and why did it take so long? And you talked about the journey and you didn't think you would succeed here.
"Well, our Ohio State team quite honestly was loaded. It was really hard to leave Ohio State. I had great, great players there. I guess I wanted to challenge myself. And then I realized, wow, this is a challenge, but it's been a really fun journey. Quite honestly, I think probably I individually could have gotten the 1,000 faster at Ohio State, because we had it rolling, but I might not have grown as much as a coach or as a person."
Q. You've seen the growth of the game throughout your whole career. Can you talk about the pride still about your role in the game and also where it is now from when you started?
"Well, I didn't have good timing as a player. I tell my staff, I would have played at Stanford. They said you might have gotten in, but you're too slow. I never got a play. I never had a scholarship. I never went to basketball camp. We had like a nine-game regular season. So I felt a little, I don't want to say cheated, but I never got to play on the playing side. So, my timing was good for coaching. I had great opportunities. I've had great mentors. At Idaho I was hired by Kathy Clark. At Ohio State I was hired by Phyllis Bailey, and at Stanford, that was really special to see Andy Geiger (in the post-game video montage). People that believed in me. So, it wasn't -- it's never been me. I've always had -- Amy Tucker has been part of all but 42 wins, and she is just a fantastic evaluator of talent. She's able to look out and say Jennifer Azzi, who wasn't recruited by
Tennessee and she's from Oak Ridge. So Jennifer Azzi, Sonja Hennings, she's been the GM of this program.
Having a player coach like Kate Paye, and to have the great players that we've had and to see them on the Jumbotron, so I've been part of the Stanford growth, basketball growth, WNBA, but to me sometimes it's just timing. Being in the right place, and having great support.
Q. At what point did your daddy side you wouldn't be sticking around in the basement?
"You know, I'm not sure that he ever -- he was a worrier. He could not even watch our team play. If he was even in the gym, he would be pacing. He didn't come to the Olympics, but he only liked games where we were up by 30 with five minutes to go. He never played basketball, but he had all kinds of ideas on how it should be played. But your parents are always going to be your parents. What I got from my dad, my mom, they just, be a teacher. My very first job was coaching my sister, Marie, not Heidi, but Marie. I just remember what had happened. I went home after graduating. It was Christmas, I went home, so I was hanging around in the basement. I was sleeping in late, and my dad was like you're going to go coach your sister's team. They had just lost the night before 99-11 and I'm like, no. And he said, yes, you are. And I went down and I really loved it. But I'd also come home and my parents would be like well, how come you didn't play Marie more? And I was like, mom, she can't dribble. She can't shoot. So I understood right away coaching. Every player is someone's initiative. Every player is someone's daughter, and parents sometimes are -- they just have their tunnel vision, but that was a good lesson to start out with.
I don't think he ever rented out the basement and none of the other kids came home either, so I think they did a good job.
Q. I don't want to break the mood, but depends on how you interpret it. But how bitter sweet is it to get to this plateau and Pat Summitt not being around?
"You know, that was -- I went to the celebration of life, and I was in communication with Pat, going to the celebration, but going back and playing it hit me. That's where I'm like, like in the big scheme of things it's not about winning games. The big scheme of things is the relationship you have with people and enjoy the day. So that, for me, I'm enjoying the day. I'm not focused on, yes, I've got to get ready for UCLA and I will, but enjoying the people that are in your life today because you don't know how long you're going to have it. So, I learned that at Stanford when our team we were ranked number one and we were rolling, and Vanessa got hurt and Krista got hurt, and all during that year everyone said to me, What are you going to be seeded and how can you do it? And I was buying in. I'm an enjoy-the-moment person. I'm enjoying today, and it's an honor to be in her company, and in Coach Krzyzewski's company as well. All right."
"What's more important to me is the 1,000 positive interactions you have with players and other coaches."

Congrats, Tara VanDerveer. pic.twitter.com/h7jCn5E1Sq

— Nike Basketball (@nikebasketball) February 4, 2017