Stanford offers 2019 five-star quarterback JT Daniels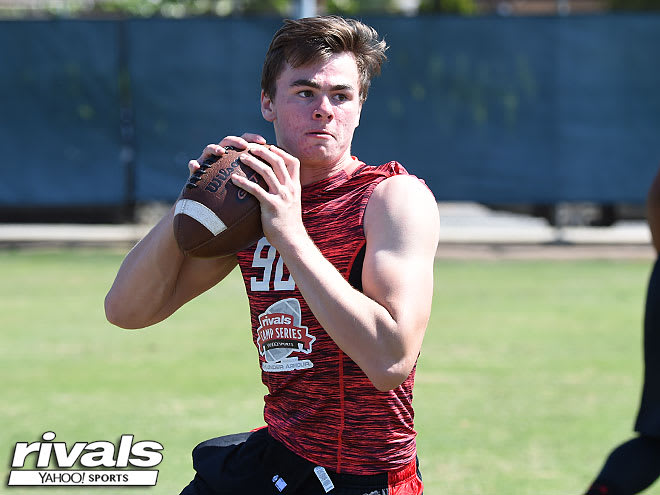 Santa Ana, Mater Dei quarterback JT Daniels, a five star on Rivals, reported Friday night that he was offered by Stanford at the end of a two-day visit to The Farm.
The trip seemed headed toward a satisfactory step toward an even better relationship with Stanford when he tweeted:
He followed up the positive review of the experience with an announcement of an offer that he has talked about wanting for some time. The young man led Mater Dei to a record setting season of offensive dominance that drew crowds of college coaches.
Offers poured in from across the country. And now he can add Stanford.
He told Rivals Recruiting Analyst Adam Gorney in February before he started his spring tour of schools: "Stanford just being Stanford. There are some schools that are just some schools. At Stanford I have relationships with the coaches and I love all of them. You can't do much better than Stanford."
The Stanford coaches are a careful bunch when it comes to offering quarterbacks. It's often a drawn-out process that involves in-person evaluations and David Shaw has described quarterback recruiting as a "personal" endeavor.
A quarterback needs to be able to connect with the offensive coaches and lead a team. It's part of the job description that is unavoidable when you take on the position.
Daniels has been up to the challenge since he was a freshman starter at one of the most prominent high school football programs in the country.
Gorney's take on Daniels when he was rated a five star: "As a sophomore, Daniels is the best quarterback I've evaluated in more than seven years of covering West prospects and that includes Josh Rosen and Sam Darnold. He's that incredibly good in games, so poised that he calls the offense by himself and he has tremendous ability to make all the big throws. Yes, he's been surrounded by super talented receivers led by Osiris St. Brown and Amon-Ra St. Brown but playing in arguably the toughest high school football league in the country and completing 74 percent of his passes for 4,849 yards with 67 touchdowns and six interceptions is definitely impressive.