Q&A: Jerod Haase discusses historic signing of Ziaire Williams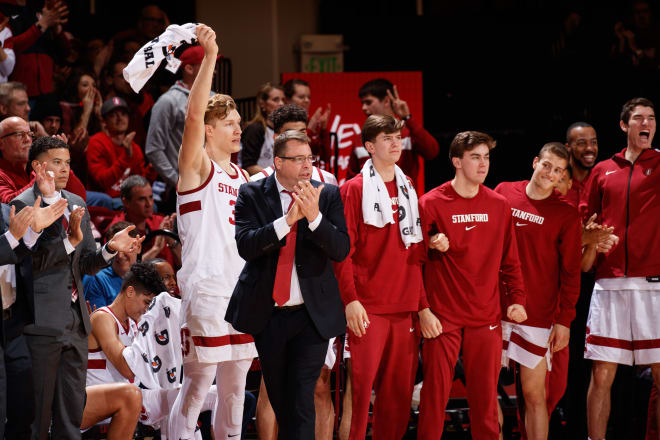 This time it was Ziaire Williams who sent a letter to Stanford. The No. 6 overall recruit in the 2020 class signed his letter of intent Wednesday to complete a recruiting process that began in 2017.
Head coach Jerod Haase led the charge to sign arguably the best recruit in program history. During the course of a year he wrote a letter a day to the young man and his family. The letter-writing campaign spanned from August 2018 to August 2019.
Haase discussed the incredible journey shared by Williams, his family and the staff in this extensive interview.
Obviously this is a big day for you and the Williams family. What is your overall reaction to this process and how it ended?

"Well, every recruiting process is a little bit different. This one was certainly on the longer end from start to finish. It was a commitment by us, but also it was a commitment by him to really try to find out what was the best fit.
"He did a great job of exploring all his options, building his relationships. I think at the end of it, we obviously remained excited the entire time, and at the end of the day he found it was the right fit as well.
"For us it's a big step for the program. It's a big step for the team for next year. On a personal level, it's exciting that Ziaire is going to come here knowing that we built a really special relationship. I'm excited to be his coach."
When you started recruiting Ziaire it was more on the spectrum of the potential of the program and by the time his recruitment had finished I think you had to be leaning more on the reality of the program. Can you talk about when in your mind that shift changed and what Ziaire's feedback was to you about the progress of the program during his recruitment?
"Good question. Our recruiting pitch has changed every year based on how we've seen the program develop and grow and the plan unfold. When I first got here it was an idea. Hey, Daejon, Oscar, I hope you guys believe in me and let's try to build something together, build something special.
"Each year that message has changed a little bit. We recruited Ziaire -- it's been awhile now -- (and) over that time the message has changed. The message was first: 'We're going to recruit really well, we're going to play really hard and then we're going to slowly win some games'.
"This past year, before the year started, I told him that if we don't make progress with the team this year -- we don't have a jump up in terms of wins and we're not playing a style that fits your eye -- then you probably shouldn't consider us if we haven't made the progress.
"I told him I believe in the program. I believe in what we're doing. Once we get to the point right now when we've shown that then you can be another piece to get us over the top to not only compete at a high level, and win 20 games, be a high level team, but now we can start talking about bigger goals and dreams.
"He bought into that. The nice part is it wasn't just words, it's actions. I believe the things I told him in one form or another have come true in terms of we continue to recruit well, we built a program that's fun to watch, the guys are playing hard and we have a culture in place. I think we're growing it year by year."
I think the letters you wrote to Ziaire, and how many you wrote, caught some attention among fans. What was the inspiration for doing that and what was the reality of maintaining that level of communication?

"I've always felt that writing letters is a good way to recruit. I'm well aware of technology -- phone calls, text messages -- and technology is a great way to recruit as well. I also think that in some ways to stand out, the old fashioned letter can stand out in a different way.
"Ziaire is not the only recruit I've written letters to. I think it can be really effective. I remember when I was a kid getting letters in the mail it's a different stimulus. It means something when someone isn't grabbing a phone and for five seconds wrote something. If they took the time to write a letter, put a stamp on it and address the envelope, I always thought that meant something.
"The letters I wrote continually there, it happened a while ago. It was from August to August a year ago. I remember after the summer I told one of the coaches, 'You know what, I need to try to do something different. I'm going to write him a letter for 365 straight days.'
"I got 8.5 by 11 pieces of paper (with) a letterhead and printed the date for 365 straight days on there and then copied those. I copied those and then wrote letters for 365 straight days just to show him something a little bit different and invest in a little bit of a different way."
I imagine that over a recruiting process this long that at a certain point the recruit knows everything that there is to know. Was there a point ahead Ziaire informing you that he was ready to commit that you recognized that it reached that point with him? What was that interim period like, if there was one?
"I don't know that there was one. He and his family were unbelievable at playing things close to the vest. We always felt that we had a great relationship and that the recruiting was going well. We always thought that the message we were delivering was resonating.
"To say we were quote-unquote in the lead or one of two or three schools, I don't if that was ever the case. To be honest with you, I thought a long time ago I felt comfortable that we did a great job recruiting him. We were quote-unquote selling him something that was unique and I think it resonated with him.
"If he chose not to come here it wasn't going to be something that I was devastated because it would have just meant that it wasn't the right fit. We used that word a million times in this recruitment.

"One, is if I can execute the plan I've talked about over the last couple years to get the program into a healthy spot. And two, we have the academic component, we have the culture component, we have the basketball component, we have the player development component. If that fits then he'll end up coming here.
"It's not judging anybody if it fits or not. We felt like we sold something that is unique and different. At the end of the day if it really did fit him then we had a heck of a chance."
Ziaire Williams is being talked about as a possible "one-and-done recruit" and that has been talked about a lot in terms of how that fits with Stanford. Do you have an opinion to share about that now about how that affects roster management and to recruit someone who may have the talent to leave after one year?
"That's a complicated question with probably a complicated answer. We look at a plan to continue to build this program, our plan is not to get a bunch of one-and-done type players. It doesn't make a ton of sense.
"Having said that, with Tyrell Terry we had no idea he would be going through the process right now of looking at the NBA after one year. Not a million years would we have thought that. He had a heck of a year.
"We understand with the NBA right now and the culture of college basketball that our stability is probably greater than most places but it's still going to be somewhat unstable. We do need to have a certain level of talent. We need to recruit at a high level.
"The other thing too is it doesn't mean that education is not important to him. Marvin Williams, who I coached when I was an assistant coach at North Carolina, he was a one-and-done, and the second pick of the NBA draft, and he went back for 10 summers and got his degree.
"I don't think Ziaire would have come here if the education didn't mean something to him. He understands he's going to work his tail off and see where things go. There's that dream out there that he wants to play in the NBA and there is also a dream of getting a great education and being part of a team that is doing something special together."
Where do you see him helping this team when the offense is working, but also where do you see him helping the team when it's not and you get up against the shot clock?
"There is a phrase that is common now, a bucket getter. We talk about certain teams that have a guy who can go out there when the play is broken down, or things aren't going well, can just go one on one, create a shot and score the basketball. I do think Ziaire has that ability.
"Big picture, the most exciting part is he understands the game really well. He's an excellent defender. He has great length. He's very competitive. Maybe the thing he does, it's hard to say best, but one thing he does really, really well is pass the basketball. He's very unselfish.
"I think he fits in really well with the group. I think for the most part our group has a pretty high IQ and I think he'll just increase that IQ going into next year. I'm optimistic he will be able to fit in well with the freshmen coming in and the team we have coming back to be able to help distribute the basketball and play a game that is fun to watch.
Within the context of his classmates, how does he fit relative to the way you see the other guys fit?
"I think the first thing you talk about is personality wise, character wise, they're all off the charts. I think they're going to have great relationships and relationships that last a lifetime because I think they all have similar values, wonderful families. I think they will have a special relationship.
"On the court, for everybody you better be ready to compete. Get out there and earn what you want. Certainly nothing is going to be given to everybody. You have to get out there and work at it. For all the freshmen that's been the theme. It's also the theme for the upperclassmen.
"I've said it a million times, whether it's to the current team, in individual meetings or to recruits, once we get on the court I don't have loyalties to seniors or to freshmen or to tall guys or to short guys. I have loyalties to, once we get out there, who is going to help us win basketball games.
"Once we get off the court there is going to be a whole lot of caring, love and concern in every way to make their life as good as possible and do everything we can for them. Make sure they get their degree, make sure they're doing well in class, make sure their needs are taken care of and they're living a great life.
"Once we get on the court the message is clear to everybody: Be ready to compete, be ready to get out there and work for it."
You've been open in the past about the culture change that you wanted to have and the attitude the players have when they come here. If Ziaire didn't value the education piece then obviously he wouldn't be coming to Stanford, but where do you think the program is in terms of getting guys here who are making basketball decisions first and foremost?
"I think it has been great. As a staff we made a focus early on in my tenure here of finding players who obviously have done well academically, have great proficiency there, who value the degree and what Stanford is. That's non-negotiable.
"But we really did place an emphasis on loving the game and a desire to be great. Just like we would when we talk about shooting or height or lateral quickness. That was a real priority to find guys who love the game. This entire freshman class, I promise you they love it. They absolutely love it.
"When you talk about Brandon (Angel), when you talk about Max (Murrell), and certainly Ziaire and Noah (Taitz), too, they love the game and they love competing. That was certainly a priority for us going forward. I think that can translate to teams really playing hungry out there and love playing for each other.
"That part of it of loving the game, loving competing and loving being part of a team is a huge key for us for sure."