Preview: #5 Stanford WVB welcomes #4 Nebraska to Maples Pavilion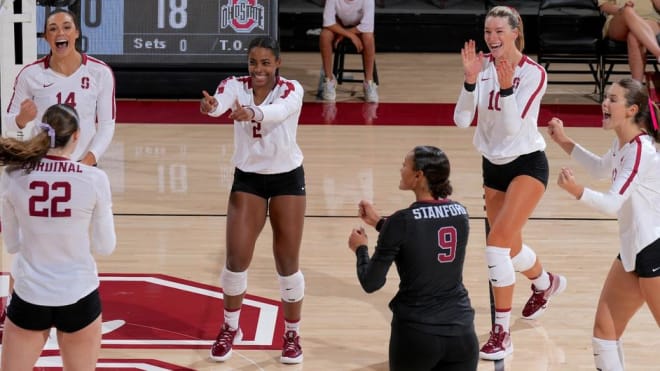 On Tuesday at 6:00 PM PT on ESPN, #5 Stanford women's volleyball will welcome #4 Nebraska to Maples Pavilion. Stanford comes in at 6-1 overall while Nebraska comes in at 7-0.
Last time out: Stanford swept #15 Ohio State (3-0) and #10 Minnesota (3-1) in the Big Ten/Pac-12 Challenge.
RECAP: #5 Stanford WVB sweeps #10 Minnesota & #15 Ohio State
On Nebraska: The Cornhuskers have one of the top teams in the nation and made headlines with their match against Omaha that was played in their football stadium. The match set a record attendance for a women's sporting event with 92,003 people in attendance. It was quite a spectacle. That said, Omaha women's volleyball is trash right now with an 0-7 record. Blowing out a terrible team in front of a rocking home crowd is a lot of fun, but it serves as more of a cheap thrill than anything else.
As for the team itself, the Cornhuskers come to town undefeated, only dropping one set all season to #16 Creighton. Creighton is also the only ranked team they've played up to this point, so they've had kind of a pancake schedule. Stanford being ranked #5 will be the toughest team they've faced all season. Especially with it being on the road.
Freshman outside hitter Maggie Murray is leading the team with 3.09 kills per set while junior outside hitter Merritt Beason is averaging 3.04 kills per set. The two of them form a really dynamic duo on the outside. Freshman setter Reilly Bergen is averaging 9.36 assists per set, doing a great job of setting up her teammates for easy kills. Defensively, sophomore middle blocker Bekka Allick is averaging 1.69 blocks per set while junior libero Lexi Rodriguez is averaging 3.46 digs per set.
Across the board, this Nebraska team is tough. There's a reason why they are ranked as high as they are. Given that Stanford has played a tougher schedule up to this point, Nebraska has a bit more to prove in this match. They're ranked higher than Stanford despite having played a weaker schedule. This match is going to be a great opportunity for them to prove that they are worthy of the hype.
Keys to the match: For Stanford, the first thing they need to do is match the energy that Nebraska comes out with. The Cornhuskers are going to come out guns blazing in this match. At least they should. Florida came out with more energy at Maples earlier this season and Stanford failed to match it. If Stanford matches that energy, I like their chances to win.
Secondly, Stanford needs to make things tough on Maggie Murray. Murray is playing fantastic, but she's a freshman and hasn't played in a match of this magnitude. The match in front of all those people was wonderful experience for her I'm sure, but given how terrible Omaha is, it's hard to call that a big match. Stanford should test her early and do all they can to get her out of system.
Finally, Stanford needs to make the most of their defense. While they are most known for their tremendous offense with Kendall Kipp, Caitie Baird, and Elia Rubin leading the way, their defense deserves more love. McKenna Vicini and Sami Francis are both playing fantastic in the middle while Kami Miner and Elena Oglivie are doing a great job of getting digs. Defense as much as offense will make the difference in this match.
Prediction: Give me Stanford in five sets. The Cardinal are at home and while they have acquitted themselves nicely after that loss to Florida, they still want to come out and prove they are worthy of the ranking that they have. I also think it's possible Nebraska is slightly overrated. They haven't really been tested yet. If they do go on to beat Stanford, they'll certainly back up their ranking in my eyes.
CardinalSportsReport.com on Facebook & Twitter: @StanfordRivals
Ben Parker on Facebook, Instagram, & Twitter: @slamdunk406
Email: slamdunk406@yahoo.com