Hattis talks state title, Farm future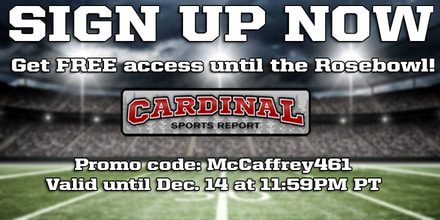 2016 Stanford offensive tackle commit
Henry Hattis
ended his high school career in style.
Last Friday, Hattis and his Cleveland High School team capped a 13-0 season with a 48-35 win over Eldorado High School in the finals of the New Mexico 6-A State Championships.
'It was great," Hattis said. "It's been my goal since I was a freshman coming in to Cleveland to win a state championship. Our senior group that we had growing up was always very special. We're a really close group and it was just really exciting to finish on the note that we wanted. Winning the state championship I know was our main goal since we were freshmen. Getting that done was a great feeling."
Cleveland's title run was keyed by a prolific offense that scored north of 39 points in each of their 13 games.
"We run a multiple set offense," Hattis said. "We run spread as well as two tight. Because, I mean, our biggest strength I think this year was our running game, mostly due to our offensive line - not just me but the rest of our offensive line. We were a really good group. I think we're averaging around 270, maybe 6-1, 6-2, 270 on the offensive line. We just really dominated up front and in the trenches. We actually went through I think three running backs in the season, total. And they were all able to average I think three touchdowns a game. And I think that really showed in the championship game when we lost our running back, he got a concussion in the semifinals, and we had to come in with our third string or fourth string and I think he scored four or five touchdowns in the game and had over 200 yards. So it was just a really fun day and great experience."
While Hattis' primary goal for the 2015 season was to win a state title, he also eyed a few improvements to his own game.
"Personally I really wanted to improve on my quickness and my speed as well as some size," Hattis said. "Being able to put the size on while maintaining quickness and speed - as opposed to last year where I think my biggest strength was my strength and I was able to kind of move guys around pretty easily. So I wanted to add the speed and the ability to pull and get up on some upper level guys like safeties and corners and things of that nature. I think I definitely improved in that aspect."
Much of Hattis' focus this year has been on his high school football team and education, but his relationship with Stanford also continues to progress.
"It's been going great," Hattis said. "I went up for the Oregon game a couple of weeks ago and I had a great time. I was able to met all of the coaches officially and most of the players and I just had a great time overall and I loved the visit. It just makes me more excited about going to Stanford."
Hattis stays in regular contact with his area recruiter, Morgan Turner, and Stanford offensive coordinator Mike Bloomgren. Turner is expected to make an in-home visit with Hattis later this week.
"They're very excited to get me out there," Hattis said. "I know they wanted me to win a state championship and get that high school experience in before I went to college. I was excited about getting that done and just ready to get out and play for Stanford."
Hattis got a better sense for what football life is like on The Farm in mid-November when he visited for the Cardinal's clash with Oregon.
"Mostly just meeting the players (was a highlight)," Hattis said. "That was a huge part. They talk a lot about how the most important thing at Stanford is the people and they're definitely right. All the guys were very welcoming. I was able to see their work ethic and how they do things at Stanford. And that was really exciting to see, meeting the guys I'll be playing with for the next couple of years. That's what I enjoyed the most."
Hattis will take a return trip to The Farm in mid-January for the program's big recruiting weekend. He doesn't have any other visits planned.
The three-star standout has stayed in touch with several of his future teammates since committing to the Cardinal.
"Mostly with the other offensive line commits, Nate Herbig and Clark Yarbrough," Hattis said. "We have a message going so I'm able to stay in contact with them and see how their seasons are going and how they're doing out there. So I'm really excited to get out and play with those guys."
Hattis is currently working through Stanford's admissions process.
"It's going pretty well," he said. "I just finished up most of my application - I'm about to send that in. So I'm excited about getting that done, finally and officially. They've been kind of pushing me for that and I'm glad it's almost coming to an end."
Hattis was able to keep close tabs on Stanford's 2015 season from afar. He's eager to join the Cardinal next season.
"I've been following them since the very start," Hattis said. "I know they had that rough loss to Northwestern, that was tough. But I think that was really good motivating them for the rest of the season and it's definitely pushed them to the success that they've had. And I think a large part of that is their offensive line. I mean, watching them and how well they work together as a unit is just so fun to watch. It's really exciting as an offensive lineman to see what my future could entail that way."
On the fence about a Cardinal Sports Report subscription? Access all premium content for free until the Rose Bowl by signing up today. Follow this link to get started.