Elite 2021 prospect Buchner visited Stanford twice during summer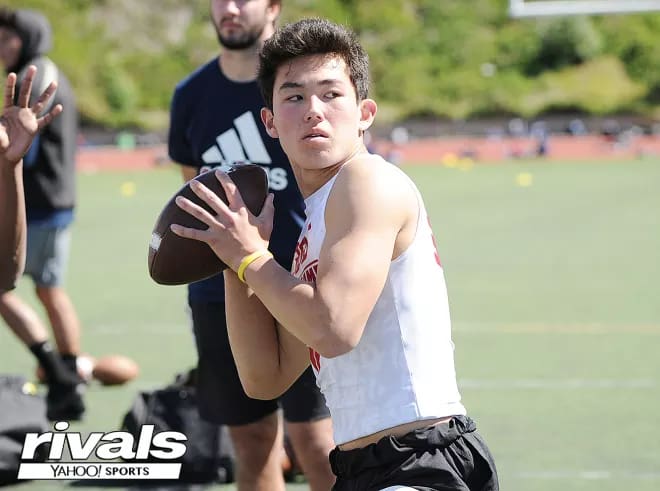 Tyler Buchner is one of the most promising quarterback prospects in the 2021 class and in the span of a little more than a month this summer he visited Stanford twice. The Bishop's School (La Jolla, Calif.) athlete already has a national offers list and an exciting background of playing multiple sports.
Buchner committed to Michigan in the eighth grade for lacrosse and is considered one of the, if not the best prospect in that sport for his grade. He also has played rugby.
There's no doubt that Buchner is a quarterback prospect, even though his athleticism makes several positions a possibility.
During his freshman season he started one game at quarterback and pitched in as a receiver and even on defense with 12 tackles. He threw for 512 yards and six touchdowns. He also ran for 274 yards and four touchdowns and added two more scores and 291 yards on 12 catches.
In June, Rivals recruiting analyst Adam Gorney offered his take on Buchner based on a camp performance: "Buchner has a big-time arm who can bomb it down the field and it falls right into his receiver's hands in stride almost all the time. It's pretty impressive to watch. And then the former Michigan lacrosse commit can move in the pocket, escape pressure, keep his eyes downfield and then find an open receiver. Buchner is really athletic, can be useful on designed runs but he's best firing it all over the field."
He showed his skill set in front of the Stanford coaches first at the June 19 quarterback camp and then again July 27 at the Friday Night Lights camp.
"During the (FNL) junior day, I had the chance to spend time with the players and coaches as well as meet some professors," he messaged Cardinal Sports Report. "I also was able to sit down with Coach (Tavita) Pritchard and go over X's and O's, which gave me a better understanding of the type of offense Stanford runs and how it is a fit for me as a QB. I really enjoyed meeting and talking with the people at Stanford and working out with Coach Pritchard and the staff."
Buchner connected with Pritchard before the summer visits and is already impressed with what he has learned about the former Stanford quarterback and first-year offensive coordinator.
"Coach Pritchard and I have built up a pretty good relationship since the spring and I've been up to Stanford twice now and hopefully again in the near future," he said. "Not only is Coach Pritchard technical, but he's an extremely personable and articulate man. I really enjoy working with him. He seems like a great role model — someone I have a lot of respect for."
Buchner liked what he heard from strength and conditioning coach Shannon Turley: "He is a very smart guy who knows everything about the body and is very big on injury prevention.
"I learned the most about Stanford through the players— they were very real when talking with us and they shared all the ins and outs of the program, the university, and what makes Stanford such a special place."